Quirky Takes A Novel Approach Towards Winter

A few weeks ago, Quirky approached us about testing some of their new winter inventions, and curiosity got the best of me. They send us two products: Digits, pins that attach to your gloves so you can use your smartphone and, Thor, a collapsible double-blade ice scraper.
We finally got a chance to test these two products out this weekend after a recent snowfall.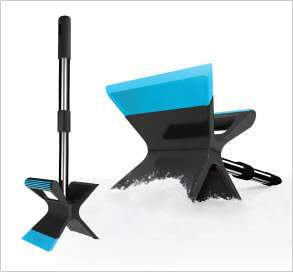 Thor is a new take on a familiar product, updated to perform better. This collapsible double-blade ice scraper enables you to scrape with less strain and more force using both forward and backward motions. The front handle keeps the snow off your hands and gloves and the extendable, telescoping arm allows for better reach. Finally, you can flip Thor over and use the brush to sweep off snow. Thor fits comfortably under your car seat and sells for $19.99.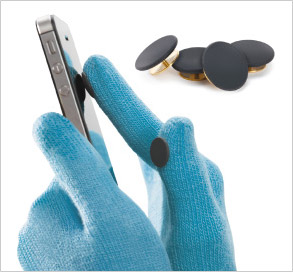 It sucks that you can't operate your touchscreen device while wearing gloves. I discovered this last year at the Bears/Packers game. It was 4 degrees outside, and I was wearing gloves with hand warmers. My iPhone wouldn't work with my gloves on, so I had to keep taking my gloves off to type on my phone, and then quickly put my gloves back on to avoid frostbite!
Enter Digits. Digits are conductive pins that attach to the fingertips of your gloves. Simply place the backside of the digit (with post) inside the fingertip of the glove and push through. Digits come in a pack of four pins so you can use them on multiple sets of gloves or give a set to a friend! A pack of four is sold for $11.99.
Both products work exactly as advertised.. Something so simple, I wondered to myself:
Why didn't I think of that?