Record HD Videos From The Sky With The Xtreem QuadForce Video Drone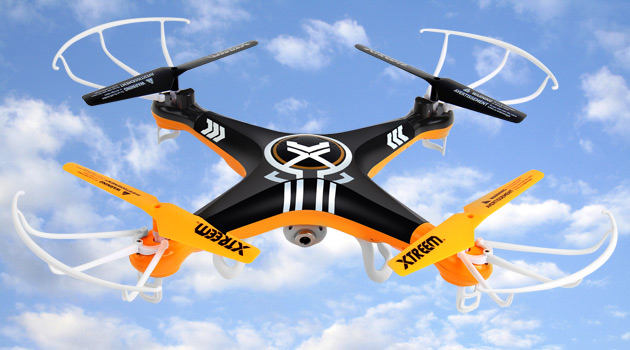 Swann Security, the global leader in security monitoring solutions, introduces the Xtreem QuadForce Video Drone, a RC helicopter with onboard color video camera. It's the first product from the new Xtreem collection. Fly to new levels as the QuadForce uses the latest 2.4GHz frequency for a strong signal indoors or outdoors. The QuadForce is available at Fry's stores nationwide for $89.99.
"We decided to change things up a bit by launching the new Xtreem range of remote-controlled toys," says Jeremy Stewart, Vice President, Marketing of Swann. "Our team of driven, committed and creative engineers worked endlessly to design the QuadForce. It's the perfect toy for anyone looking to graduate from a traditional RC helicopter to something more challenging."
QuadForce is designed to fly in any direction with its 4-axis and lightweight yet durable construction. The Drone's 2.4GHz frequency allows it to fly up to 330ft/ 100m for a unique 360-degree flying experience that makes a RC helicopter seem outdated.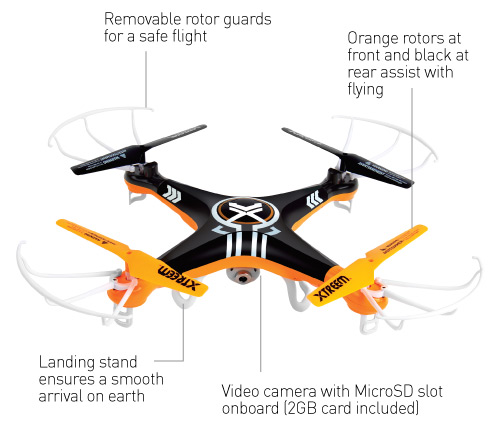 Record videos from the sky with the onboard color video camera and store it to the Micro SD card located in the undercarriage. QuadForce allows you to record 720p HD color resolution videos or images to capture more details and great lighting ranges. You can easily transfer the AVI (MJPEG) videos or JPEG images and share your favorites on different websites such as YouTube & Vimeo.
To get started simply add 4 alkaline AA batteries to the remote control and charge the chopper using the USB cable, which is included. After 50 minutes, let your imagination soar in any direction with 8 minutes aerial flying time per charge.
I don't know about you, but the Xtreem QuadForce Video Drone sounds pretty epic to me. I can't wait to get my hands on one, it should make for some really fun videos. 🙂