Review: 2012 BMW 650i Convertible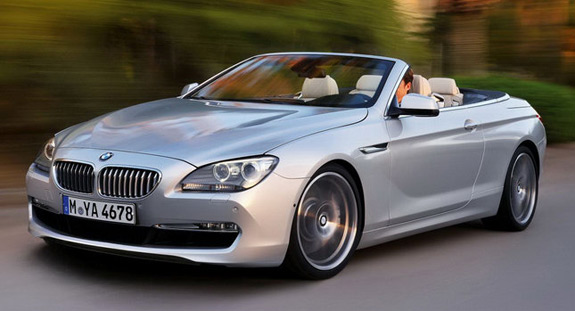 "Would you like to test drive the $105,025 2012 BMW 650i Convertible?"
This test drive was actually part of the BMW Drive For Team USA Event, which gives you the opportunity to get behind the wheel of a 3 Series, 5 Series, 7 Series and the all-new 6 Series Convertible. BMW also donates $10 to Team USA for every drive that's scheduled. So when you get behind the wheel, you're helping American athletes train and compete in the Olympic and Paralympic Games.
I'm using stock pictures, as it was 95 degrees on the day of my test drive, and I didn't dare put the top down. I had the A/C at 60 degrees, and the ventilated seats on high. On regular cars, that combination would suck the life out of the car. But not when you've got 400HP on tap, courtesy of a 4.4L V8 with twin-turbos! Last year's model used a normally aspirated 4.8L V8 that "only" put out 360HP.
This beast weighs in at a beastly 4,531 pounds – 254 pounds heavier than the 2011 model. Yet it does 0-60 in under 5 seconds, and gets slightly better mileage than the 2011 models. But make no mistake, this is a grand tourer. While it handles pretty well, it's not a sports car. Switch the car into Sport+ mode though, and it'll surprise you!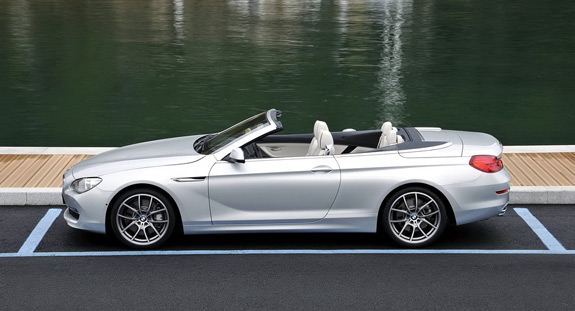 The 2012 BMW 650i Convertible is an amazing car in it's own right, but at this price point (the car starts at around $90K) it's playing in a crowded space. If you're looking for performance over luxury, there are other options like the Nissan GT-R, Cadillac CTS-V, and a number of Porsche 911 variants. (Heck, you can probably even get into a low-mileage 997TT!)
On the flip side, if you're looking for luxury with a little bit of performance, there are some really appealing options like the Aston Martin Vantage and Jaguar XKR.
A tough problem for rich folks.. 😀