SPEED Channel's "The Car Show" With Adam Carolla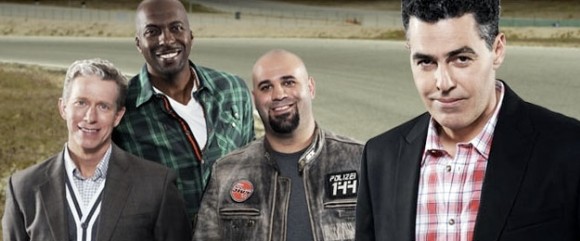 I want my 60 minutes back. Seriously. I wasn't sure what to expect for this new show, but since Adam Carolla's a well-known car enthusiast, I decided to DVR it.
The Car Show is a hot mess. Top Gear USA took a lot of heat last year, but I thought this show was even worse! Each segment had potential, but they blew it. The standing mile in the desert in a GT3RS is pretty awesome. But having the Porsche race against a plane? Now you're trying to be Top Gear, and doing a lousy job at that..
The 24-Hours Of Lemons is an event that some of the auto magazines have covered over the years, and I was looking forward to seeing more footage from the race. Instead, we see a bunch of cornball segments, followed by the car catching on fire. Seriously? What did interest me was finding out that I could get a 1994 300ZX for $500. Sign me up!
The game show segment? Utterly retarded. Serves no purpose whatsoever. Cut out all the crap, and make this a 30-minute show. But I'll be hard pressed to give up an hour each week if things don't drastically improve.
Lastly, why the hell is John Salley on this?! Don't get me wrong, I liked him on I'm a Celebrity…Get Me out of Here!, but why is he hosting a car show? Weird..