Review: Dreams Punta Cana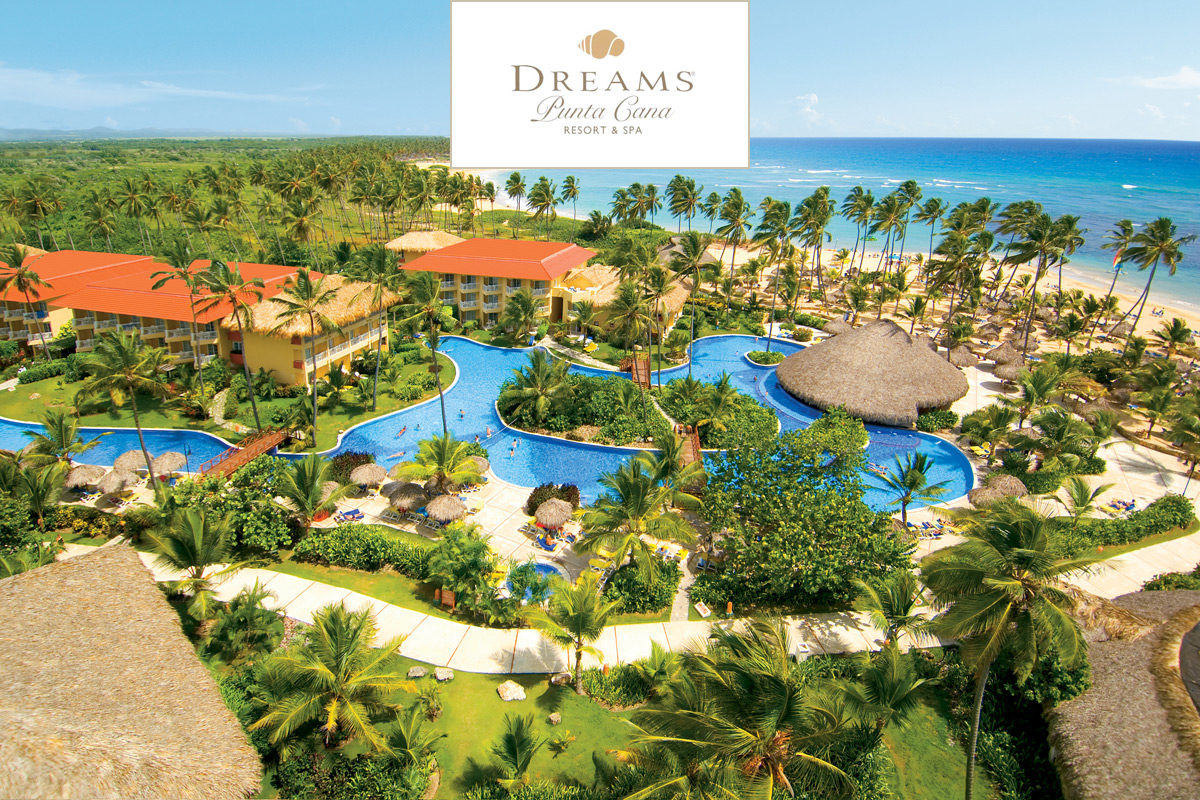 My father-in-law recently got married at Dreams Punta Cana Resort & Spa, which is located in the Dominican Republic. We've visited quite a few islands in the Caribbean, but never DR. We were excited to check out this new destination, as we had a number of friends who had nothing but great things to say about the island.
This was to be our first all-inclusive, and we were excited to see how it would compare to the cruises that we normally do. Turns out, it's a night and day difference!
Here's how their brochure describes Dreams:
Gently kissing the palm fringed beach of Dreams Punta Cana Resort & Spa is the surreal turquoise sea, a gift for your senses and your heart. The warm smiles of our staff make you feel like both an old friend and an honored guest. This is truly a place of fantasy — Dreams Punta Cana. A magical experience for all.
Perfectly located on the magnificent east coast of the Dominican Republic, the natural beauty of the island and nearby coral reef nurtures an incredible number of flora and fauna — and it will nourish your spirit as well. Every detail has been selected for your complete pleasure and total relaxation. Uncrowded. Unrushed. Unequaled.
From the moment we greet your arrival, you will be delighted by your surroundings and service.
Sounds amazing, right? Unfortunately, when we arrived at Dreams, it was quite a mess. For reasons unknown, we weren't allowed to check in for OVER AN HOUR! After spending the last 6 hours travelling, the last thing I wanted to do was sit in their OUTDOOR lobby for another hour. I guess that's what their brochure meant when they said "unrushed".
The staff finally got everything squared away for us, handing us our room keys and a map, so we could get settled into our rooms.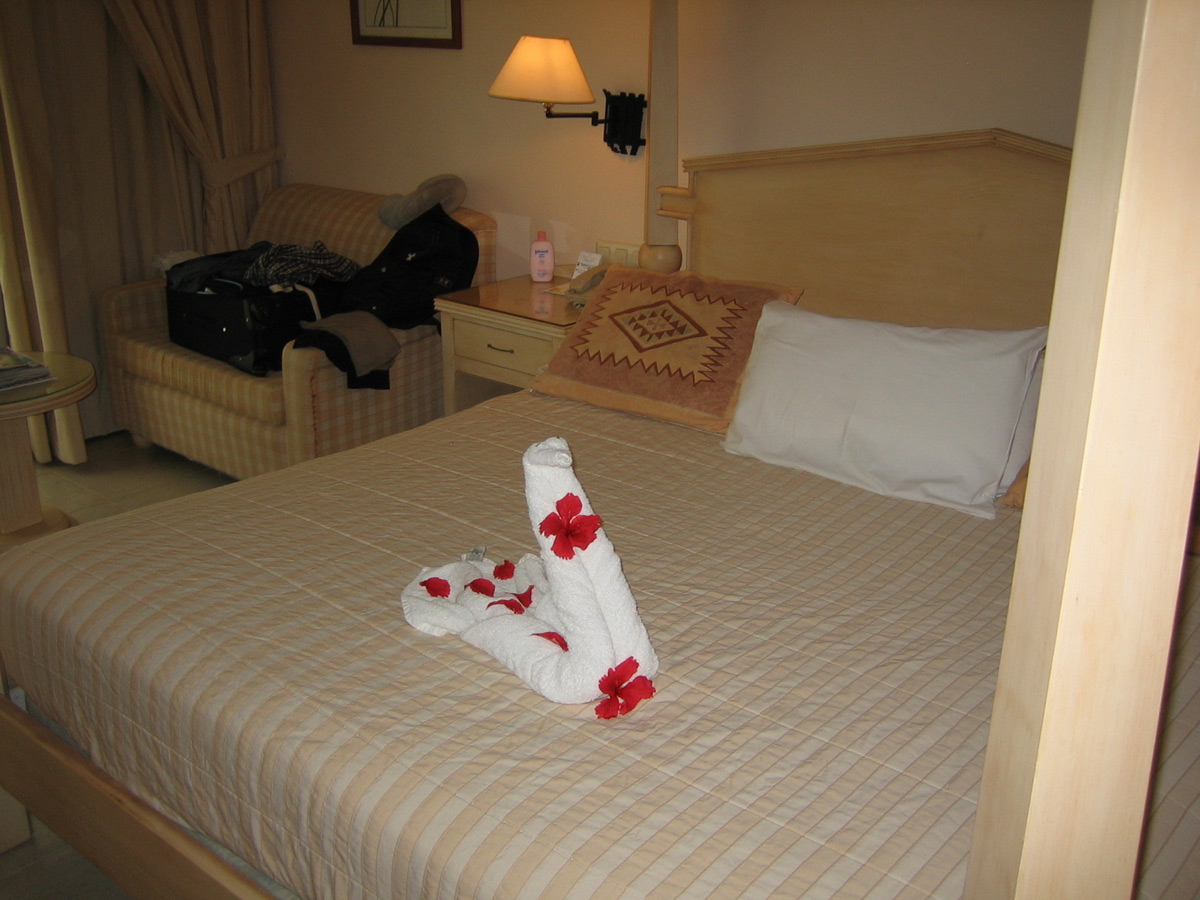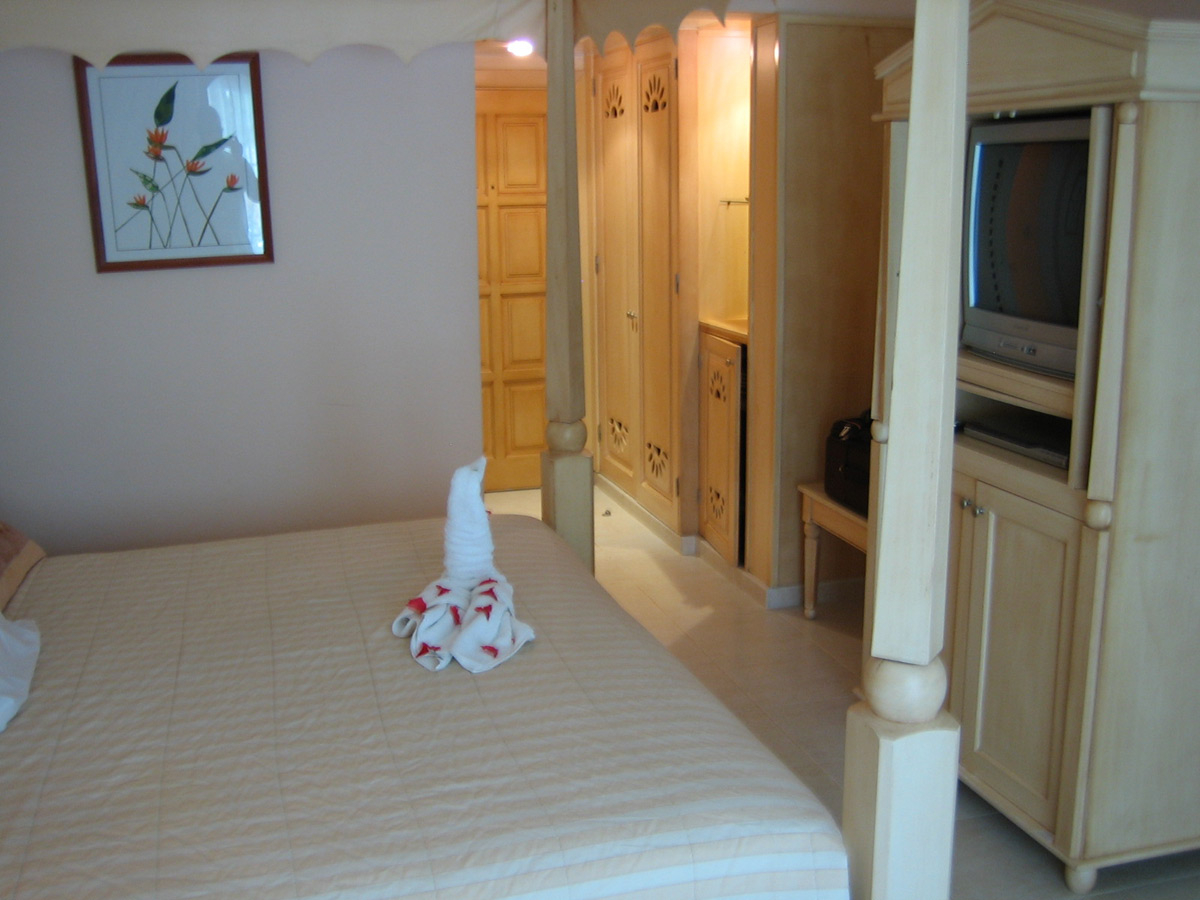 The rooms weren't too bad, but we were expecting something different based on the pictures on their website. It's not false advertising, they just have a great photographer who makes everything look amazing. The bed itself was comfortable, and the shower got the job done. The Four Seasons it's not, but we are in a third-world country after all.
After travelling all day, we wanted to eat! The resort boasts six international restaurants serving gourmet fare in "stunning outdoor and indoor settings". Over the course of a week, we dined at all six restaurants. Unfortunately, this was the biggest disappointment of the trip, as the food was just terrible! How bad was it? 6 people got food poisoning the night we ate at their steakhouse! I had lingering stomach issues that required a round of antibiotics when I returned home. 🙁
We knew coming in that we weren't going to get 5-star food like we've become accustomed to on previous cruises, but the food here was BAD. Not to mention, the service was incredibly slow, and with most of the restaurants outdoors, you were dealing with bugs, humidity, and all kinds of other things. Again, don't just take my word for it, check out this TripAdvisor review:
The buffet was outside swarming with birds, fruit flies and flies on all the fruit, cheese and meats, if they left your plate alone. They did not even chill the milk for cereal, it was lukewarm..
Now, many people go to all-inclusive resorts for the unlimited booze. I'm not a HUGE drinker, but I did get ridiculously drunk at the "night club" on the night of the White Party. At a regular club, I would have been stuck with a $200+ bar tab, but at Dreams it was 100% free!
Another thing people want to do when they go on vacation is lay out by the pool, and Dreams has an enormous free-form pool that winds its way from the lobby all the way down to the beach area. Below you can see where the pool ends, with the beach just past the trees in the background. There's a swim-up bar there, where you can cool off with a drink if you like. There were a lot of fun pool activities (volleyball, water polo, aerobics, etc), and it's where we spent the majority of our time.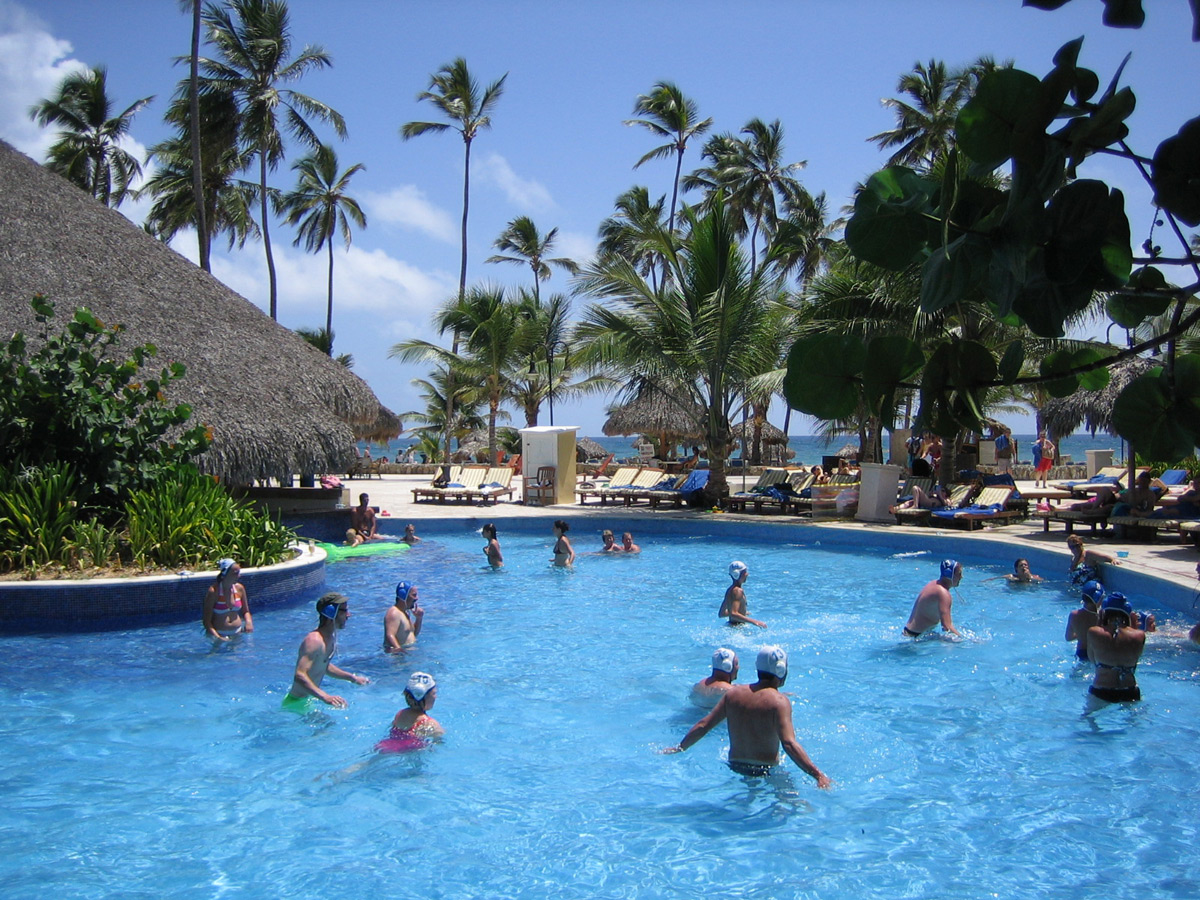 The beach was another story. This TripAdvisor review sums it up best:
The beach – well, about 92% of that is rocky coral and you cant go in furthur than your shin, otherwise you will need an ER and ASAP. it was full of seaweed, and no swimable unless you wanted to pack in with 50 other people in a 10×10 area. ahh no thanks.
I was looking forward to some of the ocean activities they touted in their brochure, but most of those activities (kayaking, windsurfing, etc) cost extra! The only free activity was their ocean trampoline, which was rusty, sharp, and missing half of the springs. Not cool!
Nearly 70% of our wedding party had to switch rooms sometime througout their trip because of problems in their rooms (electrical, water leaks, etc). Some people complained that their rooms had A/C problems, that their rooms were musty, dusty, etc. Management offered vouchers good for a future visit, but none of us ever plan on coming back here..
There are a lot of glowing reviews for this resort out there, and there are a lot of bad reviews as well. I don't understand where these good reviews are coming from, as most of the bad reviews I've read mimic our experiences to a T. Consider yourself warned.