Review: EDGE.sound Portable Bluetooth Speaker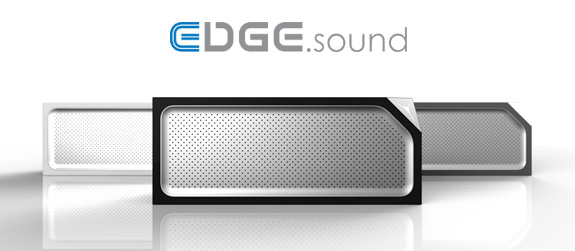 Last week, I posted that the EDGE.sound had begun shipping, and I decided to get one for myself. With all of the drama surrounding the iPhone 5's Lightning connector, I decided to go with a wireless (and portable) solution instead.
Let me tell you, it's amazing how much sound this little sucker puts out! The EDGE.sound is barely 6″ wide, yet it can produce sound up to 95db, with a frequency range of 80Hz-20 kHz. It's super easy to sync up with your Bluetooth device, and the fact that it supports BT 3.0 makes everything that much easier (and faster).
I'm loving the portability aspect as well, it's great being able to stream music outside wirelessly with the EDGE.sound, and the built-in rechargeable battery is good for 10+ hours of playback!

CUBEDGE really knocked it out of the park, designing a sleek and elegant looking speaker that you'll be proud to display. I couldn't be happier with my EDGE.sound, and I would definitely encourage anyone looking for a portable bluetooth speaker solution to check it out.
The EDGE.sound is available now at http://cubedge.com/edgesound for $149.