Review: Harrah's Resort Atlantic City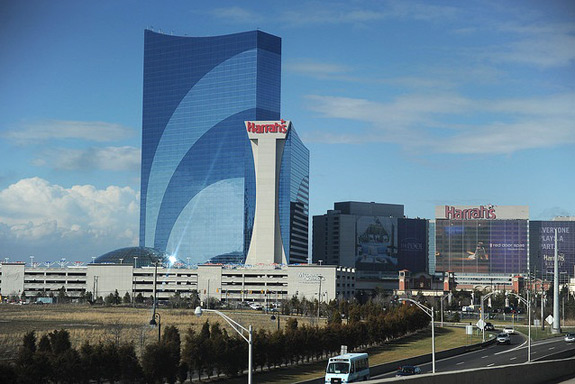 Atlantic City has really undergone some dramatic changes in recent years, and one of the most impressive transformations has occured over at Harrah's Resort Atlantic City.
With its sophisticated marina setting and infinite roster of world-class resort amenities, Harrah's Resort has become the premiere Atlantic City destination, boasting the tallest hotel tower and so much non-stop action, you'll wish your stay could last a lifetime.
We had the opportunity to stay at Harrah's over the weekend, and I was really impressed with the property.. "Are you sure we're not in Las Vegas?"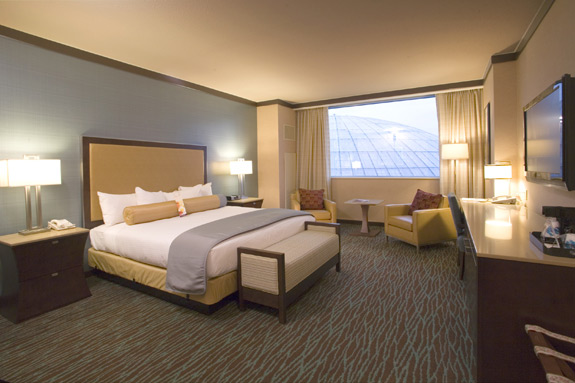 After checking in, we headed upstairs to check out our room. We got a Waterfront Premium room, and it's their largest guest room (approximately 500 square feet). As you can see, it's a pretty impressive room, and it offers up spectacular views of the marina!
The bathroom could easily grace the pages of a decorator magazine, highlighted with a granite and tile spa shower complete with seating, a massive granite vanity, and a separate lavatory area. Plenty of room for whatever you've got planned..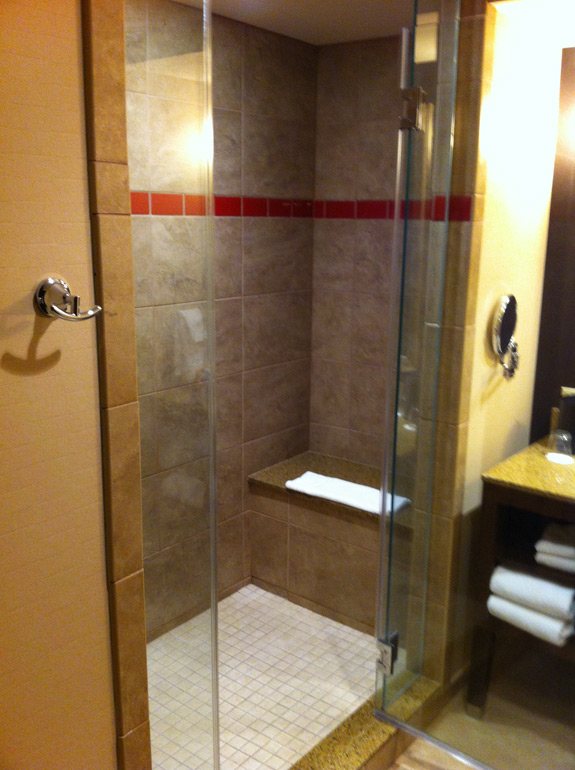 After getting cleaned up, we decided to head down for dinner.
Harrah's has quite a number of fine dining restaurants to choose from, including Bluepoint, Dos Caminos, Luke Palladino, McCormick & Schmick's Seafood Restaurant, and The Steakhouse. We were in the mood for Italian, so we decided to eat at Luke Palladino.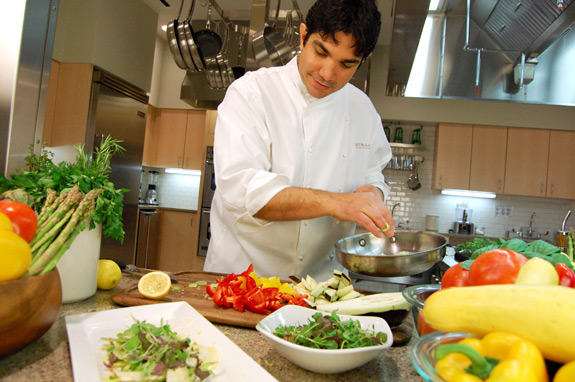 In 2004, Luke Palladino was named "the best unknown Italian chef in America" by a prominent food and wine newsletter. Fast-forward a few years later, and he's become a culinary legend. Luke Palladino features the regional Italian, Jersey-farm flavored cooking he's always strived to honor. Having heard great things about his restaurant, I was really looking forward to this meal.
What better way to start things off than with a bunch of appetizers? We ordered the Mushroom and Taleggio Crespelle, Arancini, Gnocchi, and Beef Carpaccio. They were all PHENOMINAL. Three days later, and I'm still thinking about that Arancini!
After appetizers, it was time for the main event. I got the Veal Saltimbocca, my wife got the Organic Chicken, and our host Jerry got the Grilled Dunedin Natural Veal Chop. This time, I had the good sense to snap some pictures before we started eating! 🙂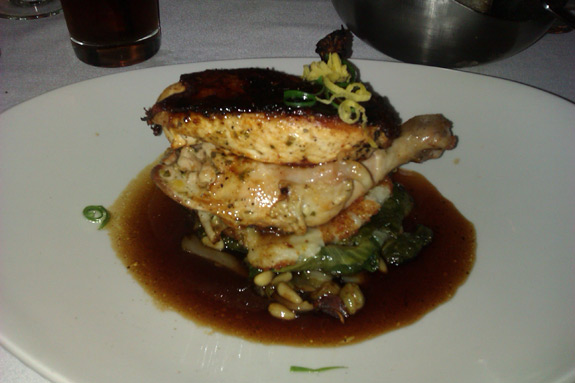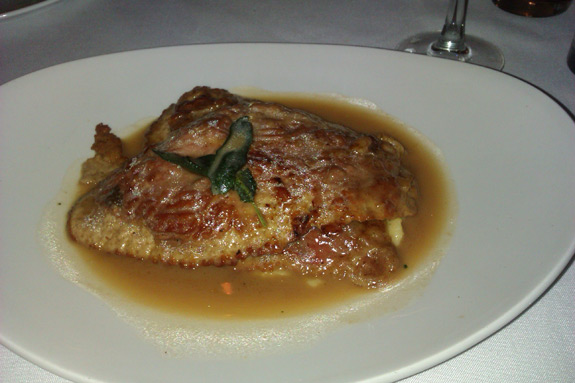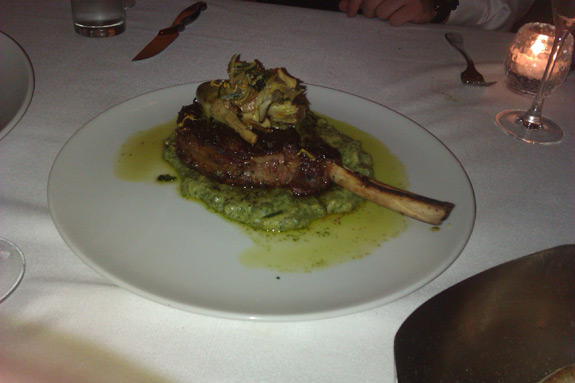 As expected, the food was amazing! Honestly, you can't go wrong with anything on the menu.. Chef Luke (who we actually got to meet!) puts out some amazing dishes, and we'll definitely be coming back here the next time we stay at Harrah's.
Despite how stuffed we were after dinner, we had to go check out The Pool After Dark. And let me tell you, there's no better place to be on a Saturday night!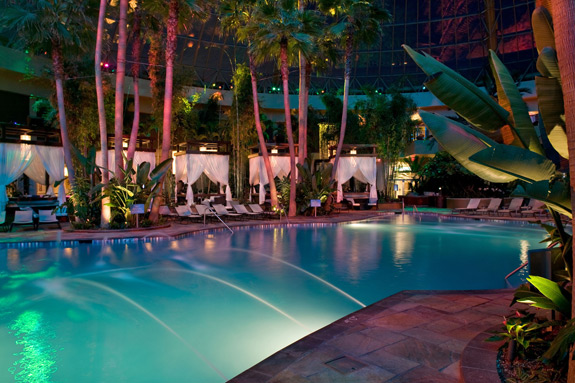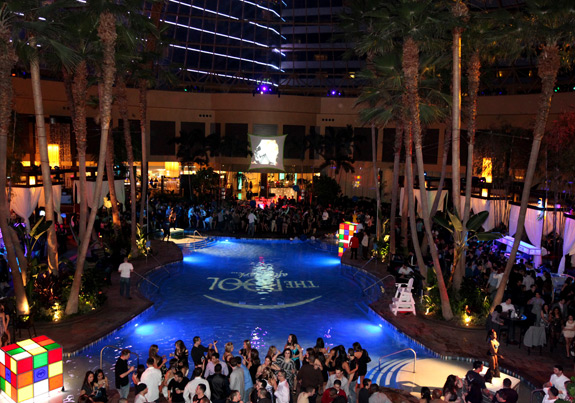 Pool After Dark was named Mega Club of the Year 2011, and for good reason.. It's a 172,000-square-foot entertainment complex that boasts a 90-foot-high, glass-dome-enclosed tropical oasis containing a 23,000-square-foot, 86,000-gallon heated pool, multiple Jacuzzis, cabanas, indoor and outdoor deck areas in 82-degree temperatures year-round.
If you're single, get your ass down here ASAP! There are hundreds (if not thousands) of hotties wearing the skimpiest outfits you could imagine, drinking, dancing, and looking to hook up. And with Pauly D setting up residency at The Pool After Dark, it's going to get even crazier!
Too old go go clubbing, or just not into that scene?  Then head on over to the Xhibition Bar or Eden Lounge, both great spots at Harrah's that are a lot of fun.
The following morning, we had breakfast at Sammy D's (another EPIC meal) before heading out. It was an awesome trip, and we'll definitely be coming back to Harrah's in the near future.
So what are you waiting for? Click here to book a room at Harrah's Resort Atlantic City.