Oversized Sandwiches Are Back On The Boardwalk!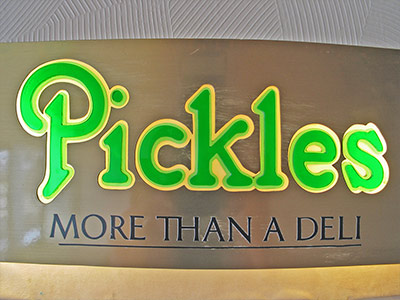 Hunger pains got you "in a pickle?" Well, if you're on the Atlantic City Boardwalk then look no further because Pickles Deli has reopened for the summer season at Bally's Atlantic City. Pickles combines all the staples of a traditional New York style deli, while featuring premiere Boardwalk seating.
The plentiful menu boasts reasonable prices while featuring such Jewish deli staples as Matzo Ball Soup ($4.95), Stuffed Cabbage with Gravy ($6.50), and Potato Latkes ($5.50). Though it could be argued the real stars at Pickles are the over-sized and stuffed sandwiches; Corned Beef, Pastrami, Brisket, Tongue, Turkey, and Ruebens (all priced at $15.95) will have no guest leaving hungry. Guests looking for something "hot off the grill" will find huge Philly Cheesesteaks, Juicy Rib-Eye Steak Sandwiches, and several burger variations including fan-favorite the Pickles Pastrami Burger (all priced at $12.95). Gigantic deserts include Strawberry Tall Cake ($8.00), Apple Pie a la Mode ($8.00), Death By Chocolate Fudge Cake ($8.00), Chocolate Covered Bananas ($3.50), and Cheesecake, described only as "the way it should be" ($8.00).
If you're really hungry, try the Monstrosity sandwich: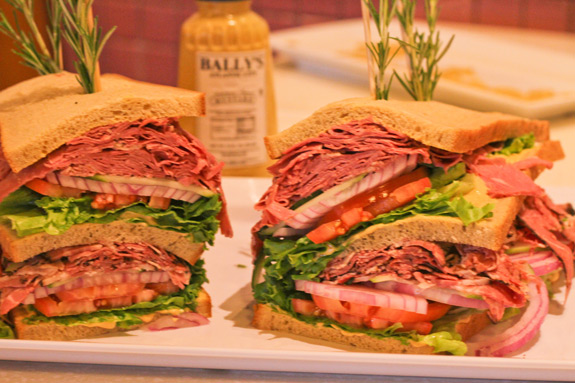 And for dessert, how about some chocolate covered pickles: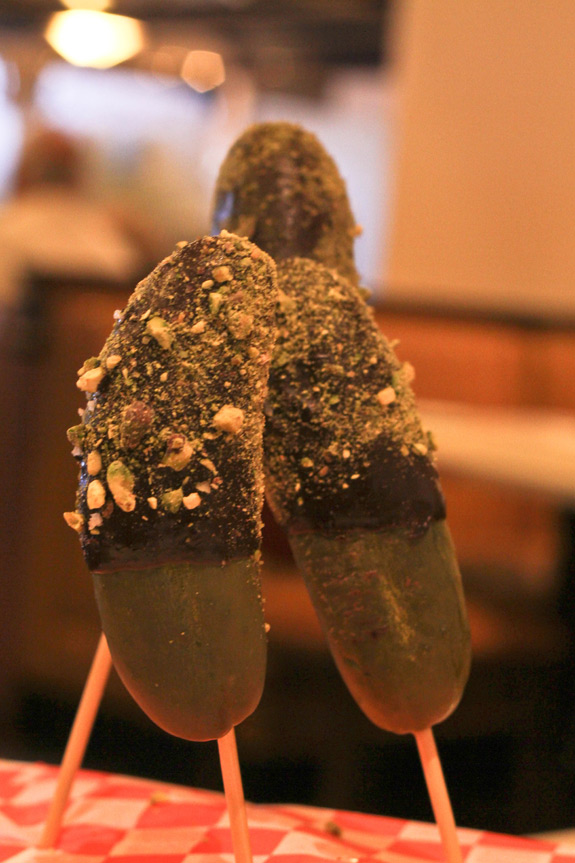 On a recent visit to Atlantic City, we stopped in for lunch at Pickles. Since I'm not really into the whole overstuffed New York Deli style sandwiches, I kept it simple – Wings, a Chicken Cheesesteak, and Death By Chocolate Fudge Cake for dessert.
First off, the wings were PHENOMENAL! Anyone knows me knows that I love wings, but I'm very particular about them. They can't be too fried, too hot, too breaded, etc. Seriously, these wings were some of the best I've ever had, which is so odd given the nature of this restaurant.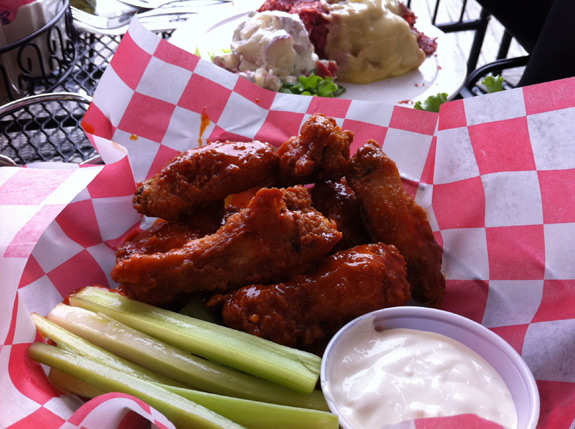 The chicken cheesesteak was great (not quite Tony Luke's caliber, but what is?), the fries were top-notch, and dessert was fantastic. By the end of lunch, I could barely move..
If the weather's good, definitely get a seat outside. It was great eating lunch and watching the eye-candy walking along the Boardwalk. 😀
Atlantic City continues to impress me, really stepping it up from years ago..