Lucky Winner Receives A#$load Of Jerky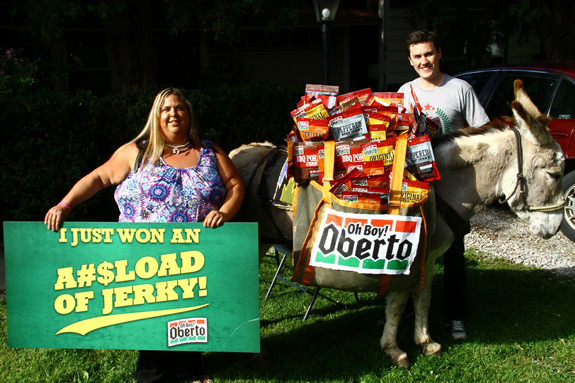 Picture this: A donkey saddling up the streets of the small town of Andover OH, packing mounds and mounds of beef jerky to be delivered to winner Julia Shaff, who was a top prize winner through a product sweepstakes and scored an "A#$load of Jerky!"
The event was part of Oh Boy! Oberto's "The Most Excellent Grab Bag of Excellence Sweepstakes," an online sweepstakes which Julia had been playing faithfully every day for three months before hitting it big! There are a still a few large prizes up for grabs, included a 14k gold piece of jerky, and a boat load of jerky that comes complete with the boat!
If you want to enter, head on over to https://www.facebook.com/ObertoBeefJerky.
After seeing this much jerky, we just had to try it out. Since we couldn't agree on which flavor to get, we got them all! Original, Teriyaki, Peppered, BBQ Pork, Hickory, Turkey, and Spicy Sweet. The results? Lots of happy folks, and lots of bad breath around the office!
Oh Boy! Oberto jerky prides itself on it's all-natural ingredients – Lean, premium beef that's minimally processed with simple, natural ingredients. It's also a great source of protein, and it's 97% fat free. What more could you ask for?