Review: Panasonic KX-TG7732S Cordless Phone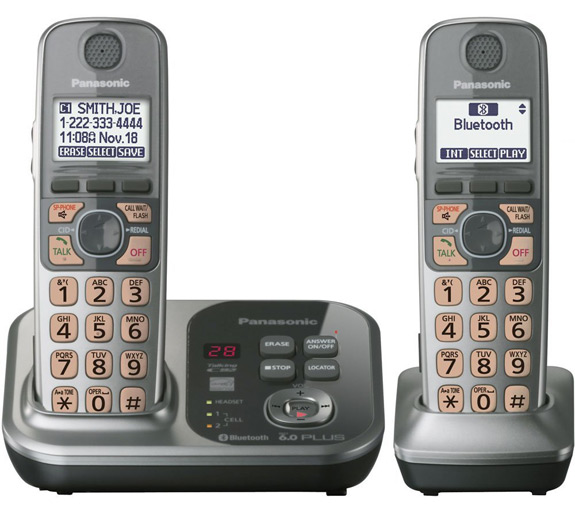 Many people are getting rid of their landlines and just using their cell phones for everything, but there are still a LOT of us who want/need to use a landline whenever possible.
Sure, there's the convenience factor of having your calls follow you wherever you go, but that's why they invented call forwarding. Personally, I prefer talking on a "regular" home phone, as conversations are much clearer and more comfortable.
Yes, comfortable! Have you ever had a 40+ minute conversation on an iPhone? Your arm goes numb from holding the phone up to your face for the entire call. And if you try and squeeze it between your ear and your shoulder, you'll either accidently mute the call or drop the phone.
That's why we still have a landline here in the office. On long conference calls, we can either use the speakerphone (which is much better than any cell phone's speakerphone), or other people can pick up their own handset and join the conversation. (Our phone came with two handsets, but the system is expandable to six handsets)
This phone has all the standard features you'd expect – DECT 6.0 Plus digital technology, a built-in digital answering system, talking caller ID, call-waiting caller ID, and an LCD display.
But it's also got something called Link-To-Cell, which lets you make and receive cell phone calls through your home phone! Simply link your cell phone via Bluetooth to Link-To-Cell, and then make or receive cell phone calls through any of your Panasonic handsets.
In addition, you can transfer up to 600 names and numbers from your mobile phone to the handset's built-in directory for quick and easy access.
I'm really happy with the phone, and I'd recommend it to anyone looking for a feature-rich phone like this. The phone has an MSRP of $79.95, and more information can be found on Panasonic's website.