Review: Philips Norelco Click & Style Shave Toolkit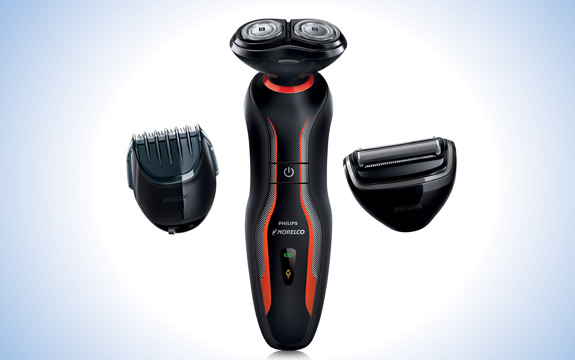 Philips Norelco recently introduced the Click & Style, a budget-minded all-in-one shaver for the young guy who's just coming into his own with a "real world" grooming routine.
The Click & Style comes with three easy-to-swap attachments which allows you to shave, style and groom with a single product. This provides the versatility and convenience to achieve any style, giving guys the confidence to work their magic – Whether it's a clean shave for the office or groomed stubble for the weekend.
For shaving, the advanced, two-headed razor effortlessly follows the contours of your face and the ComfortCut heads have rounded edges that glide smoothly on your skin, so you always get an easy and clean shave with no nicks and cuts. Shave wet with shaving cream or gel for extra skin protection, or dry for convenience.
If you prefer to rock the beard, the beard styler allows you to choose from five length settings to create anything from perfect stubble to a neatly trimmed beard or mustache. (If you don't need the beard styler, their Shave and Groom Kit might be a better choice for you)
And the bodygroom shaver is designed for a close and comfortable shave or trim on all areas below the neck, and rounded combs and tips prevent skin irritation.
In addition, the Click & Style is waterproof, so you can shave, style, and groom wherever you want, in or out of the shower. When you're finished, simply rinse under the tap to clean.
When it comes to electric shavers, battery life is often a concern. This razor's battery lasts for up to 40 minutes after a 1-hour charge. A quick 10-minute charge gives you 10 minutes of running time – So never again will you show up to work half-shaven because your battery died!
Overall, I was really impressed with the Philips Norelco Click & Style, and I highly recommend it to anyone looking for a quality all-in-one solution for their grooming needs.
The Click & Shave retails for $69.99, and is currently available for purchase from Target, Rite Aid, or Amazon.com, with availability at Best Buy and Walmart.com starting this April.