Somersets Shaving Oil – Better Than Foam Or Gel?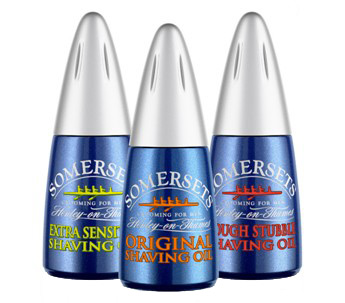 When Somersets Shaving Oil asked me to try out their line of shaving oils, I was more than a little skeptical. I've been a devout shaving foam/gel guy since I first started shaving, and I didn't think I could be swayed by something so.. different.
The first thing you'll notice about Somersets Shaving Oil is now tiny it is – Each bottle is just 15ml. Yet the packaging says it's good for 90 shaves. How can that possible? It's because a little goes a long way. Simply wet your skin, put 3-4 drops in your palms, and massage into your beard. Wait a moment for the oils to soften the bristle, and then start shaving.
What you'll notice next is that the product is completely clear, unlike foams and gels. If you're trying to maintain clean lines around your beard or goatee, this makes it so much easier..
Honestly, I couldn't be happier with the results. Somersets gave me one of the closest shaves I've ever had, and my skin felt amazing afterwards! For years, we've been told that the key to a better shave is a better razor blade, but it's clear that the real key is how well you prepare your skin for shaving, and that's what Somersets is all about.
Somersets products are made with 100% natural oils derived from plants such as Rosemary and Lavender, Tea Tree and Sweet Almond. These oils lubricate the blade, for a cleaner, closer shave. And their natural healing properties help prevent irritation, while leaving the skin feeling cleaner, refreshed and more alive.
Shaving oils have been popular in the UK and Europe, and now Somersets is bringing them to our shores. Try it once, and I'm confident that you'll become a customer for life!
Somersets Shaving Oils for Men are available online at www.somersets.com as well as select food/drug stores and retail for $6.99.