Gillette's Offering Up Free Shaves For Spring Breakers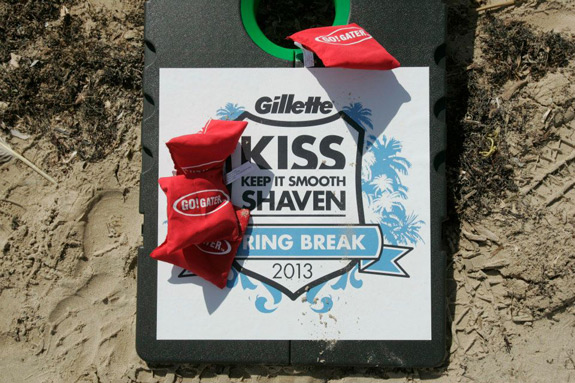 Spring Break means a break from school, work and any and all other responsibilities – But it shouldn't mean a break from grooming and style.
Guys put a lot of effort into preparing for spring break – they work out more, eat better, maybe do a few push-ups in their hotel room before heading out… But this spring break, Gillette is giving guys some important tips, straight from the ladies, to help guys make sure they don't stumble at the finish line.
Gillette recently conducted a 16-city live survey to determine what women found most kissable. The results are in and 85% of women across the country declared they prefer to kiss a guy who's smooth shaven. Furthermore, two out of three women said men will have better luck with them if they are smooth shaven.
'Nuff said!
To help guys achieve the look most appealing to the ladies, Gillette's Keep It Smooth Shaven tent is visiting six of the top break destinations (South Padre Island, Miami, Lake Havasu City, Daytona Beach, Las Vegas and Panama City Beach) this March.
Gillette is offering guys a free place to get smooth shaven using the latest Gillette products like the Gillette Fusion ProGlide SilverTouch, so nothing, not even sensitive skin, can stand in the way between them and their most kissable face.
Guys will also be able to take pictures and receive free grooming products courtesy of Gillette! And who doesn't like free swag??
Gillette K.I.S.S. Spring Break Tour Stops:
March 12–13: South Padre Island, TX (Padre South Hotel)
March 15-16: Bayside Marketplace, Miami, FL
March 17: Lake Havasu City, AZ (London Bridge Resort)
March 19: Daytona Beach, FL (Ocean Deck Restaurant & Beach Club)
March 20-21: Las Vegas, NV (Bally's Las Vegas)
March 21: Panama City Beach, FL (Holiday Inn Resort)
March 22: Panama City Beach, FL (Club La Vela)
Learn more at KeepItSmoothShaven.com.