Review: Lab Series Pro LS All-In-One Face Treatment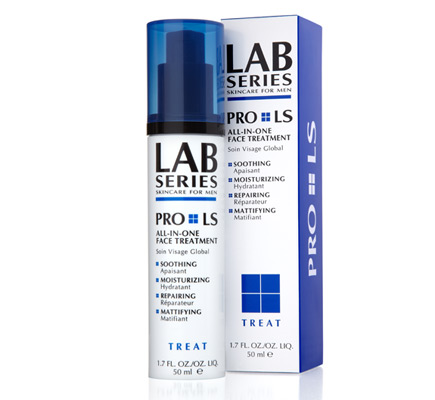 Today's modern man wants to address his skincare concerns, but with a hectic lifestyle he needs smart products and a simplified, streamlined daily skincare routine. He wants simple, fast, effective skincare, without the fuss.
Enter Lab Series Pro LS All-In-One Face Treatment. It's one, and you're done!
The advanced post-shave lotion offers four skin solutions in one patent-pending, proven formula:
1. Razor burn? 93% felt immediate soothing
2. Skin tightness? 99% felt instant moisturization
3. Repair Damage? 88% saw lines and wrinkles minimized
4. Oily skin? 93% saw shine control
The high tech formula instantly soothes and calms redness and irritation from shaving, while potent moisturizers restore moisture back to skin. Simultaneously, PRO LS leaves a shine-free appearance, and over time it helps diminish the appearance of lines and wrinkles.
Like many men, I've largely ignored skincare.. No moisturizer, toner, or anything like that. So I was curious to see if I'd notice a difference after using the Pro LS All-In-One Face Treatment for a few weeks.
I was really impressive with the results! My skin looked refreshed, moisturized, and overall just healthier. Even my wife noticed the difference it made.
The best part? It takes less than 30-seconds to apply. You can't beat that, right?!
Lab Series Pro LS All-In-One Face Treatment retails for $29.00, and is available in department stores nationwide, and online at www.labseries.com.