Jack Black Brings High Performance Skin Care Into Some Of The Nation's Top Football Franchises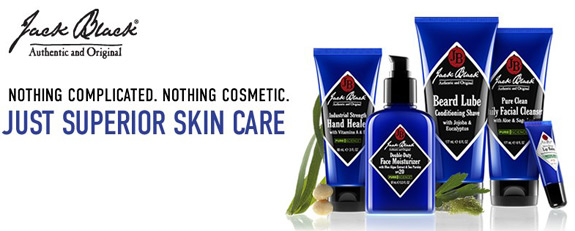 Jack Black creates premium quality, high-performance, easy-to-use grooming products for men, and I'm a huge fan of theirs.
For the fourth consecutive year, Jack Black is bringing high-performance skin care to some of the nation's top football teams – The Dallas Cowboys, Washington Redskins, New York Jets, Chicago Bears, Green Bay Packers, San Francisco 49ers, Seattle Seahawks, and Buffalo Bills.
With an established roster of effective skin care and grooming products, Jack Black is stocking select team locker rooms with facial and body products that protect skin, soothe muscles and help the body recover after strenuous practices and games. Jack Black will also provide team-branded products for fans attending home games via in-suite amenities and sampling throughout stadiums.
"We are thrilled to expand our partnership with some of the nation's top football franchises and provide both athletes and fans exclusive experiences with Jack Black," said Patricia Finn, Vice President of Marketing at Jack Black. "Our goal is to help aid players' recovery post-game and give fans the chance to experience Jack Black products."
Dallas-based Jack Black men's skin care line launched its first game time promotions in 2009 through a partnership with the Miami Dolphins, and quickly grew the campaign to include six franchises including their hometown team, the Dallas Cowboys.
This year, Jack Black is taking the 2012 season to a new level through partnerships with eight major franchises. By continuing to build and create affiliations in the sports arena, Jack Black solidifies its position as a leader in the grooming and skin care industry for superstar athletes and fans.
Facebook fans can participate in football activities by visiting their Facebook page and simply "liking" the page to stay informed about upcoming promotions.
To learn more about Jack Black products, visit www.getJackBlack.com.