Top 5 NFL Players That Are Becoming Breakout Stars
Every year in the NFL, there are a few players that take the next step from average performers to the great players featured on a proverbial Wheaties box. Heading into the midseason of the NFL, the following five players have already demonstrated their breakout status and will soon continue on to be household names.
TRENT RICHARDSON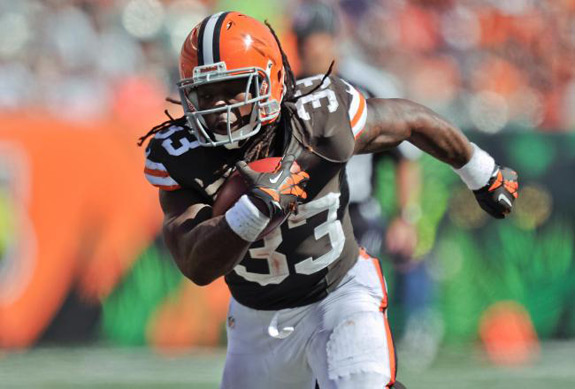 This powerful University of Alabama running back was drafted number three overall this year by the Cleveland Browns. At only 21 years old, he is probably the greatest thing to hit Cleveland since LeBron James left for Miami. Although the Browns record doesn't reflect his performance, he is currently second in the league for rushing touchdowns with four, plus another for receiving. He is an  instrumental part of the Browns offensive attack in both rushing and passing, averaging 94.4 total yards per game. Once the Browns decide to get a decent line to block for him, fully expect to see Trent emerge as one of the NFL's premiere running backs.
J.J. WATT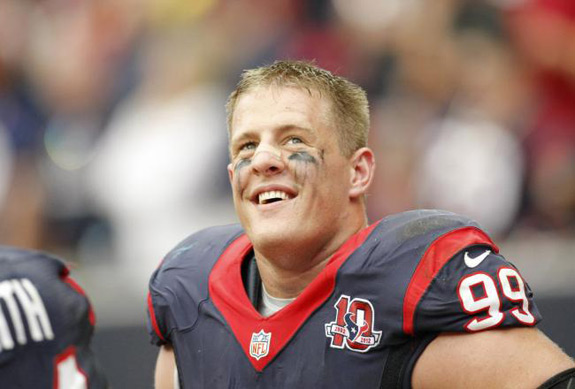 Drafted last year out of the University of Wisconsin, big things were expected out of defensive lineman J.J. Watt. His rookie year only yielded 5.5 sacks and 56 tackles on sixteen games played.  Watt has become the defensive leader for Houston, elevating them to a fourth ranked defense giving up only 14.6 points per game. He has already posted 7.5 sacks and 26 tackles, second in the league after week 5. If he continues his pace, he could possibly surpass Michael Strahan's NFL record of 22.5 sacks, established in 2001 with the New York Giants. Besides sacks and tackles, Watt is impressive with his pass defense. An uncharted part of his defensive game is his uncanny ability to bat down the passes at the line of scrimmage. Combine the sacks and batted balls and you can see why he is the keystone of the Houston defense.
DEMARYIUS THOMAS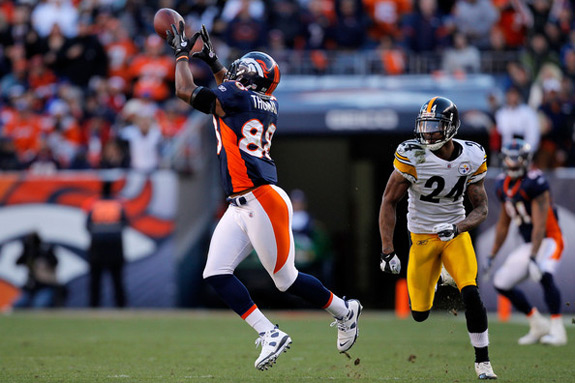 Thomas is a third year player, who has almost surpassed his previous season's receiving yards total at week five. Last season he posted 551 yards, and this year already has 505 yards, ranking third in the league for yards caught. New Denver Bronco quarterback Peyton Manning has quickly made Thomas a favorite target, specializing in explosive plays and yards after catch. Thomas is currently number five in the league for yards per game, with 101 yards, and is on pace for over 1600 yards on the season. This may not be a breakout season for Thomas's fantasy league fans, but the breakout season for a long successful career.
GREG ZUERLEIN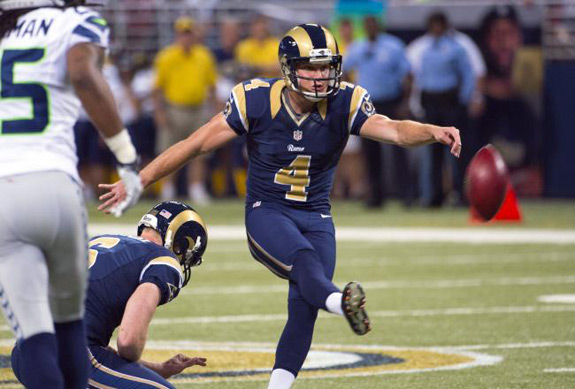 It might seem unusual to put a place kicker as number two, but Zuerlein is not shaping up to be a typical kicker. In his rookie year he is already leading the league in kicking percentage going 13 for 13 in field goals and 7 for 7 on PAT. Besides his amazing accuracy, his powerful leg has tied the NFL all time rookie record by going 4 for 4 on field goals beyond 50 yards. In addition, these kicks have had huge impacts on games for the St. Louis Rams. In week 4 against the Seattle Seahawks, he hit four field goals and a PAT to lift the Rams to a victory of 19-13. Two of those field goals were bombs from 58 yards and 60 yards, resulting in the difference between a victory and a defeat. Although it is only his rookie year, it is obvious that Zuerlien has the power, accuracy, and  discipline to become one of the NFL's elite.
ROBERT GRIFFIN III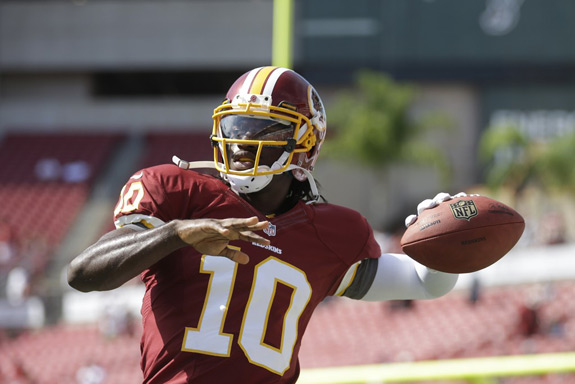 Griffin was drafted number two overall in last years' draft, behind the Indianapolis Colts' Andrew Luck. Heading into week six he had a quarterback rating of 101, tied for fourth in the league with Peyton Manning. Similar to last years' breakout quarterback star Cam Newton, Griffin has a proficient running ability to escape rushers and turn potential losses into large gains. This is best shown by his four rushing touchdowns and 241 yards on the ground. Besides his legs, Griffin has shown an amazing sense of accuracy throwing the ball. Similar to when he was at Baylor, he is leading the entire league in passing completion percentage at 69.1%. Between his ability to score touchdowns on the ground and his sharp disciplined accuracy through the air, Griffin has the skills necessary to become a franchise player, around which Washington can build a championship caliber team.