Reviewing The Automatic Mini Donut Factory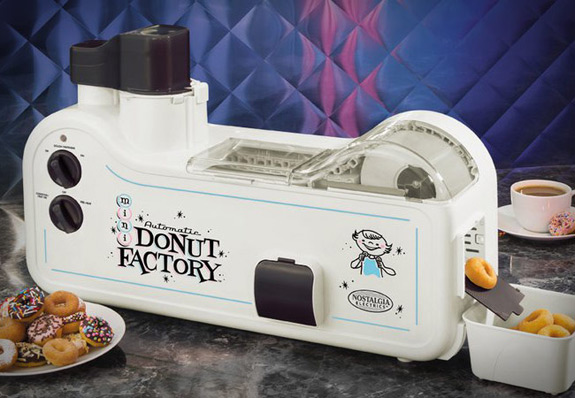 A few months back, someone told us about the Automatic Mini Donut Factory. As card-carrying donut fanatics, the thought of making home-made donuts was too much to resist, so we decided to pick one up and see if it lived up to the hype.
The Automatic Mini Donut Factory is more than just a donut maker – It's a complete donut factory that mixes, shapes and cooks batches of mini donuts in minutes! Now you can cook hot and tasty mini donuts in your own kitchen! Your family and friends will enjoy watching the donuts travel down the donut slide into the donut bin. Fresh mini donuts are perfect for breakfast, bake sales, dessert, sleepovers and parties. Enjoy the fun of mini donuts anytime!
If you're lazy or impatient, the Donut Factory is not for you. Just go down to your local Dunkin Donuts or Krispy Kreme and be done with it already!
The process is quite involved.. First off, you've got to make the batter (making sure you've got the right consistency is key). Once that is done, you fill the donut dispenser with the batter and turn it on. The machine will automatically drop donuts every 30-60 seconds. From there, a little conveyer belt system will flip the donut, and make sure it fully cooks, before drip-drying the donuts and dropping them into a bin.
It's a pretty cool process, as illustrated by this video I shot below:

Thinking my little cousins would get a kick out of this, I decided to bring the machine over to Grandma's house and let them have fun with it. They were in charge of frosting the donuts, and even helped making the batter.
Baking almost 100 donuts took between 2-3 hours, and the kids lost interest long before then. Lesson learned, we'll make a smaller batch next time.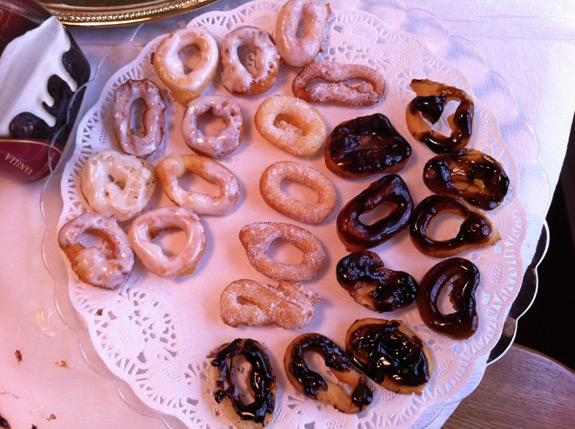 All in all, it was a fun afternoon.. The donuts were a big hit with everyone, and we're going to experiment with some different recipes for next time.
Looking for a fun activity for the whole activity? Nothing beats making home-made donuts! And Amazon has the Automatic Mini Donut Factory on sale right now for only $122.95.