Rolls-Royce Wraith Makes Its Video Game Debut In Forza Motorsport 5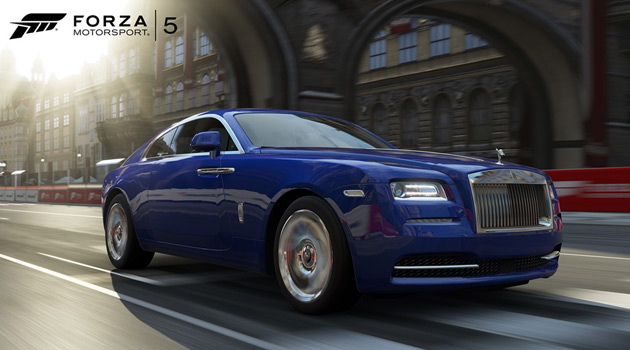 While you might never get behind the wheel of an actual Rolls-Royce in your lifetime, you can now drive one in Forza Motorsport 5 for the Xbox One. That's right, Rolls-Royce Motor Cars, the epitome of luxury, made its video game debut today when it introduced players to the Wraith, the most powerful and dynamic Rolls-Royce in history.
Available as a free download to Forza Motorsport 5 owners, the Rolls-Royce Wraith allows players to drive, explore and experience the super-luxury vehicle in unprecedented visual realism. Forza 5 features an all-new graphics engine created exclusively for the Xbox One, delivering physically based material rendering that re-creates the real-life characteristics of thousands of unique materials in the Wraith. The coach doors open to reveal a sumptuous contemporary interior complete with expanses of wood and leather detailing, looking real enough to touch. Wraith will be offered in 12 color combinations, with Rolls-Royce signature two tone options available.
The marque's sweeping fastback design appears complete with a Bespoke Starlight Headliner consisting of over 1,340 fiber optic lamps, creating a star-studded interior, allowing players to drive in the ultimate style. 624bhp derived from the car's 6.6 liter twin-turbo V12 engine is delivered effortlessly courtesy of Satellite Aided Transmission, a cutting-edge technology that marries the car's gearbox to GPS data to ensure Wraith is always in the correct gear, therefore poised to deliver its abundant power.
Marc Mielau, General Manager Marketing, Rolls-Royce Motor Cars commented, "We are delighted to mark a first in video game history by introducing Wraith into Forza Motorsport 5. The game will provide players with a new level of excitement by exploring the iconic features of Wraith. We are proud to present this compelling combination of refined super-luxury and poised dynamism in such a new and immersive way."
So step inside the Rolls-Royce Wraith, then just kick back and enjoy the ride!