Satechi LightMate LED Flashlight, Perfect For Outdoor Adventures and Emergencies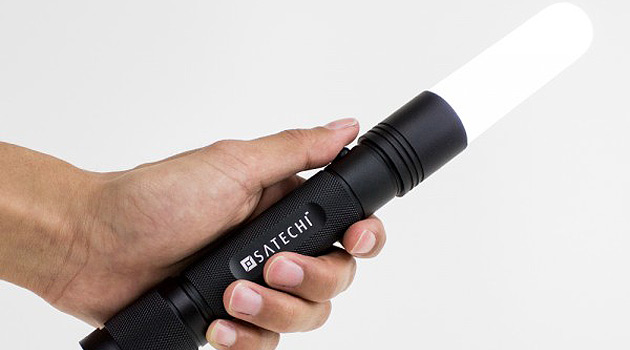 Every now and then, a press release comes across our desk that makes me stand up and take notice. That was the case with the Satechi LightMate, a waterproof and durable aluminum alloy LED flashlight that not only provides light, but it's also equipped with a USB battery pack to charge up your devices, along with a glass breaker, making it a great tool in the event of a natural disaster, accident, power outage, or any other unexpected situation.
As someone who lived through Hurricane Sandy, I can't tell you how useful something like this would have been. It also looks like it'd be useful for any plumbing or automotive work you're doing, especially in those tight spaces where a regular drop light just won't work.
Keep reading for the full press release:
The Satechi LightMate, waterproof and durable aluminum alloy LED flashlight, is the perfect survival kit accessory to keep in the car or with camping gear to ensure users always have a light, USB battery pack, and emergency glass breaker in any situation. The portable LightMate, available now, gives users confidence that they'll be prepared in the event of a natural disaster, accident, power outage, or other unexpected situation. http://bit.ly/1ksywhe
The LightMate features mercury-free LED lights which consume less power than standard lights, can be seen in sunlight and stay cool to the touch – making it ideal for indoor and outdoor use. The flashlight boasts three brightness levels and two distress modes – strobe and SOS. When on strobe mode, the flashlight emits quick flashes of light to draw attention to yourself in an emergency situation, while the SOS setting provides three short flashes and a brief pause followed by three long flashes to signal stress and rescue is needed.
In case of emergency, the LightMate's alloy steel tip can be used as a glass breaker allowing a passenger to break a window and escape from a vehicle. Additionally, the waterproof flashlight can withstand heavy rain and even being submerged.
The convenient LightMate flashlight features a USB charge port to keep smartphones, cameras and other USB-powered devices juiced at all times. It also has a rechargeable lithium-ion battery which can also be removed to allow for spare batteries if the situation requires an additional charge.
The LightMate emergency LED flash light is available now for an introductory price of $29.99 at Satechi.net.
The Satechi LightMate sounds pretty neat, don't you think?