Sonos PLAY:1 Wireless Speaker System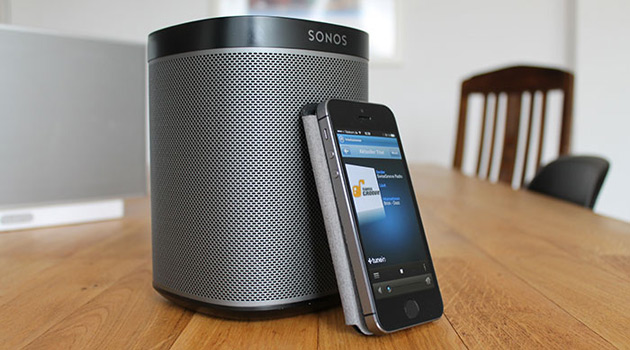 Sonos, a leader in wireless home audio products, recently introduced the Sonos PLAY:1 Wireless Speaker System. The 6.5 inch tall and 5 inch wide, sleek, rectangular column not only provides an attractive design, but also supplies rich, organic sound quality.
The Sonos PLAY:1 is not only the newest in the lineup of Sonos speakers, but also the cheapest. Coming in at $200, this wireless speaker is priced perfectly to make it more affordable compared to its $300 and $400 older siblings. The Sonos PLAY:1 is almost as easy as "plug and play" – once you plug in your speaker, download the updated Sonos app and you'll be rockin in no time.
For example, you must download the free Sonos controller app to your phone or tablet to operate the system. Thanks to a software update last month, Sonos is easier than ever to get started – so from now on, a wired connection to your router (or a Sonos Bridge) is no longer required. With this innovative update, you can go from unboxing to jamming in just a few steps. The only other drawback is near wall placement and an optional subwoofer for ideal sound quality. If you can stomach these shortcomings, you'll be extremely pleased with this purchase. Here's why.
These little speakers pack a punch, and boast some fine dynamic expression, while making the acoustics of even the most basic room, sound vibrant. Ambient details in songs are conveyed vividly and crisply. The speakers provide good instrumental definition while not supplying any artificially boomy bass. The wide variety of features, sharp aesthetic design, solid performance and versatility, really make the Sonos PLAY:1 tough to beat.
Furthermore, Sonos' ability to play from anywhere in the house and manipulate it in a variety of ways makes it no wonder why Sonos is being barraged by competitors. Be the first person on your block to own it, as you can't go wrong.
Matt Thames is blogger and Brand Manager for Selby Acoustics. He enjoys sharing entertainment and tech tips for homeowners.