St. Pauli Girl Announces New Official Spokesmodel
MODEL JENNIFER ENGLAND NAMED 2011 ST. PAULI GIRL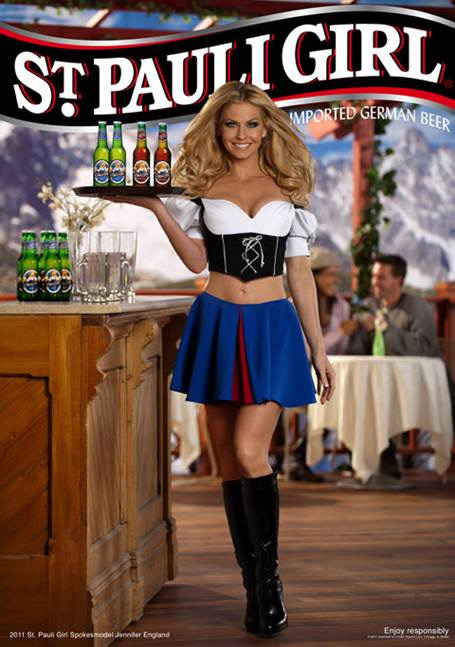 St. Pauli Girl has announced that Jennifer England has been named the 2011 St. Pauli Girl spokesmodel, becoming the 27th girl to don the iconic barmaid outfit. The 2011 St. Pauli Girl poster featuring England will be released on Wednesday, April 20, and available to fans online at www.StPauliGirl.com. England will continue the tradition of bringing the St. Pauli Girl barmaid to life, visiting bars and Oktoberfest events across the country.
A tradition dating back to the 1970s, the St. Pauli Girl poster will reach a major milestone this year, with the 3,000,000th poster being printed. To commemorate this landmark, one lucky fan will receive the special 3,000,000th poster delivered in-person by Jennifer England herself.
Beginning on April 20 and running through May 20, St. Pauli Girl fans may order a free 2011 poster at www.StPauliGirl.com, where a limited number will be given away each day. The poster is also available for digital download. On the website, fans can also sign up to win the 3,000,000th poster which will be specially autographed and personally delivered by Jennifer England, along with a St. Pauli Girl prize pack. For official rules, visit www.StPauliGirl.com.
Selecting a spokesmodel to represent the beer is a decades-long tradition for St. Pauli Girl, the No. 2 German lager in the U.S. The St. Pauli Girl collectible poster was first introduced in 1977 and as of 2010, more than 2.5 million posters had been printed or downloaded.
To take on the role of the St. Pauli Girl, England underwent extensive beer education, including formal training with the esteemed Siebel Institute of Technology and World Brewing Academy. Not just a pretty face, England is also an accomplished stunt woman, appearing in movies, including "Transformers," "G-Force" and "Smokin' Aces." She was also the runner up in the 2006 WWE Diva Search and appeared on television as one of Barker's Beauties on "The Price is Right."
"We're thrilled to welcome Jennifer to the St. Pauli Girl family this year," said Steve Nichols, brand manager for Crown Imports, the official U.S. importer of St. Pauli Girl. "She's a fresh face that will bring new energy to the brand and we look forward to having her meet St. Pauli Girl fans across the country."
England is a native of Lansing, Mich., and beat out hundreds of other models to win the title. As a model, England has won Miss Venus Swimwear International and Miss Hawaiian Tropic International competitions and appeared in advertising campaigns for brands including Kia and Guess. In addition to her acting and modeling work, England loves sports, including swimming, softball, kickboxing and kayaking.
"I am very excited to be chosen as the new St. Pauli Girl for 2011," says Jennifer England. "I'm happy and truly blessed to have the opportunity to travel across the country representing St. Pauli Girl Beer and meet fans nationwide!"