Review: Jeremiah Weed Flavored Malt Beverages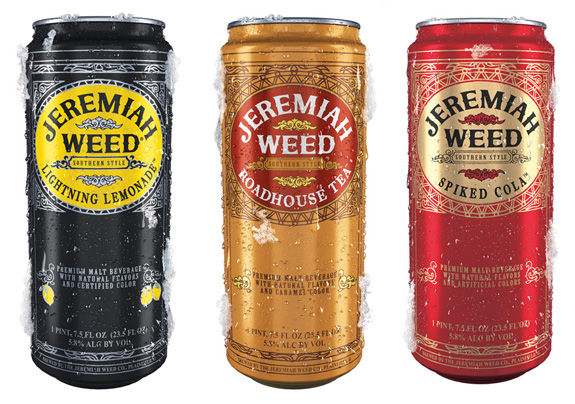 Jeremiah Weed's Sweet Tea Flavored Vodka is one of my all-time favorite drinks. If you're a sweet tea lovers, you should duck out of work early and go buy a bottle. And if you're an Arnold Palmer fan, mix the vodka with some lemonade – Nothing beats it on a hot summer night!
Like I said, I just can't get enough of this stuff.. So when Jeremiah Weed recently introduced their line of flavored malt beverages, I was first in line to try all three different flavors. 😀
The 12 and 23.5-ounce canned beverages (each at 5.8% ABV) provide a new twist to the JW brand. Weed's malt beverages offer an alternative to beer, all while ensuring you get a beverage that embodies the free-spirited lifestyle synonymous with the Jeremiah Weed name.
The Flavors:
Roadhouse Tea – Inspired by the beloved Jeremiah Weed Sweet Tea vodka
Lightning Lemonade – Reminiscent of a refreshing southern favorite
Spiked Cola – Real cola taste with a mild hint of bourbon flavor
First up was the Roadhouse Tea. I was really excited for this, as it'd be a great to have a portable version of my favorite drink. So did it live up to my expectations?
Yes and No. It's actually quite good, but it's not the same as Jeremiah Weed's Sweet Tea Vodka. In their defense, they do state that it's inspired by their Sweet Tea, and not a substitute for the real thing. If I'm at a concert and I want to cool off after a sweaty moshing session, I'd buy one in a second! But if I'm entertaining at home, I want the real deal!
Next up was the Lightning Lemonade. I wasn't sure what to expect, as generally canned Lemonade isn't that great.
I thought it tasted a lot like Mike's Hard Lemonade. And while some people love Mike's (my girl is one of 'em), I'm not a fan. It'd probably be a hit with the 20-something girls at your party, but it's not something I would drink again.
And finally, we get to the Spiked Cola. I've been known to order a Jack & Coke on occasion, so I was hoping for something similar from the Spiked Cola.
Unfortunately, the mix was a bit too strong for my liking. The marketing claims it has a mild hint of bourbon flavor, but mine was REALLY strong. If you're someone that likes their drinks on the strong side, you're going to love this! But if you're just looking for cola with a spash of alcohol, this isn't for you.
It really comes down to personal preferences, as malt beverages aren't for everyone. (I still can't believe I used to drink Zima back in the 90s!)
Have you tried any of these drinks? If so, we'd love to hear what you thought of them!