Strongbow Hard Cider Launches Two Refreshing New Flavors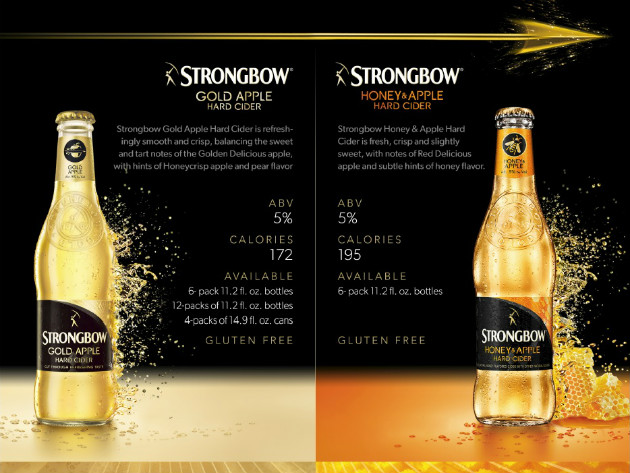 Strongbow Hard Cider, the number one global cider brand, announced the launch of two new refreshing flavors, Strongbow Gold Apple Hard Cider and Strongbow Honey & Apple Hard Cider. With over 125 years of cider-making heritage, Strongbow offers a distinct kind of refreshment from other ciders with these new flavors.
Throughout Strongbow's history, they've remained committed to selecting the ideal apples for a perfectly balanced cider recipe. While many ciders tend to have an overly sweet taste profile, like the Fuji apple, or tart, like the Granny Smith variety, Strongbow offers something different.
With refreshment at its core, Strongbow Gold Apple Hard Cider delivers a perfectly balanced, crisp apple taste that hits the "bull's-eye" by capturing the sweet and tart notes of the Golden Delicious apple, along with hints of Honeycrisp apple and pear. Strongbow Honey & Apple Hard Cider is a seamless blend of fresh apple taste and silky honey, a flavor new to the cider market.
As the global leader in cider, Strongbow is never standing still, actively pursuing new product flavors in an effort to bring consumers the variety they crave. Extensive research found that both men and women strongly prefer the new crisp, refreshing flavor profile of Strongbow Gold Apple.
"Strongbow is perfect for those occasions when you're on a rooftop with friends on a warm, sunny day, kicking-off your afternoon plans, and all that matters is spending time together," said Charles Van Es, Senior Brand Director Portfolio Brands, HEINEKEN USA. "It offers a different kind of refreshment that sets the stage for a great time, day or night."
Both Strongbow Gold Apple and Strongbow Honey & Apple are gluten free, 5% ABV, and contain 172 and 195 calories per 11.2 oz. bottle, respectively.
I'm big into hard cider, and I'm really excited about these two new flavors from Strongbow. If you've had the chance to try either of them already, leave a comment below and let us know what you thought of it!