Magicially Delicious St. Patrick's Day Cocktail Recipes
Your St. Patrick's Day celebration just wouldn't be complete without raising your glass and making a toast to good health and good friends. But the real question is, what should you put in that glass?
Most people will reach for a pint of Guinness or a glass of Irish whiskey, but if that's not your style, there are all manner of delightful Irish, Irish-inspired, or just plain festive beverages to serve on this holiday.
We've put together the following fun drink recipes that are sure to be a hit this St. Patrick's Day:
Cruzan Good Luck Punch (Serves 10)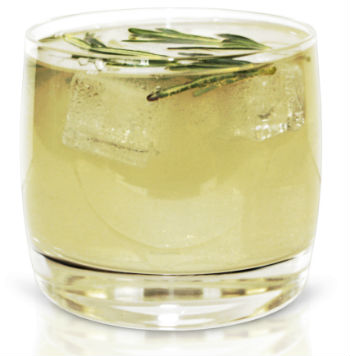 Ingredients:
1 750ml Bottle Cruzan Strawberry Rum
24 parts Ginger Ale
6 parts Fresh Lime Juice
6 Rosemary Sprigs, Rosemary Ice Blocks (see additional recipe below)
Rosemary Ice Blocks: Fill a couple of round plastic containers with water and a couple rosemary sprigs and put it in the freezer. When serving your punch, float the ice blocks in the punch bowl.
Preparation:
To Prep: Pour rum into a punchbowl and add 4 sprigs of rosemary. Give it a quick stir, making sure to fully immerse the rosemary. Let the mixture sit for one hour at room temperature. After one hour, remove the sprigs of rosemary from the bowl and discard them. Next, add the lime juice to the rosemary-infused rum and chill in the refrigerator until you're ready to serve.
To Serve: Add rosemary ice block and ginger ale to your rum punch mixture and you're ready to go! Serve over ice in a punch glass. Garnish with a small piece of rosemary sprig.

Shamrock Sour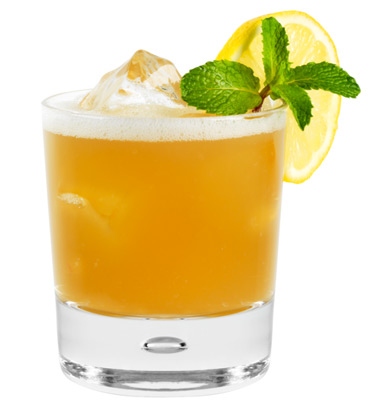 Ingredients:
2 parts Basil Hayden's Bourbon
½ part Green Chartreuse
½ part Lemon Juice
½ part Grapefruit Juice
½ part Agave Syrup* (To make, combine equal parts of water with Agave Syrup)
¼ part Egg White
Preparation:
Combine all ingredients in a mixing tin and shake without ice to blend. Add ice and shake. Strain over fresh ice in a double rocks glass and garnish with a mint sprig and a lemon wheel.

The Gentleman's Mojito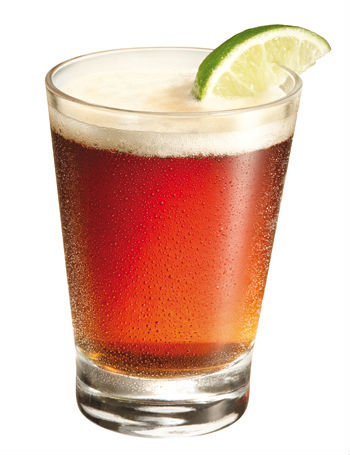 Ingredients:
1 oz. Black Bush
3 oz. Guinness Draught
3 lime wedges
3-4 mint leaves
3/4 oz. agave syrup (1:1 ratio of water to agave)
Preparation:
Muddle limes, mint and agave together in a shaker. Add ice and Guinness, hold cap on tight, and shake. Strain into a rocks glass with ice and garnish with a mint sprig.

Black Velvet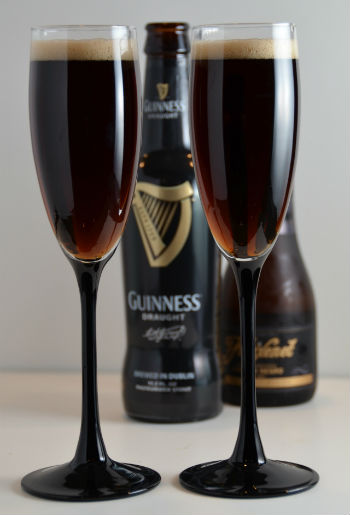 Ingredients:
½ Flute Champagne
½ Flute Guinness Draught
Preparation:
Pour the Guinness Draught into a clean/polished champagne flute. Top up the glass with the champagne, being careful to ensure there is no overspill.

Green River Runs Through It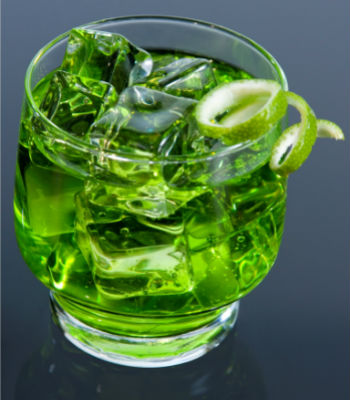 Ingredients:
2 parts Hornitos Plata Tequila
2/3 parts Green Chartreuse
1 part fresh lime juice
Preparation:
Combine all ingredients in a mixing glass. Strain over ice.

The Shamrock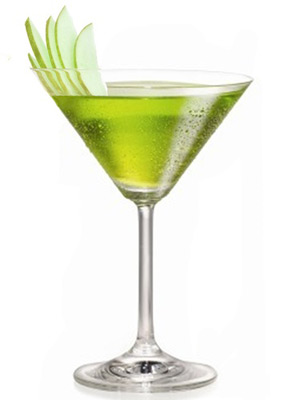 Ingredients:
1½ oz. Maestro Dobel Tequila
½ oz. Sour Apple Liqueur
¼ oz. Agave Nectar
2 oz. Lime Juice
Preparation:
Combine all ingredients in a shaker filled with ice. Shake vigorously, strain into a martini glass, and garnish with thinly-sliced green apples.

Irish Breakfast Shot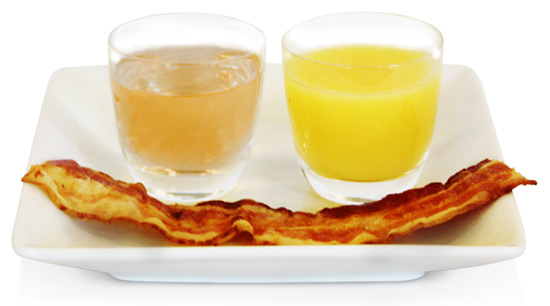 Ingredients:
½ part Kilbeggan Irish Whiskey
½ part DeKuyper Buttershots
1 part Orange Juice
1 slice of Bacon
To Serve:
Enjoy the Kilbeggan Irish Whiskey and DuKyper Buttershots, followed immediately by the orange juice. Finish with a slice of bacon.
Happy St. Patrick's Day!