Free Cab Rides To Thousands In NYC Throughout March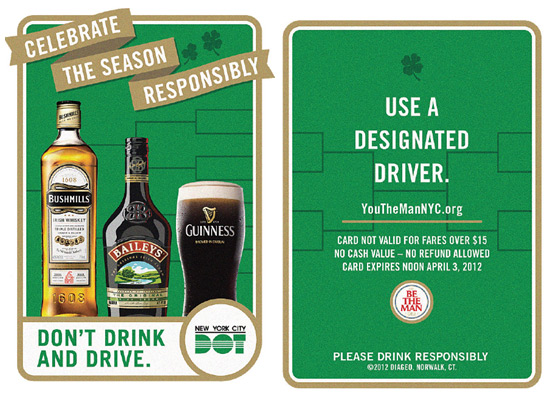 In light of the many celebrations surrounding the tournament and with St. Patricks's Day, Guinness, along with Baileys and Bushmills, has teamed up with the New York Department of Transportation to give away thousands of free taxi rides and metro passes to adult fans in the city. It's an initiative to encourage responsible consumption throughout the month of March, as it's a month packed with activity.
Keep a look-out for street teams that will be distributing these free, pre-paid debit cards valued at $18 and single-ride MetroCards on the following days (beginning Saturday):
Saturday, March 17th – Irish pubs and alumni bars throughout Manhattan
Thursday, March 22nd – Alumni bars in the Bay Ridge and Astoria areas
Saturday, March 31st – Alumni bars throughout Manhattan
Have fun this weekend, but be sure to drink responsibly!