T Sportline Tricks Out The Tesla Model S With Carbon Fiber Sports Package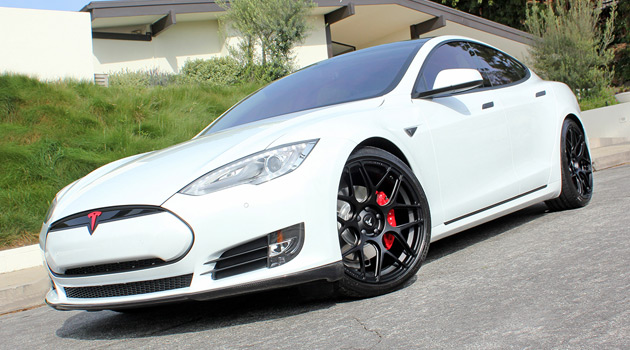 Around here, seeing a Tesla Model S is a pretty rare occurrence. But out in California, Tesla's can be seen driving around everyday. So how does one stand out from the rest of the Model S's out there? If you've got $4500 burning a hole in your pocket, you should check out the T Sportline carbon fiber sports package.
While the Model S is already a looker, T Sportline wanted to up the ante by creating a "sports package" that improves the current look of the vehicle. The four-piece carbon fiber sports package consists of a front apron that completely replaces the existing factory bumper, a trunk wing that extends to the end of each side of the trunk hatch (further extending the ducktail look of the trunk hatch), and a replacement diffuser and center diffuser in the lower part of the rear bumper.
Here's a video that highlights the different pieces of the kit:

It's a subtle upgrade, but we think it really adds to the overall look of the car. And while you're at it, you might want to spring for those sick TS117 21″ rims as well, as they really complete the package!
Who knew being green could look so good??