Tesla Model S Gets A Major Refresh, With New Interior, 520-Mile Range Option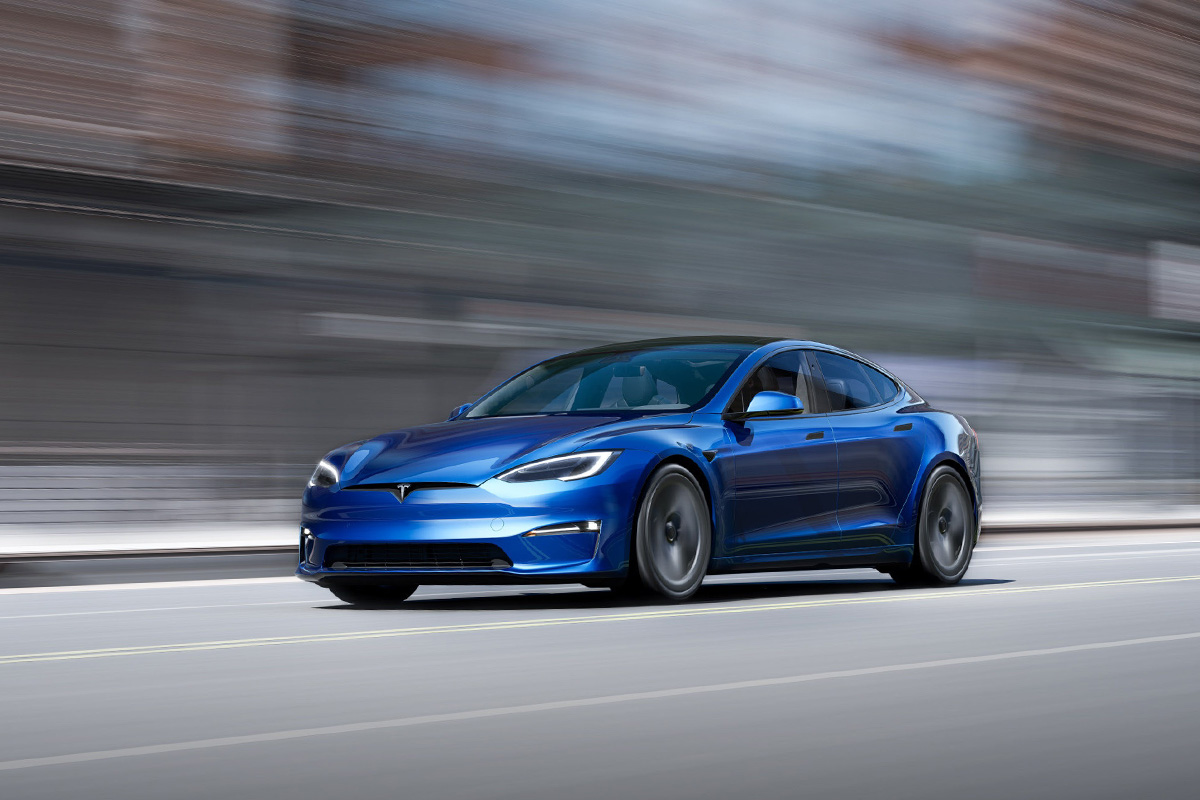 Tesla surprised everyone during yesterday's earnings call with the unveiling of Model S sedan, which receives its first major redesign since launching back in 2012. And while it may not look all that different from the outside, it's sporting an entirely new interior complete with a crazy Knight Rider style steering wheel, along with improved range and performance.
Visually, the refreshed Tesla Model S features a new front bumper with slightly different air intakes, an updated rear diffuser, and new 19″ & 21″ wheels. In additional, all of the exterior trim is finished in black instead of chrome, giving it a more sinister appearance. Tesla boasts that the Model S is the most aerodynamic production car on Earth, with a 0.208 Cd.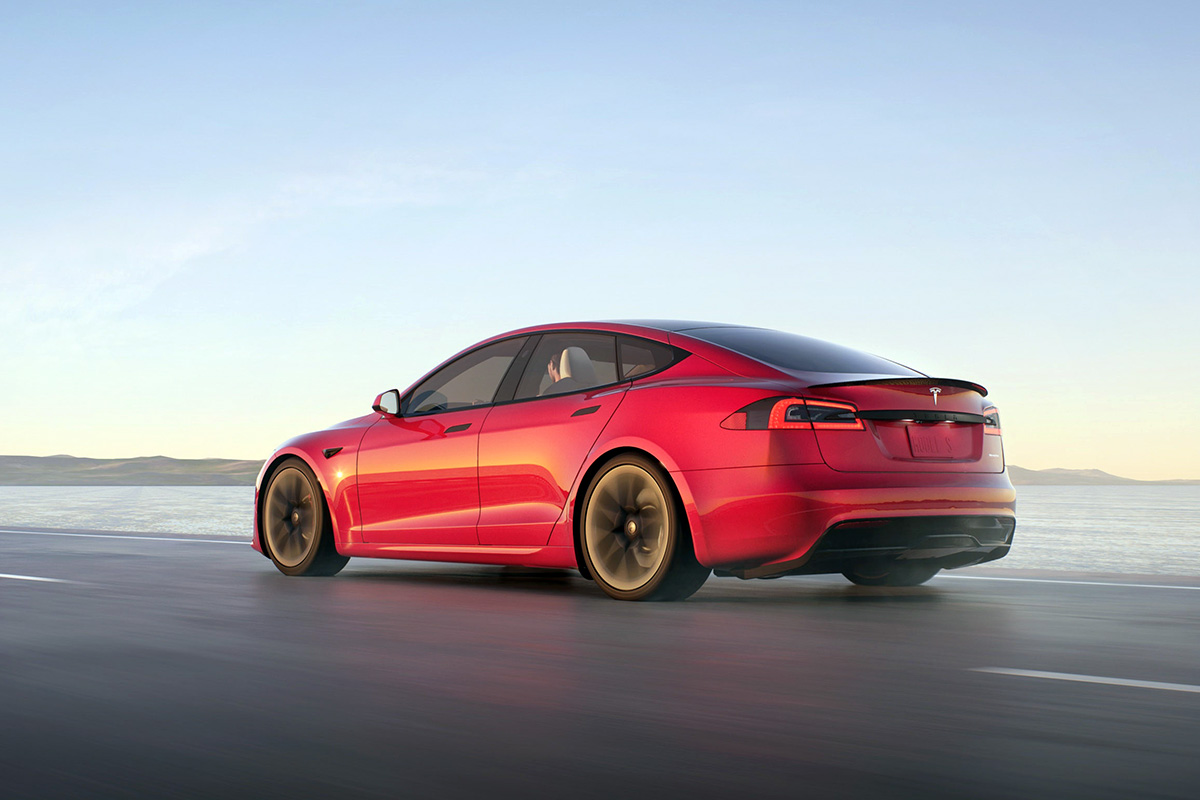 But we're most excited about the interior of the Model S, which is completely redesigned and feels downright futuristic. The first thing you'll notice is the strange butterfly steering wheel, which looks like it was lifted from K.I.T.T. Tesla calls it a steering yoke, and it forgoes the turn signal stalk as well. Seems odd, but we'll have to wait and see what it's like in the real world.
Tesla has gotten rid of the Model S's old portrait touchscreen in favor of a 17-inch horizontal center display, much like what's found in the Model 3 and Model Y, but with far smaller bezels. There's a 12.3-inch digital gauge cluster in front of the driver (like in the Mustang Mach-E) as well, so you don't have to take your eyes off the road while driving.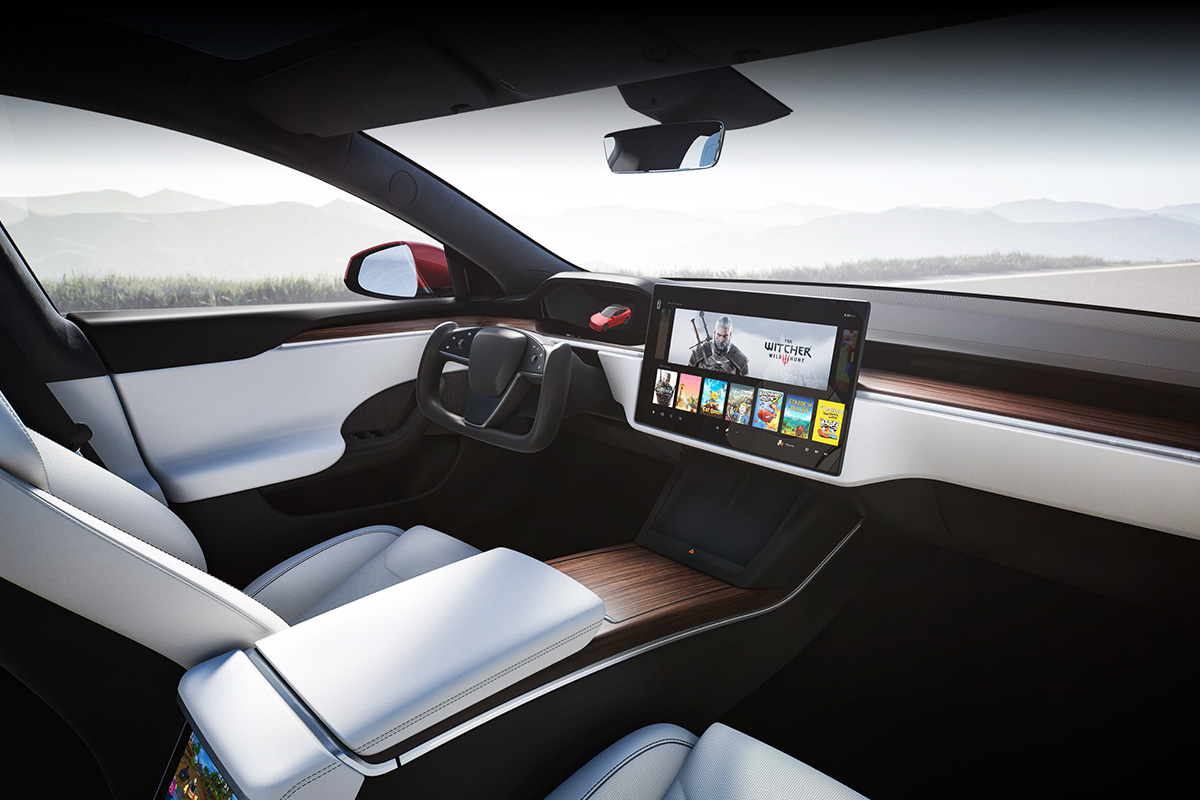 "With 2200×1300 resolution, ultra-bright colors with exceptional responsiveness and left-right tilt, the new center display is an ideal touchscreen for entertainment and gaming anywhere. Up to 10 teraflops of processing power enables gaming on-par with today's newest consoles. Wireless controller compatibility lets you game from any seat."
In addition, there's also a third display behind the center console that provides entertainment and controls for rear passengers. And to make sure that you're always connected and juiced up, there's multi-device Bluetooth, wireless and USB-C fast charging for every passenger with enough power for your laptop provide even more connectivity and convenience. Lastly, a 22-speaker, 960-watt audio system with active noise canceling will keep you rocking out.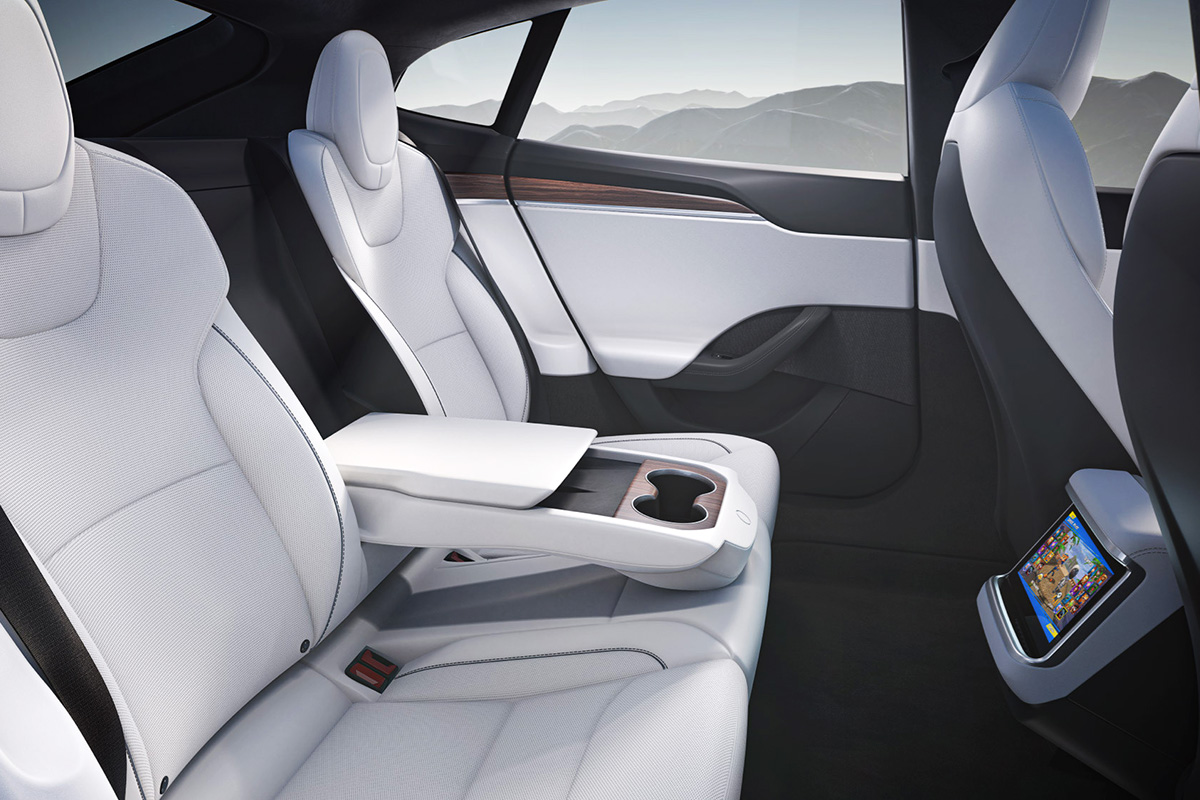 BUT WAIT, THERE'S MORE!
While the interior updates are getting most of the attention here, Tesla has also updated the Model S under the hood and changed its configurations. Buyers can now choose between the $79,990 Model S Long Range, $119,990 Model S Plaid, and $139,990 Model S Plaid+.
The Long Range version has two motors and all-wheel drive, with Tesla a 0-60 time of 3.1s, a 155-mph top speed, and a range of 412 miles. Move up to the more powerful Plaid powertrain, and the 0-60 time drops down to 1.99s, top speed raises to 200-mph, and range drops ever so slightly to 390 miles.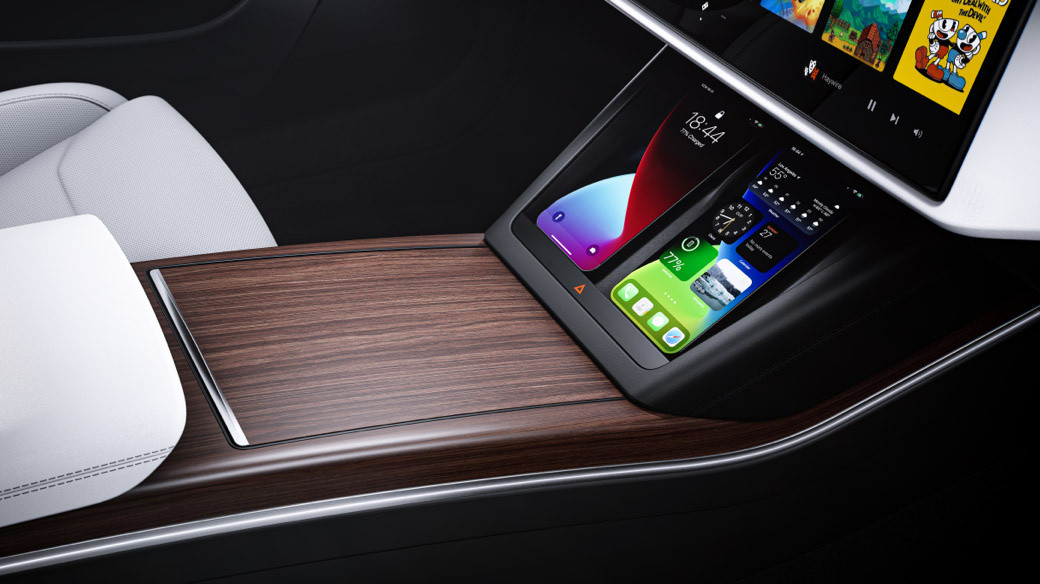 At the top of the food chain is the Plaid+, which shares the same specs as the Plaid model, but boasts a range of 520+ miles, alleviating any range anxiety concerns you might have, and an even faster 0-60 time which hasn't been announced. Regardless of which model you choose, Tesla confirmed that these models feature "fully redesigned" battery modules and pack.
Tesla confirmed that production of the new Model S Long Range and Plaid models will begin in March, while the Plaid Plus model won't be available until late 2021.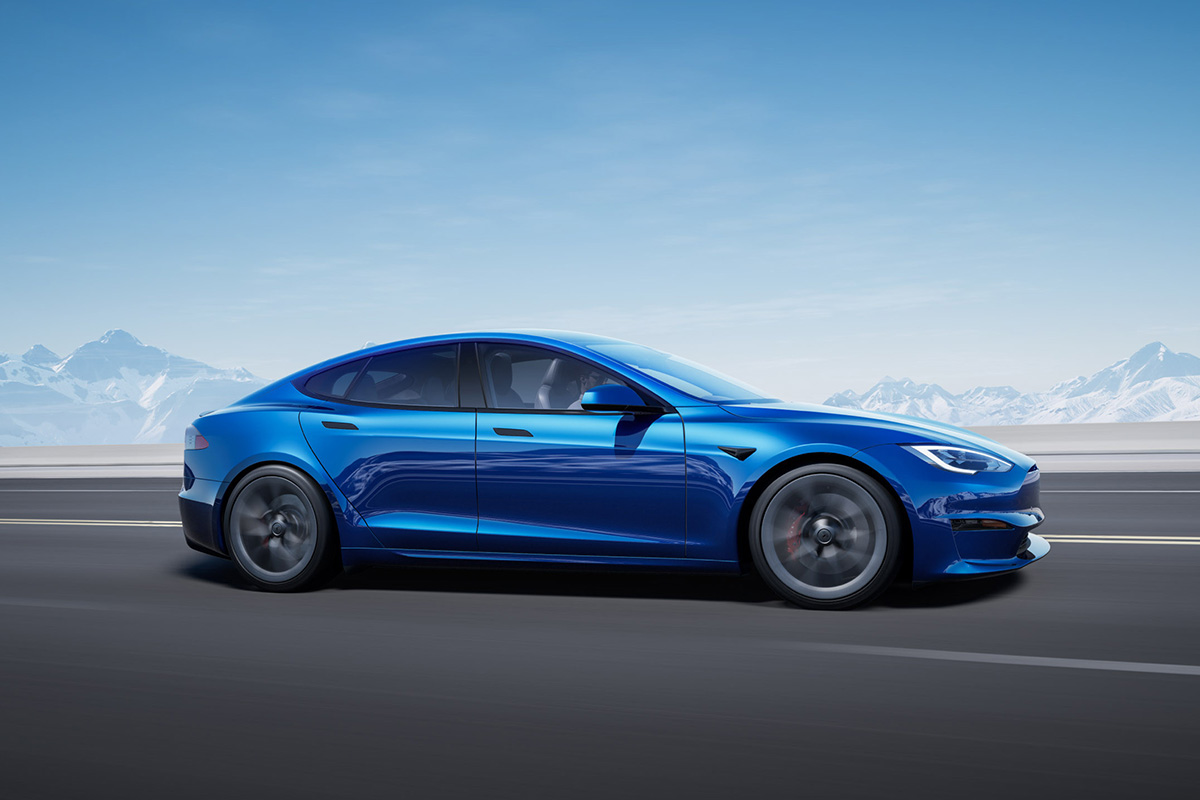 Overall, it looks like Tesla really knocked it out of the park with the new Model S, raising the EV bar once again and proving why they are the leaders in the electric vehicle space. Let us know what you think of the new Tesla Model S in the comments section below!