The 2013 Nissan Altima 3.5 SL Is A Race Car Pretending To Be A Family Sedan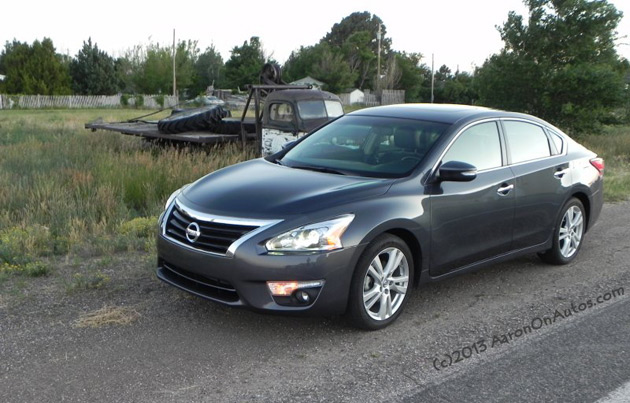 When you think Altima, you should immediately think "Zero Gravity seating" because that is the first thing you'll notice when you get in this midsize sedan. From the outside, of course, the styling is excellent with just enough flair to be unique but not so much that it becomes an oddity. Of course, with rivals like the Ford Fusion and Mazda6, the Altima has to look good to be noticed.
All of this hides something unexpected. Were the ultra-comfortable seats and beautiful exterior style all that the 2013 Altima had, it would be just another contender in the midsize sedan market – a veritable snore fest of vehicles fit mainly for paunch-laden middle management and grandma. The 2013 Altima has something up its sleeve, though, that changes that: a 3.5-liter powerhouse that begs to break speed limits and scream like a muscle car.
While the Dodge Challenger and Chevrolet Camaro also attempt to be the best of both worlds, with their sedan-style roominess and muscles under the hood, the 2013 Altima 3.5 SL makes it happen for one simple reason: it doesn't look like a wannabe muscle car and doesn't have the graying nameplate relying on bygone associations to be taken as one. Instead, the Altima 3.5 looks like a well-designed sedan, but doesn't pull out the muscle until the timing is just right.
Then everyone notices because it's completely unexpected.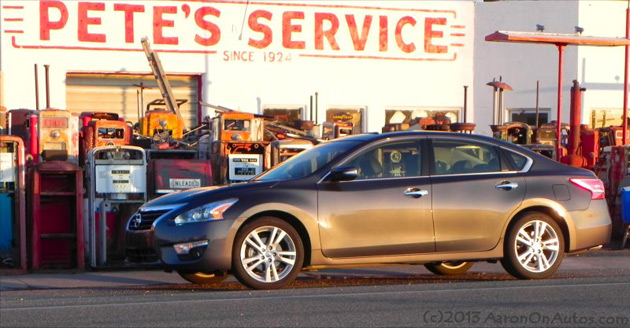 From experience, I can tell you that the 2013 Nissan Altima 3.5 SL has a real-world zero to 60 time of under six seconds and does a quarter mile in about fourteen seconds with a speed very close to 100 miles per hour (99.6). All in Sport Mode, of course (Ds on the shifter). And all with a continuously variable transmission (CVT). Yes, a CVT in a car that's being described as not only "sporty," but muscularly so. That's due to the way Nissan engineered the control software for that aforementioned Sport Mode.
When in Ds, the 2013 Altima 3.5 SL will ramp up the RPM to nearly 7,000 before the CVT does any shifting and will keep RPM at over 4,000 until you let off the accelerator to slow down or even out your speed. Since the 3.5-liter V-6 engine's sweet spot for torque is at about 6,000 RPM and its best horsepower comes at 4,400 RPM, this means all of the engine's output is being focused on propelling the car. And propel it does.
The Altima is more than capable of entering a freeway on ramp at under 20 mph and accelerating to 80+ mph on the merge. It can power around slow-moving traffic with ease and, if you desire, do it with enough G-force pushing you back to force a grin. And it's not just great on the straightaways either.
The Altima 3.5 has excellent handling characteristics. The proven strut-based suspension adds Active Understeer Control and better tuning to give the new Altima a great feel in corners. Far better than a Toyota Camry.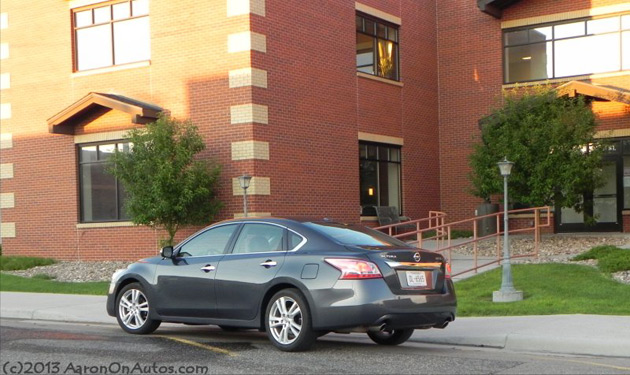 Obviously, of course, no one buys a midsize sedan merely to have a sports car. It's expected to be a capable family car as well. The Nissan Altima fits that role perfectly. The interior is very roomy, well thought out, and the Zero Gravity seating cannot be touted enough. The trunk is huge and is what we in the industry describe as "a Jersey 3-body" in size. In the SL package, the Altima adds a lot of exterior bling – just enough to be stylish, but not so much it becomes gaudy – and great interior connectivity and electronics offerings. Paddle shifting, should you wish to use it, is standard with the 3.5 and beautiful leather and interior trim is also standard with the SL. Every Altima has top marks in crash tests and safety ratings as well.
The Altima 3.5 SL is a great combination of style, comfort, and raw power in a refined package that should force rivals like Toyota and Honda to take notice. It's currently the second-best selling midsize sedan on the market, but could easily overtake the aging Camry and hold the lead thanks to this nicely-done redesign.
Besides, it's just a lot of fun. Once you try the 2013 Altima 3.5 SL, you'll wear a shit-eating grin that won't go away until you have to give the car back. Trust me, I know.