Four Seasons Private Jet Offers Guests Luxury Accommodations In The Sky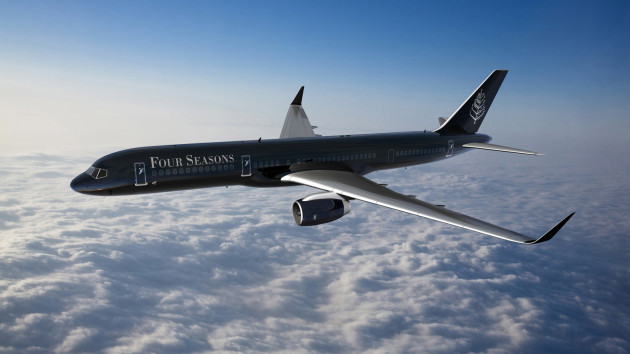 When it comes to luxury hotels, few can hold a candle to Four Seasons. So what's next for the luxury brand? They've got their eye on the sky with their new Four Seasons Private Jet Experience. As the name might suggest, Four Seasons is getting into the private jet game, offering guests a first-class ticket to the world's most unique and immersive luxury vacation aboard a custom-designed Four Seasons Private Jet.
The Four Seasons Jet allows our guests to travel around the world in exceptional comfort and style, enjoying personalized itineraries, luxury and world-renowned service at every point of the journey. Each destination boasts exquisite dining, deep immersion in local culture, jaw-dropping landscapes and wonders to behold. This truly unique experience will leave you with ever-lasting memories.
So what does the $100K+ price tag get you? A remarkable journey around the world with stops at legendary destinations at every corner of the globe, with Four Seasons as your guide. But make no mistake, the Four Seasons jet is no Gulfstream – It's a reconfigured Boeing 757-200ER leased by TCS World Travel that now operates under the Four Seasons flag as an entrée to extravagant group excursions. And it looks freaking sexy painted in metallic black.
The interior of the plane went from 233 standard-size seats to 52 lie-flat seats in a 2-by-2 configuration. Each seat stretches 6.5 feet, with ample aisle and legroom, and offers 78 inches of personal space. Overhead bins are nearly double their original size (now fitting 189 bags) but take up less headspace by tucking up into the crown of the fuselage. A new bi-color LED lighting system creates a clean, calm mood in shades of violet white and soft blues.
Naturally, guests receive the premium treatment they've come to expect from the Four Seasons brand as far as accommodations, five-star dining, and guest services are concerned. And get this – When you take your seat, you'll find a Bvlgari toiletry kit, cashmere blanket, Bose noise-canceling headphones, and a custom-made leather travel journal by Moleskin with matching ballpoint pen. Each guest also receives an iPad Air 2 in advance of the trip, on which you can preload music and movies as a personalized entertainment system. They're all yours to keep!
All in all, it sounds like a pretty incredible way to travel and see the world, and should I ever win the lottery, I'll definitely be booking an around-the-world trip with Four Seasons!