The Tropicana To Host Atlantic City's First Horror Expo, Bizarre AC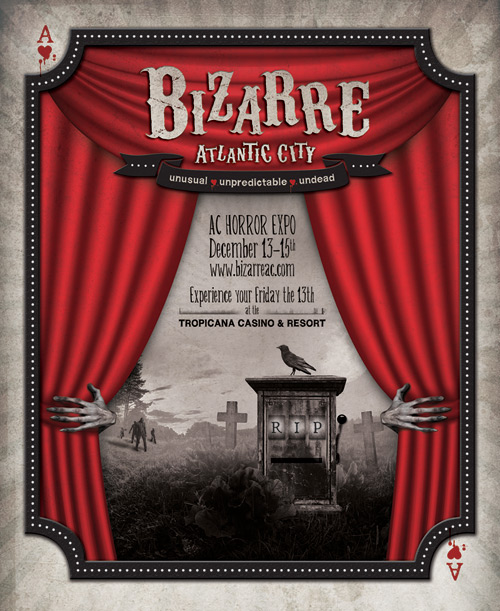 What better date for the Tropicana Casino & Resort to kick off their inaugural Bizarre AC expo than on Friday the 13th of December! Bizarre AC represents all things eerie, creepy and down right entertaining about the world we live in. Not only will Bizarre AC bring us an incredible horror expo lineup, but they bring us the first ever Bizarre AC Costume Contest, where attendees can win some serious prizes and even cash.
Bizarre AC will be going on all weekend, hours of operation are:
Friday December 13th, 5pm-10pm
Saturday December 14th, 12pm-10pm
Sunday December 15th, 12pm-5pm
Another one of the unique experiences that Bizarre AC brings is Bizarre Bites. Bizarre Bites takes place on Saturday the 15th from 4-6pm. If you purchase a separate Bizarre Bites ticket, you get to join local culinary experts and culinary personalities from around the world to try just about everything you only say you could handle. If you live by the philosophy "I'll try anything once," then Bizarre Bites is for you. From bugs to balls, Bizarre Bites allows you to try just about any bizarre food that you can think of. You can be that guy who says "Oh yeah, I've eaten beetle before!" Bizarre Bites tickets are selling fast so make sure you grab yours today.
Other crazy opportunities this weekend include joining Richard Christy from Sirius XM Radio and indulging in a once an a life time beer drinking opportunity. Christy will present you with "13 Beers That Should Scare The Sh!t Out Of You." This delicious endeavor will take place on Friday the 13th at 10pm at Fire Waters.
Let's not forget that Bizarre Atlantic City is also a horror con. In fact, some of the legends of the horror world will be at the Trop for the entire weekend. Some names include Tony Todd (Candyman, Final Destination), Kane Hodder (who plays Jason Voorhees from Friday the 13th series), and personal favorites Tom Savini and Fred "The Hammer" Williamson (From Dusk Till Dawn). Not only will you have a chance to meet some of your favorite horror icon's, but you'll also have the opportunity to attend panels and film screenings with Q&A's after the screenings.
Bizarre AC is bringing their own brand of holiday spirit to your holiday season. Make sure that you purchase your tickets in advance and get ready to attend one of the wildest weekends in Atlantic City. It will surely be something that you won't want to miss. Hopefully I will see you there!
Be sure to follow Bizarre AC on Facebook and Twitter for ticket giveaway opportunities and up to date news and events.