The TWA Hotel Turned This Vintage Airplane Into A Retro Cocktail Bar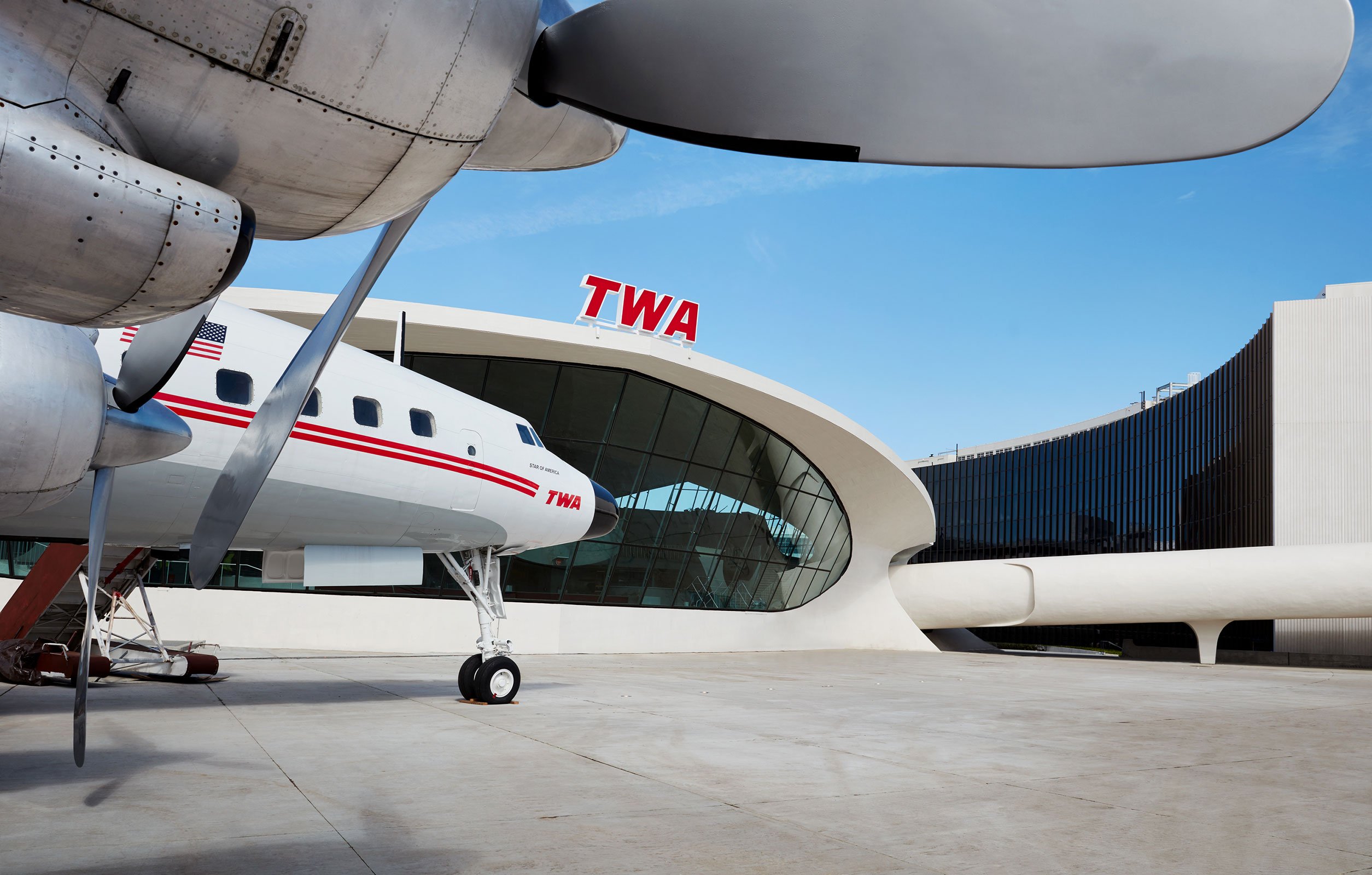 Earlier this year, the much-anticipated TWA Hotel opened its doors at New York's JFK Airport, with the now-restored Trans World Airlines terminal serving as a retro-chic hotel like nothing you've ever seen before. Oh, but that's not all.
Parked just outside the TWA Hotel is a 1958 Lockheed Constellation L-1649A airplane named Connie that has been transformed into a retro-themed cocktail bar that's open to the public. That's right, a renovation project nearly six months in the making, Connie was restored to her original condition, keeping many of its original features intact, including its window curtains, passenger seats and cockpit, along with painting her exterior with authentic 1950s TWA livery.
The new space serves as a continuation of the airport terminal-turned-hotel, carrying over its iconic red carpet as the main design connection. Additionally, it features tables designed by TWA terminal's architect, Eero Sarinen. The middle section of the plane is kept open, allowing space for visitors to move around the cabin. Suede sofa seating lines the edges on both sides, along with sleek accompanying tables. Towards the back of the plane, three rows of passenger seats remain, but they are outfitted in new plaid and leather seat covers designed by Aaron Sciandra. Each pair of seats is given a table to hold drinks.
Other vintage details such as cocktail swords, mid-century board games and the iconic TWA red carpet allow guests to travel back in time to when the TWA terminal opened in 1962.
While the drinks aren't 1960's prices (an Old Fashioned will set you back $16), it is well worth the splurge to visit Connie Cocktail Lounge and take a trip back in time, back to when air travel was a luxurious affair and leg room was still a thing.
Pretty cool, right? I don't know about you, but I'm going to make sure to stop by and visit Connie the next time I'm flying out of JFK!