The World Premiere Of The New Porsche Boxster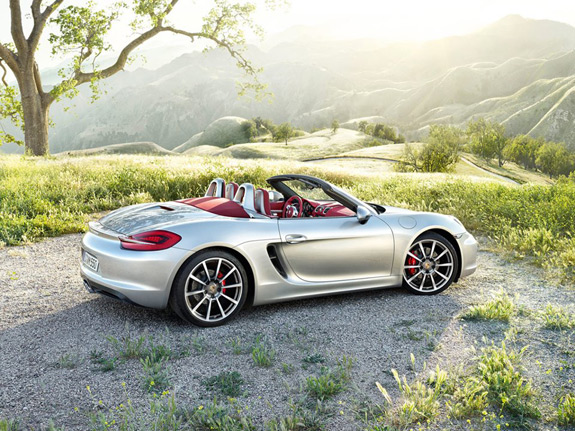 The new-generation Porsche Boxster was revealed in Geneva this week. It goes on sale in April 2012; lighter and more muscular-looking, it has a completely redesigned body and revamped chassis – and fuel economy has been improved by up to 15%.
The wheelbase is longer and overhangs shorter; the windscreen further forward, giving a more speedster-like silhouette. The hood has been redesigned and no longer has a top compartment lid; interior space has been improved, and the raked centre console features improved ergonomics.
Both Boxster and Boxster S gain start/stop, electrical energy recuperation and thermal management; the Boxster now returns 36.7mpg (with the optional seven-speed PDK transmission) and the Boxster S 35.3mpg. The new direct-injection 2.7-litre flat-six of the Boxster, an engine based on the Boxster S's 3.4-litre, delivers 265hp (10hp more than the larger engine in the outgoing model) and delivers 0-62mph acceleration in 5.7 seconds. The Boxster S, meanwhile, gains an extra 5hp for a total 315hp, and speeds 0-62mph in 5.0 seconds. A six-speed manual gearbox is standard.
A wider track, larger wheels and new electromechanical power steering enhance driving dynamics, and further options include the Sport Chrono Package, now with dynamic transmission mounts, and Porsche Torque Vectoring (PTV) with a mechanical rear axle differential lock.
Watch the unveiling along with first thoughts about the new roadster from Porsche racing legend Jacky Ickx and Porsche Board member Bernhard Maier: