This Summer, Schick Hydro Is Seeing Silver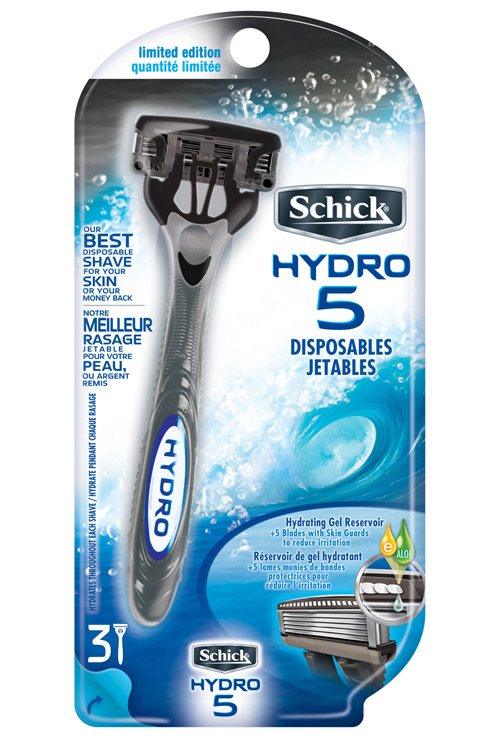 This summer, men opting for a disposable shave can reach for a limited edition Schick Hydro 5 Disposable razor. The new limited edition razor features a sleek silver handle and deliver a stylish shave on-the-go for men who count on Schick for the brand's best disposable shave for their skin, designed to reduce irritation and provide soothing hydration.
The Schick Hydro 5 Disposable razor features all of the hydrating technology men expect from Schick Hydro, including:
Ultra Glide Blades and Skin Guards:
Five Ultra Glide blades with Skin Guards help control friction, smoothing the surface of the skin and doubling the points of contact with the blades to reduce irritation. Only Schick Hydro delivers this technology.
Advanced Hydrating Gel Reservoir:
The Schick Hydro 5 blade cartridge uses proprietary technology to pack advanced lubrication – with soothing aloe vera and vitamin E – into a Hydrating Gel Reservoir that reinvents the lubricating strip found on most razors today, and lasting 2x as long.
Flip Trimmer:
With the Flip Trimmer on the five-blade razor, men can flip back the Hydrating Gel Reservoir so that all five blades touch the skin, as opposed to the single edging blade on most razors.
Schick Hydro 5 Disposables sell for a suggested retail price of $10.99, with three razors included. They can be found at most food, drug and mass retail outlets nationwide. For more info, visit www.schickhydro.com.