Toyota Begins Exporting Highlanders Overseas, Go America!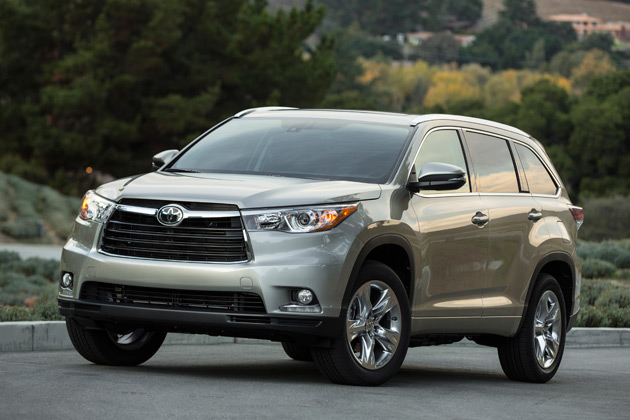 Toyota has announced that US-assembled Toyota Highlander SUVs are now being exported to foreign countries. Go America! Where are we exporting Highlanders? Countries lucky enough to get US built Toyotas include Australia, New Zealand, Russia, Ukraine and Kazakhstan. Bob Carter, Toyota's Senior Vice President, made the announcement during a breakfast talk at the Chicago Auto Show.
Toyota Highlander exports are estimated to reach around 29,000 vehicles each year. The SUVs will be built at Toyota's manufacturing plant in Princeton, Indiana. The plant employs around 4,500 people and will add 200 jobs by the end of the year to meet increased demand. The Indiana Toyota plant represents a $4.2 billion investment and also builds the Sequoia full-size SUVs and the Sienna minivan.
Toyota started exporting U.S.-assembled vehicles all the way back in 1988. (Were some GuysGab readers even born yet?) Toyota currently exports US built vehicles to over 32 countries all over the world. In 2014 about 130,00 vehicles were exported to other countries from the US. This was a 5% increase from 2012 and an all-time high for Toyota.
"The export of Highlander SUVs to Australia, New Zealand and Eastern Europe helps maintain Toyota's strong, stable base of U.S. jobs, and is the result of the great work of our talented U.S. team members and our extensive investments across North America.  We look forward to other opportunities to continue expanding exports from our U.S. operations." said Mr. Carter about Toyota's announcement.
Highlander exports began in late December of 2013.  Vehicle exports to Australia and New Zealand are being shipped from Baltimore, MD (aka Bodymore, Murderland) while Toyota Highlanders getting shipped to Eastern Europe are leaving from Brunswick, GA.
This article is curtsy of Baltimore Auto Repair shop, in association with CarNewsCafe and this auto repair blog. The best car news you can find on the net.