Triple The Size Of Your Laptop Screen With The Sliden'Joy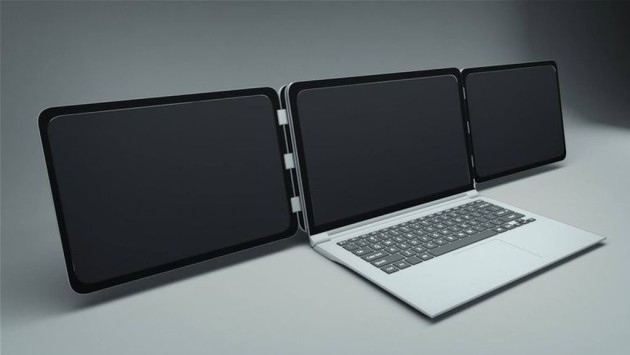 For years now, I've toyed with the idea of trading in my desktop computer for a laptop, giving me the flexibility to work from wherever I want. But the one thing that's always held me back is the lack of dual screens. You see, I've been using a dual-screen setup for the past decade, and I just can't imagine going back to a single screen at this point.
So when I heard about the Sliden'Joy, the world's first accessory that can double or triple your laptop screen, I was beyond excited. It's a rather ingenious device, consisting of a flat panel that attaches to the back of your laptop with adhesive magnets. Then, either one or two panels slide out to the side of your laptop's screen from there. If you have a USB 3.0 port on your computer, all you need to do is plug in to that and you're good to go. Otherwise, you'll need to plug in to two USB 2.0 ports to provide power to the screens.
This demonstration video shows you how it works:

The Sliden'Joy screens come in three sizes: 13″, 15″ and 17″, and each panel weighs between 1.8 and 3.5 ounces depending on the size. That's considerably lighter than most single portable monitors. The trade-off? It's also quite a bit more expensive.
The company recently hosted a Kickstarter campaign, where they offered the Sliden'Joy for early bird prices of $223 (single) and $335 (double). It's not clear if they're still honoring the early bird pricing for pre-orders now that the campaign has ended. If not, you'll be forced to pay full price of $324 (single) and $437 (double).
Yes, that might seem like a lot of money to some, but when you see how much more productive you are with multiple screens, you'll never give it a second thought.
Visit www.slidenjoy.com to learn more about the Sliden'Joy.