Try Bacardi's 'I Am Ron Burgundy' Cocktail
America's favorite news team hits theaters today in Anchorman 2, and in celebration of this momentous occasion, the folks at Bacardi have created a special cocktail to celebrate what should be a legendary return by Ron Burgundy and his crew.
They call their creation the I Am Ron Burgundy, and the drink calls for Scotch (naturally), along with Bacardi Gold, Benedictine, fresh lemon juice, and Burgundy syrup (a mixture of wine and sugar).
Check out the recipe below, and be sure to throw back a few of these before hitting up the movies. That way, even if the movie ends up sucking, you'll have a proper buzz going.
I Am Ron Burgundy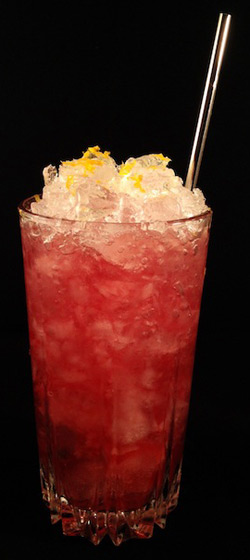 1 part BACARDĺ Gold
¾ parts Dewar's 12
½ parts Benedictine
¾ parts fresh lemon juice
¾ parts Burgundy syrup (see below)
Directions: Combine all ingredients in a shaker tin, add ice and gently shake simply to mix ingredients. Strain into an empty glass, add crushed ice and garnish with fresh grated orange zest.
Burgundy syrup
3 parts wine (preferably Burgundy, but any red wine will do)
1 part sugar
Directions: Add wine to sauce pan, bring to medium heat then add sugar. Gently stir. Once the sugar is dissolved, remove from heat and set to cool.
Enjoy!