Guinness Releases Firefighter-Inspired Tee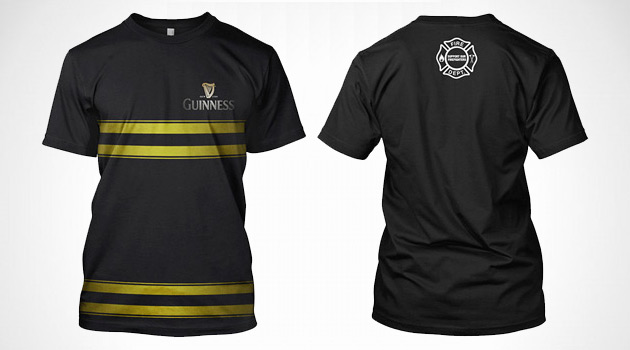 Ready or not, the holidays are upon us. If you're one of the many shoppers still struggling to find the perfect last-minute gift for family or friends, consider doing some good on their behalf by purchasing a limited edition firefighter-inspired t-shirt on www.GuinnessGivesBack.com for a $20 donation.
Proceeds from every sale goes directly to The Leary Firefighters Foundation, Guinness' charity partner, and will help the brand reach its goal of raising $1 million for firefighters by St. Patrick's Day 2014.
You can also celebrate the holidays with an Irish twist by picking up the Extraordinary Irish Beers Variety Pack, which includes GUINNESS Draught, GUINNESS Black Lager, Harp Lager and Smithwick's Irish Ale.
A percentage of the profits from the sale of each Extraordinary Irish Beers Variety Pack (up to $100,000) will be contributed to the $1 million goal.
Firefighters showcase the qualities that Guinness has stood for the past 250 years and begin with founder Arthur Guinness, thus embarking on a quest to raise $1 million in their support as part of its 'MADE OF MORE' campaign. Also including the brand's heartwarming TV spot "Basketball," Guinness works to inspire bolder choices – choices that demonstrate great character and a strong drive to follow one's passions.
Visit www.GuinnessGivesBack.com to learn more and how you can make a donation today.