Vegas Magic: Cirque du Soleil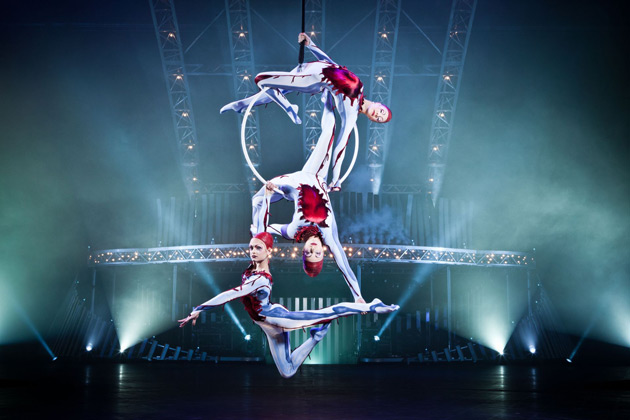 Vegas is a town more known for its adult entertainment, its plethora of slot machines, gambling tables, and risqué acts. But if there's one thing that can turn grown men into children again, it's a Cirque du Soleil show.
Cirque started out in 1980 as a performing troupe, and they developed their animal-free interpretation of the modern circus into the awe-inspiring act that it is today. The group actually has a good number of different shows ongoing around Las Vegas, in some of the most over-the-top hotels, and all of them feature stunning over-the-top performers and sets which capture the essential glitz and glamor of Vegas.
For reference, here's a quick overview of the current lineup, so you can plan to polish up your sense of wonder between bouts at the gaming tables on your next trip to Sin City:
Mystere is a show that was first performed in 1993, and it's now in permanent residence at the Treasure Island Hotel and Casino. It's inspired by everything from world beat music to opera.
O is a water-themed production that's been running since 1998. If you're curious about what kind of show would keep drawing crowds for 15 years, you can catch it at the Bellagio, where the two performances per day allow as many as 3,600 people to watch it on a single night.
Zarkana started as a touring show in 2011 and is now a permanent show at the Aria Resort and Casino. The storyline features a story whose main character is a magician in an abandoned theater, and the title is a fusion of "bizarre" and "arcana," which describes the surreal world the magician is plunged into.
Criss Angel: Believe, on the other hand, is a collaboration between Cirque du Soleil and Criss Angel, the magician who has his own TV show, Criss Angel Mindfreak. The show's ten-year run is working its magic at the Luxor hotel.
With Love, Cirque du Soleil explores the magic of the Beatles' music, re-produced and re-imagined and paired with interpretative, circus-based artistic and athletic performances. You can catch the shows at the Mirage.
Kà, which runs at the MGM Grand in Las Vegas, is the first Cirque production that has a straightforward story, unlike the more abstract visuals the company uses in its shows. It's also been called the most lavish and most technologically advanced production in the history of Western theater, which is something you'd actually expect from a show and theater that cost $165 million to develop. The investment has apparently paid off, as over a million people have seen the show since it opened in 2004.
Zumanity, running at the New York-New York Hotel and Casino, is a cabaret-style show that's Cirque de Soleil's first venture into the world of adult-themed entertainment. In a departure from the company's usual family-friendly fare by exploring the sensual side of Cirque du Soleil, with a show centered around erotic song, dance, and acrobatics.
Michael Jackson ONE is the second, more theatrical production Cirque du Soleil has created centered more around the performer. It evokes the singer's creative genius in several ways, with a narrative centered around four misfits who set out on a transformative adventure, guided and inspired by his music. This latest offering is set to run at the Mandalay Bay Resort and Casino, with previews beginning on May 23rd and opening night set for June 21st, 2013.
Brandon Peters is a writer, entrepreneur, and fan of over-the-top productions. He enjoys exploring the nooks and crannies of Vegas.