Volkswagen Golf R Touch Doesn't Have Any Buttons
The Volkswagen Golf R Touch concept vehicle made it's debut at CES in Las Vegas this week, and the car features an infotainment system that incorporates gesture control as the next step in the area of intuitive control. All it takes is a hand movement in the space in front of the Golf's infotainment display to make human and machine interact as one. Volkswagen is thereby extending touchscreen operation into a third dimension.
The development team for the Golf R Touch pursued the goal of creating an interior and infotainment concept that would fulfill seemingly contradictory requirements. Yet despite the continually growing complexity and number of functions, the VW Golf R Touch concept was intended to reduce driver distractions while attaining maximum personalization and intuitive operation in the car.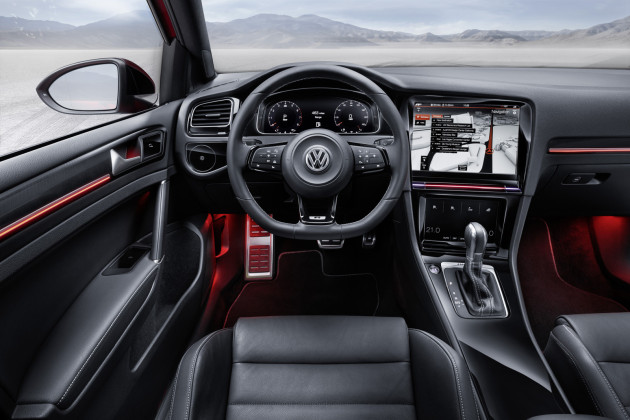 The vehicle was created in which nearly all controls are implemented via touchscreens and sensor switches. Therefore, the Golf R Touch is equipped with three displays: the 12.8″ high-resolution infotainment system touchscreen; a Control Center (8.0″ with touch feedback) arranged beneath it to control the vehicle, climate control and media functions; and an Active Information Display (digitalized instruments, 12.3″).
The layouts of the central touchscreen and the Active Info Display can be customized rapidly, just as on a smartphone or tablet today. The same is true of the entire color staging in the interior.
While the massive touchscreens look pretty slick on display, I'd still much rather have some knobs that I can turn without taking my eyes off the road. It's clear that VW is trying to cater to millenials who want more and more tech with their Golf R Touch concept, but sometimes it's just better to KISS (keep it simple, stupid).
What do you think of the Volkswagen Golf R Touch concept?