Want To Run Seriously? You Need Some Serious Gear!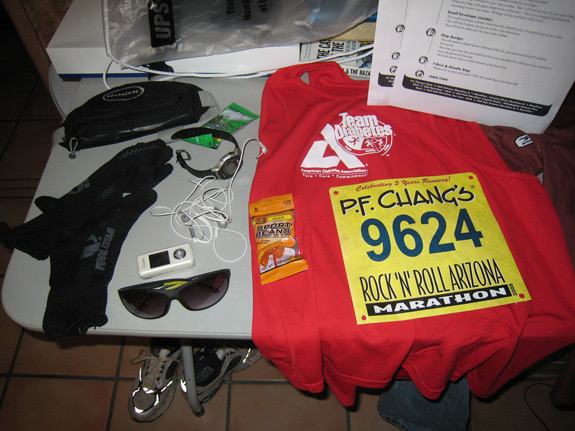 Running can be a very inexpensive sport, and it's a great way to keep in shape. But as you get more serious about it, there are a few items that every runner needs to purchase in order to make it easier and more motivating to continue.
GPS Watch
Now granted, I'm a tech junkie so I love this stuff.. But I got to tell you, without my Garmin I'm not sure I'd be running today! This thing provides so much information, is so easy to use and keeps me on track with my training!
I use the Garmin 305, which is truly the ugly duckling of the Garmin line of watches, but let me explain why it's superior. First, it's cheaper! Second, they talk about the newer models being smaller and you having the ability to wear them as a regular watch. The two issues I have with this selling point – 1) The smaller one is much harder to read on the run. 2) I have no interest in wearing my $400 watch that I sweat all over during workouts as an "everyday" watch!
The Garmin allows for Pace, Distance Heart Rate, and Overall Time all on one screen of the watch. It has tons of other features that I don't take advantage of, including a training buddy that you can set to run a particular pace, and you basically race him on the watch to make sure you are ahead of your pace. When I first started using the watch, I thought the Heart Rate data was overkill, but it really gives you valuable information about your body and your fitness level. All this and it downloads all your data very easily to any computer for analysis.
This is definitely the most important piece of equipment in my running arsenal. I've achieved one of my main goals in running (a sub-3 hour marathon at Boston) and I can honestly say, it wouldn't have happened without my Garmin!
Good Sneakers
If you are going to start a running program, the first thing you need to do is get to a running store with knowledgeable personnel who can guide you in making a good decision on footwear. Everyone's feet are different. A good running store will get you on a treadmill check your gait, and might even let you take a quick short run out of the store to try out the shoes they recommend. It costs a little more money at these places, but it's definitely worth it for newbies. Once you find your shoe of choice, it's a simple Google search of online running stores to find your desired shoe at a better price!
The Stick
Tight, sore muscles, slight pain and injury can often occur to runners. One of the biggest influences on the reduction of these issues has been the use of The Stick. This magical little tool has kept my injuries at bay on many occasions. It takes some getting used to and getting the right Stick for you takes a little research. I'm a marathon runner and run between 45-60 miles per week and I use this one. I find it great for rolling out tight muscles and relaxing tight areas. I use it constantly! I credit The Stick for keeping me injury free for so many of my training cycles. It's amazing!
Foam Roller
The next evolution from just using The Stick is a Foam Roller. A simple piece of cylindrical form that you roll over on your back and legs to get deep tissue massage to your muscles. This does take some getting used to, but if you start to use it, you'll never regret it.
Compression Shorts/Calf Sleeves
After a long workout especially, using Calf Compression Sleeves can help the recovery of sore muscles and have gotten me feeling fresh and ready for another run the next day!
MP3 Player
So there are some purists out there that say running should be Zen and not distracted by anything. Well, I think sometimes my run needs a soundtrack, and music motivates me and keeps me relaxed during hard workouts. There are many options out there. Consider a few things. First, never spend a ton of money on headphones. The problem with headphones, no matter how good, the wires around the connection to the ear buds will always wear out eventually. By a cheaper pair, and expect to replace them annually (depending on usage).
Body Glide
A balm like application that you put on your feet, thighs, private areas, under arms, and ANYTHING ELSE that might chafe. This stuff is a little pricy, but worth its weight in gold!
Wicking Clothing – Under Armour, Champion or All-Star
Cotton = Bad! The above order marks my preference, but also marks their order in way of costs from highest to lowest.. If you are NOT a serious runner, wear whatever you want!
Any questions? Just leave a comment below and I'll be happy to help you out!