Spice Up Your Love Life With The We-Vibe Pivot Vibrating Cock Ring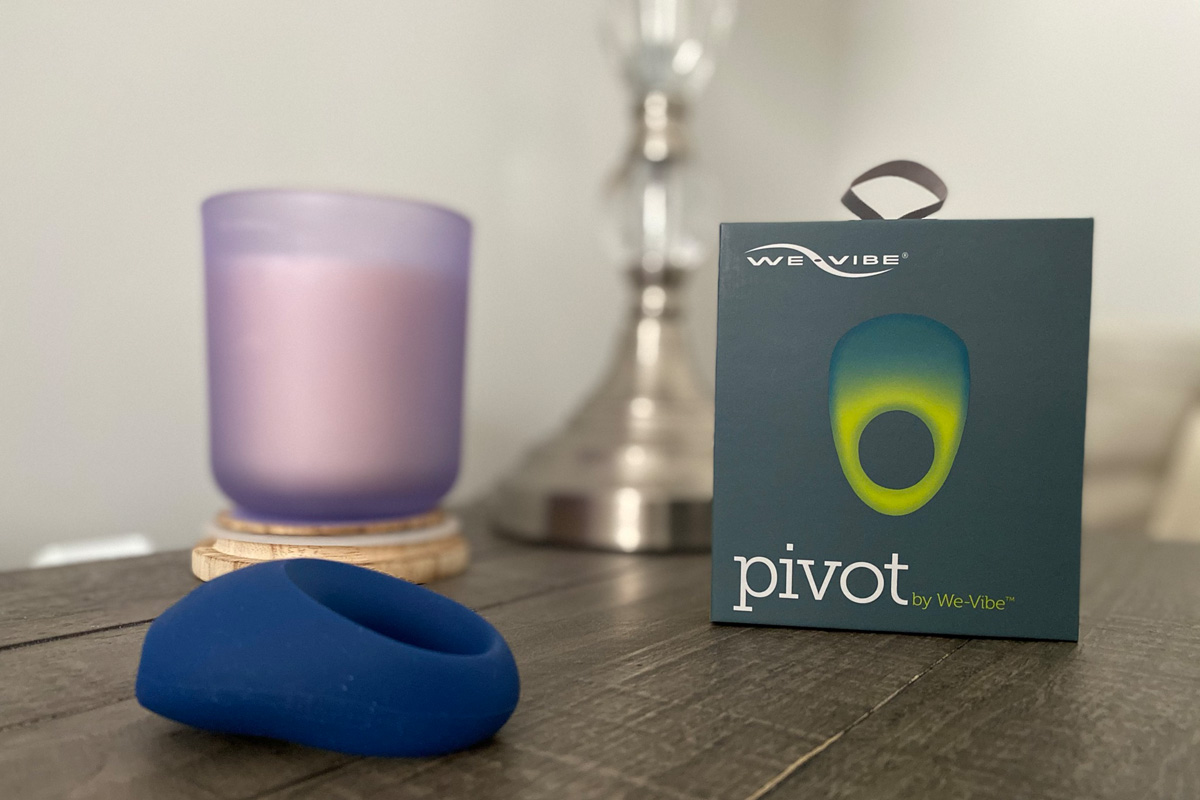 Remember when you and your girl first got together, and the sex was off-the-charts explosive, where you fucked all night and slept all day? Unfortunately, once the honeymoon phase ends, it's easy to fall into a comfortable routine where those passion-filled nights are replaced with more boring sex where you both get off quickly, but it's nothing to write home about.
Most of us who have been in a long-term relationship can probably relate to this scenario, but it doesn't have to be this way! If you want to spice things up in the bedroom, you can put on some sexy outfits and do a little role playing (teacher/student, boss/secretary, etc), grab your camera and make a sexy home video, or introduce some sex toys to your bedroom repertoire to make your lovemaking sessions that much more exciting.
So when my editor asked if I wanted to test out the We-Vibe Pivot vibrating penis ring, I was only too happy to oblige. Now for those of you unfamiliar with cock rings, they're a literal ring worn around the base of your penis that's designed to give you fuller, longer-lasting erections and more powerful orgasms. If that's not enough, vibrating rings like the Pivot stimulate your partner's clitoris with powerful rumbly vibrations, helping her to reach the big-O that much easier. Talk about a win-win!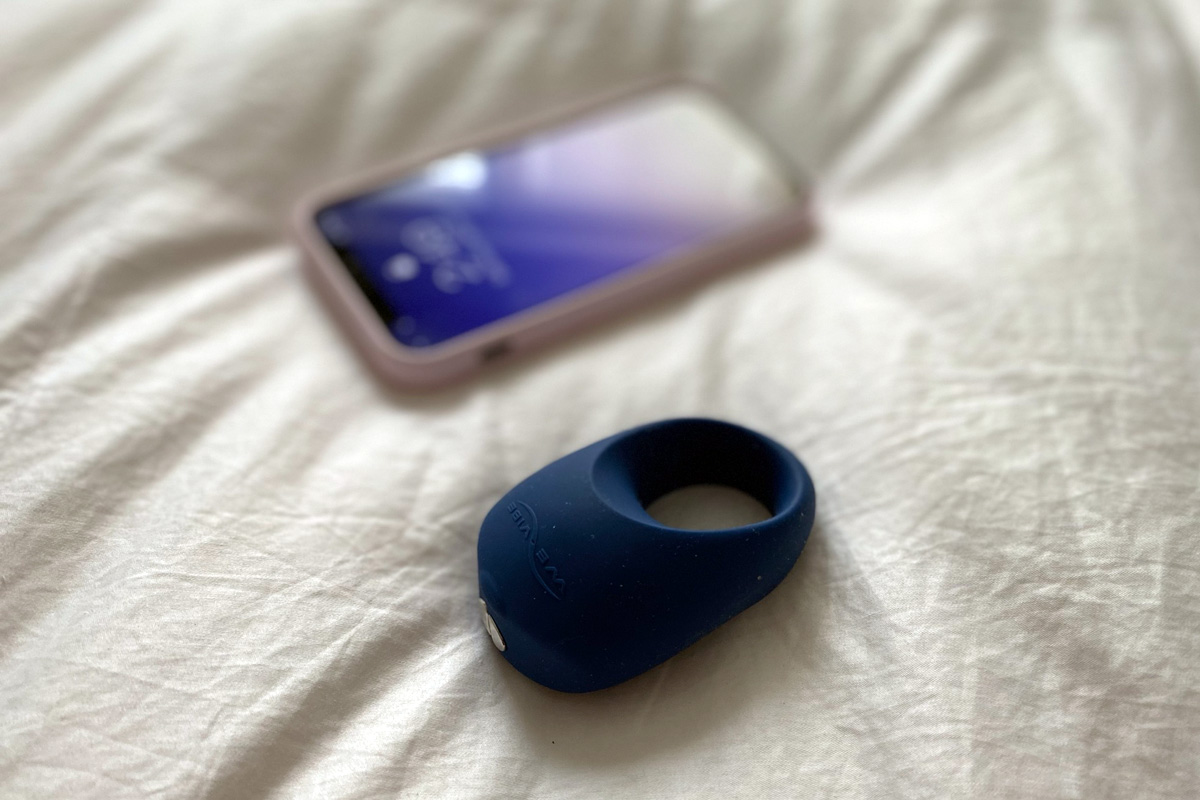 When I brought the We-Vibe Pivot home and showed it to my girlfriend, she was rather excited to give it a whirl, with a naughty glint in her eye as she knew she was in for a really good time. I had planned ahead, charging it up earlier (Pivot is rechargeable and lasts for up to 2 hours of play on a single charge) and installing the We-Connect app on my smartphone, so we could get straight down to business. Needless to say, dinner would have to wait.
This wasn't my first time using a cock ring, but this was definitely the fanciest, most expensive one I've ever tried. Unlike your average plastic or steel ring, this one is made with silky smooth silicone that is stretchy and comfortable for both of you. Putting it on is easy – Simply apply a small amount of water-based lube (a sample is provided) to the inside of the ring and to your erect penis, stretch the band around the head, and slide it down to the base.
It fit me just perfectly, secure enough that the Pivot didn't swivel out of position, but not too tight that it was uncomfortable. Once in place, I turned it on and showed my girl how to cycle through the 10 different modes, so that she could adjust things to her liking. This can be done using the app, or through a physical button on the toy. What's great about the app is that you can change modes mid-stroke, without me having to stop so she can press a button repeatedly.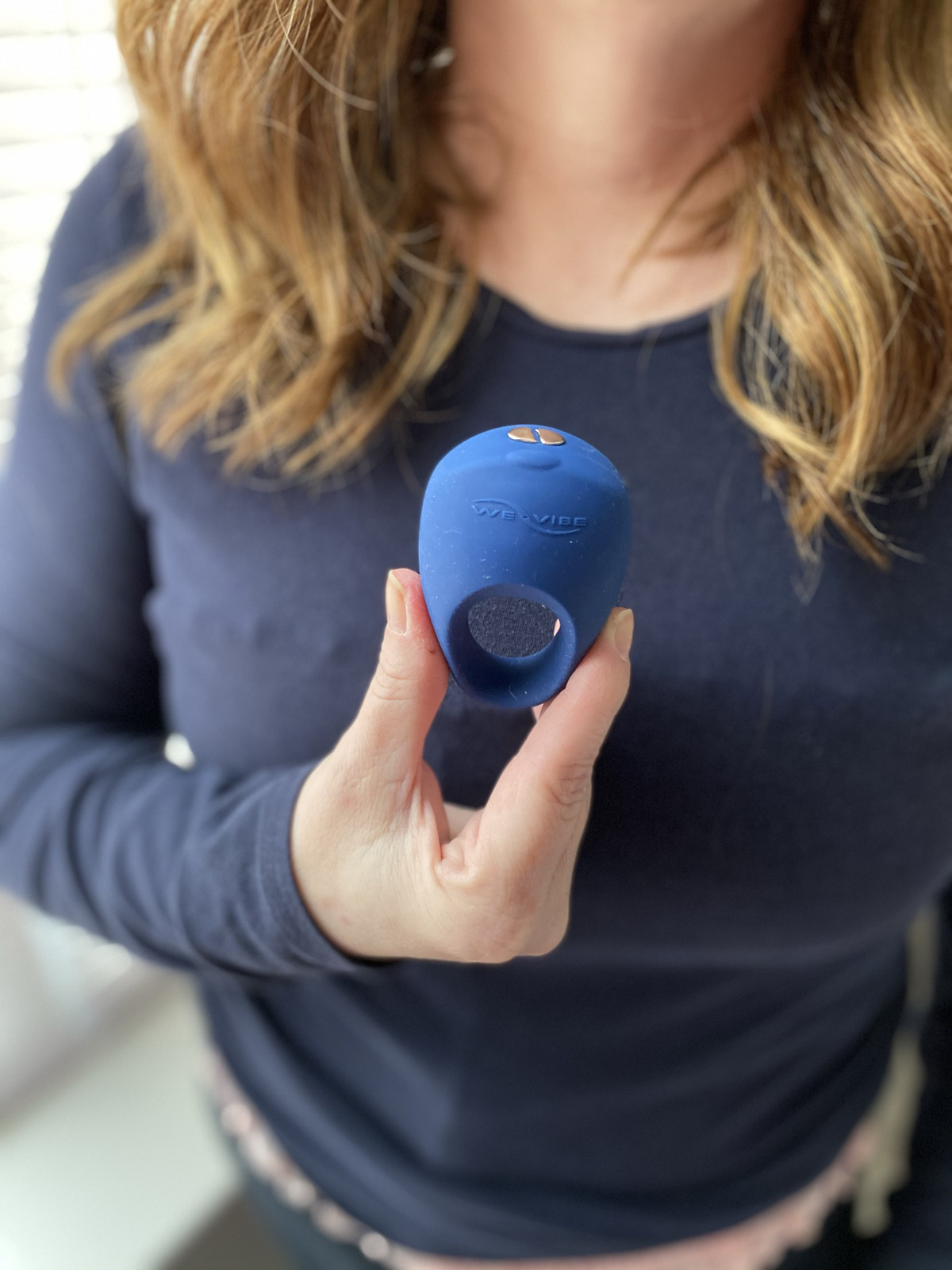 Right out of the gate, I could tell that my girl was into the We-Vibe Pivot, as she was moaning like crazy and pulling me closer with each thrust so that it would make maximum contact with her clit. Within minutes, she was past the point of no return, flailing around and riding out her first of many orgasms. "Holy shit, this is my new favorite toy!" she gasped breathlessly.
Yeah, mine too.. While the Pivot's vibrations are more for the woman's benefit than the guy's, seeing my girl worked up in a frenzy like that caused me to cum shortly thereafter, my orgasm so strong that I swear I was seeing stars. After a brief rest and some much-needed hydration, we hopped back into bed for some more fun, trying out various position and modes for hours on end. Needless to say, we didn't get much sleep that night at all.
It's hard to believe that something so small could deliver so much pleasure, but it just delivers on all fronts and gets the job done right. The next morning, I heard her on the phone bragging to her best friend about how I "fucked her brains out". Sure, the We-Vibe Pivot did a lot of the heavy lifting, but I'm happy to take the credit for those mind-blowing orgasms! 😀
Priced at $109, the We-Vibe Pivot is quite a bit more expensive than other cock rings out there. But this bad boy is on a whole other level. 10+ powerful vibration models, rechargeable, a low power alert when it needs a charge, waterproof (if you want to get adventurous in the shower), a comfortable silicone design, and of course the We-Connect app. To me, it's money well spent.
Kudus to We-Vibe for delivering another A+ product, one that is sure to get plenty of use from us. So if your sex life is getting a little boring and repetitive and you're looking for something to help spice things up, be sure to pick up the We-Vibe Pivot. Trust me, you'll be glad you did!
For more information on the We-Vibe Pivot or to place an order, visit We-Vibe.com.