Wendy's Gets Fancy With Gouda Bacon Cheeseburger and Bacon Fondue Fries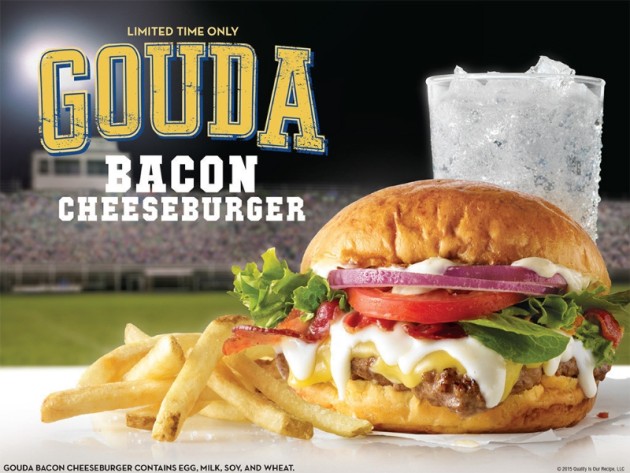 Cheeseburger lovers, Wendy's is bringing together aged Gouda and Swiss Gruyere Cheese Sauce with their oven-baked bacon as star players in Wendy's new Gouda Bacon Cheeseburger. Smoked cheese? Damn, that's gouda!
Wendy's Gouda Bacon Cheeseburger starts with a ¼ lb of 100% pure, fresh, never frozen beef, served hot off the grill and then topped off with a creamy Garlic Aioli, Gouda Cheese and warm Swiss Gruyere Cheese Sauce. Three strips of fresh cooked Applewood Smoked Bacon are added, along with red onions, tomato and fresh spring mix – all served on a toasted Brioche Bun. The Gouda Bacon Cheeseburger retails for $4.99. Yes, it's a little on the pricey side, but it sounds like it'll be worth it.
And if that's still not enough cheese for you, then order yourself a side of Bacon Fondue Fries. Wendy's hot, crispy natural-cut, sea salt fries are drizzled with warm Swiss Gruyere Cheese Sauce and topped with Applewood Smoked Bacon. The Bacon Fondue Fries will set you back $1.99.
If you've tried either of these items, leave us a comment below and let us know what you thought of 'em!