Who Wants To Win A Copy Of Chris Rock's 'Top Five' On Blu-ray?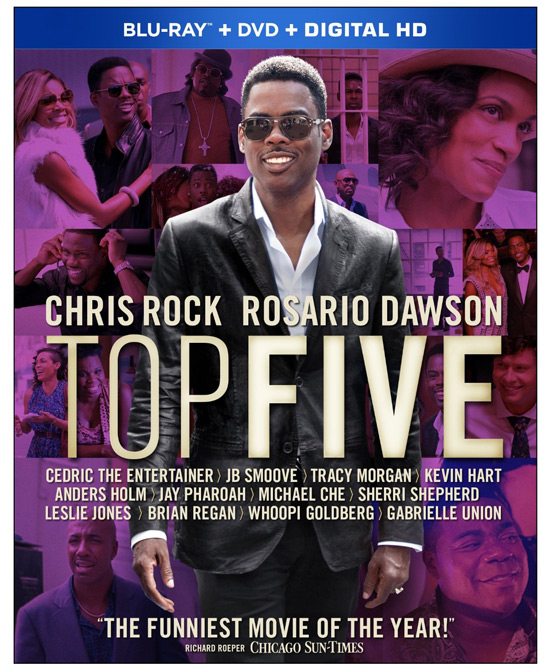 If you missed Top Five over the holiday season, get ready, because Chris Rock's directorial debut is coming to Blu-ray and DVD this St. Patrick's Day!
Top Five follows Andre Allen (Chris Rock), a former stand-up legend who returns to New York to promote his latest film on the eve of his wedding to a self-absorbed reality TV star (Gabrielle Union). While wandering the city with a mysterious and charming journalist (Rosario Dawson), Allen confronts his past and contemplates his future through a series of riotously funny encounters.
The film features a phenomenal all-star cast including Kevin Hart, Cedric the Entertainer, Tracy Morgan, J.B. Smoove, Sherri Shepherd, Michael Che, Jay Pharoah, Leslie Jones, Ben Vereen, and a host of celebrity appearances.
You can check out the Top Five trailer here:

The Top Five Blu-ray Combo Pack includes commentary by Chris Rock and J.B. Smoove, plus 45 minutes of hilarious features including Chris Rock's stand-up outtakes, deleted scenes, the top five moments not seen in the film and more. If you're ready to laugh your ass off, you should definitely pick up a copy of the movie.
In celebration of the movie's release, we're giving away a copy of Top Five on Blu-Ray to a lucky reader. To enter, simply e-mail us and put "I want to win Top Five on Blu-ray!" in the body of your e-mail. We'll pick a winner at random next Tuesday.
Good luck!