Why Isn't The Acura ILX Selling Well?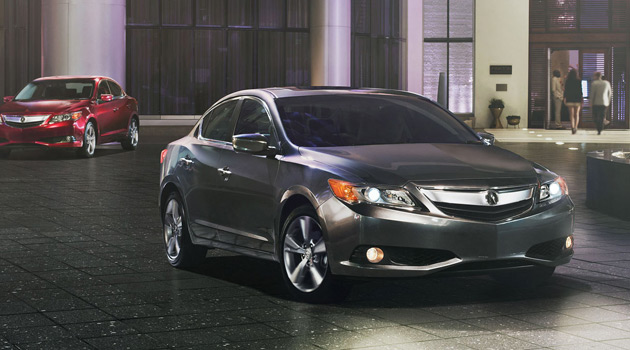 When the Acura ILX concept first hit the car show circuit, I was pretty excited. Acura's past was littered with performance vehicles (Integra Type-R, Legend Coupe, TL Type-S, etc), but somewhere along the way they lost their way. The RSX was the last sporty car that Acura produced, and it was phased out way back in '06. Would the ILX be the long-awaited successor to the Integra / RSX?
In a word, no.
Sales numbers for the ILX have been pretty dismal, only selling 5614 ILX's during the first quarter of 2013. I haven't seen a single one on the road, and I live in yuppieville, where EVERYONE drives a BMW, MB, Audi, Lexus, or Acura. Including my wife, who drives a 2008 Acura TL.
When she first saw the ILX at the Philadelphia Auto Show, she instantly fell in love with it. Me, I thought the rear styling was a little soft, but the spoiler helped somewhat.. A few months later, we test drove an ILX 5-Speed Automatic with Technology Package to see how it drove. Underwhelming. Cheap. Overpriced.
The car is SLOW, with a 2.0L engine that puts out a meager 150hp. The 2.4L engine that puts out 201hp only comes in a manual, which seems like a huge tactical error. Interior build quality felt cheap, and the lack of a power passenger seat was beyond annoying, as I couldn't move the seat down!
But the biggest issue of all is the price. Our car had a sticker price of nearly $32,000! For that price, we could have gotten the TSX Special Edition that was parked next to it, which was nicer in every way.
To Acura's credit, they're able to move fairly quickly when they identify a problem. The 2009 Acura TL's horrendous "beak" was massaged in 2010, again in 2011, and today the nose is actually pretty nice looking.
Will they do the same with the ILX? All they need to do is butch up the styling, give it some more powerful engine choices, and work on the price. Otherwise, the Mercedes CLA and the BMW 320i will put the ILX out to pasture before they know it!