Why The Galaxy S5 Is Great For Fitness Enthusiasts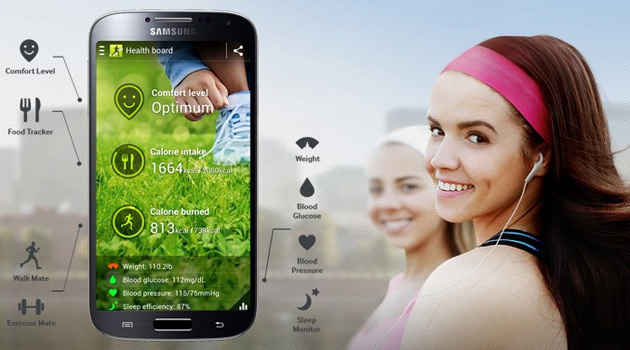 One of this year's biggest technology trends is wearable fitness, or gadgets that track exercise habits. While these gadgets are valuable in so many ways, they're not always the most affordable devices. Some options can get pretty pricy. Luckily, people don't have to spend a fortune buying wearable fitness gadgets. Instead, they can get a lot of the same benefits from one particular smartphone: the Samsung Galaxy S5.
Here are a few of the different features that make the S5 such a great option for health-conscious folks.
Heart Rate Sensor
The Samsung Galaxy S5 is the first smartphone with a built-in heart rate sensor. The sensor is located on the back of the phone, right next to the camera flash. Users simply place a finger over the sensor and it will use light to check the blood flow beneath the skin. Then, based on the blood flow patterns, the phone tabulates and displays the heart rate.
The tricky part of using the sensor is remaining completely still and quiet, which can be difficult during a vigorous workout. However, the heart rate sensor can alert when the heart rate is too high and the user needs to take their activity down a notch.
Samsung also offers another disclaimer: the heart rate sensor is for fitness and exercise usage only. It should not be used by people who need to monitor their heart rate for medical reasons. Anyone who needs such a device should seek a recommendation from his or her physician.
Other than that, the heart rate sensor is extremely convenient.
Exclusive Health App
The Galaxy S5's new S Health app is a user-friendly app built right into the smartphone to track and log physical activities and calorie balance. The S Health app offers a walking mate, food tracker and heart rate monitor, thanks to easy integration with the S5's heart rate sensor. The app's Exercise Mate offers running, walking, cycling and hiking workouts.
Here are a couple of great ways to use the S Health app:
Manage heart rate, food, exercise and sleep data
Keep a food diary and track caloric intake
Record daily steps using the pedometer
Count calories burned during exercise
Measure longer-distance walking workouts using GPS data
Subscriptions to Health & Fitness Services
Owners of the Galaxy S5 can also enjoy free subscriptions to popular health and fitness services.
For example, Samsung includes a year-long subscription to RunKeeper, which tracks pace, measures the distance of a workout, charts weight loss and monitors training goals. RunKeeper can accommodate any fitness level, from beginners to marathoners.
In addition, Samsung includes a year-long subscription to Lark, which captures daily walking and running activity and delivers the data in easy-to-read charts and messages. Lark then suggests realistic goals based on the patterns it notices, and provides suggestions in real-time.
Galaxy S5 owners can also enjoy a six-month trial to MapMyFitness, a service which tracks all fitness activity. It displays the route taken during a workout, offers integration with social media and keeps a training log with distance, speed, elevation and other stats.
Finally, the S5 offers a six-month trial of Skimble, an app that offers thousands of multimedia workouts tailored to every fitness level.
Where to Buy the Galaxy S5
If you're ready to purchase the Samsung Galaxy S5 and use it to help monitor your fitness routine, run out to your nearest T-Mobile store. The carrier just announced it is expanding its family plan from 5 lines to 10 lines. What's more: T-Mobile is offering free unlimited data for a year to customers who recommend a friend. Share the knowledge with someone else you know who is passionate about health and fitness.
Whether you're new to the fitness world and don't want to sign up for a gym membership, or you're a fitness junkie who wants to stay on top of every workout, the Samsung Galaxy S5 is the perfect device for the fitness enthusiast.
– By Stephen Reynolds