2014 Chevrolet Sonic Is Four Wheels Of Subcompact Action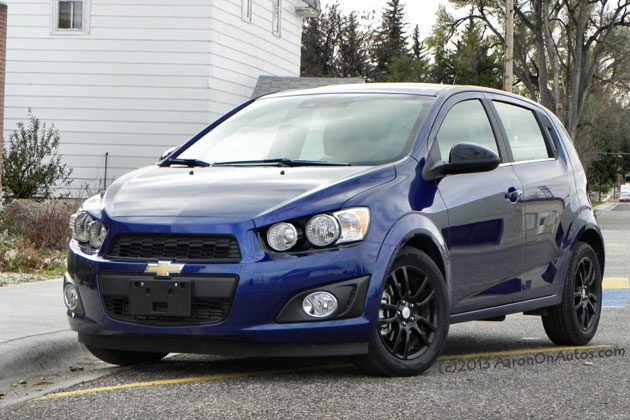 The 2014 Chevrolet Sonic 5DR LT fits into the vehicle segment I like to call "shoe boxes with wheels." They're based on the Japanese Kei ideal for compact people moving and usually require that Americans become yoga masters with a bent towards driving like grandma. The Sonic, however, dumps those traditions and instead targets fun times without the price tag or inconvenience. It has pretty good aim.
The Sonic lineup took over where the apathetic little Aveo left off, dropping that lame Latin name (it means "desire") for a more hip, urban title befitting its new image as a destination to fun times. Despite its diminutive size and tiny tin engine, the 2014 Chevrolet Sonic delivers in both versatility and fun factor. The base price is well under the $200/month payment threshold and the window sticker for the higher-package LT with all the goodies that we drove is still a mere $20,408, including destination.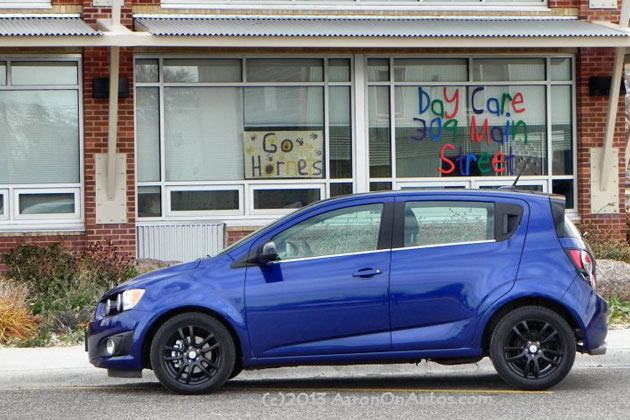 That teensy price tag comes with just about every vehicular gadget you can name: blacked aluminum wheels, chrome trim, black accent pieces, a great stereo with XM and navigation, Chevy's MyLink, air conditioning, heated mirrors, and a lot of other goodies. Storage cubbies, connectivity for your smart phones and devices, and a fun drive abound in the Sonic.
The 2014 Sonic as we drove it had the 1.4-liter turbocharged Ecotec engine and optional six-speed manual transmission a five-speed is standard and an automatic is optional as well. The manual trans adds a lot of fun factor to the drive and is well worth getting. It's amazingly easy to shift, with a relatively short stroke and an easy clutch that even an amateur can use. The dashboard even tells you when to shift. The sixth gear gives a serious boost to the highway MPG capability, making the rated 40 mpg easy to achieve thanks to that extra highway gear dropping engine RPM to about 2,200 at 75 mph.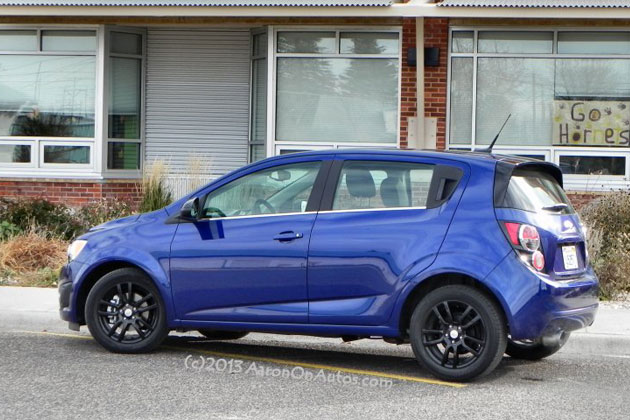 On the outside, the sonic is a stylish little shoebox with wheels. The front end and hood line are tapered downward, dipping low and creating a sort of scowl at the front with the beady, uncovered headlights adding some sophistication to that brow. The windscreen is long and low, creating a low roofline effect while the slight dip behind the apex of the roof towards the rear spoiler finishes that low-roof, sport car appearance. While no one will mistake the Sonic 5-door for a sport coupe, of course, it does have a much more urban street cred appeal than, say, the Scion xB or the Kia Rio.
On the street, the turbocharged little engine is surprisingly powerful and racy, being happy to thrum along at standard speeds or rev high and loud when speeding. The low RPM levels required for peak torque output (thanks to the Ecotec's higher compression) means a far sportier driving dynamic than would be had otherwise. The Sonic with this engine has no trouble reaching freeway speeds before the merge and keeping them once there.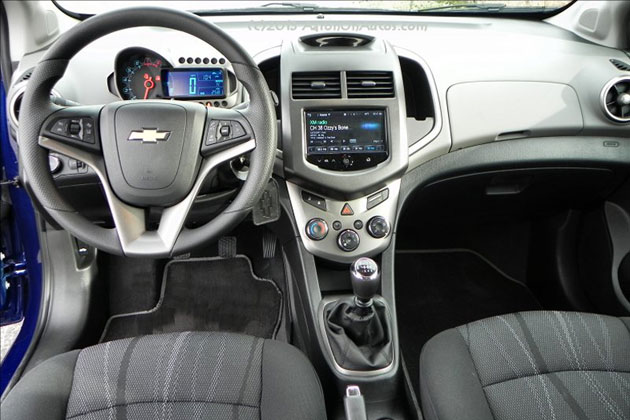 Noise levels are very low for this class. Many vehicles in this entry-level subcompact segment are rattle boxes of road noise and engine hum at high speed, but the 2014 Chevrolet Sonic stays relatively quiet and offers a stiff, but well-balanced ride on the highway.
Seating inside the Sonic five-door is basic, but comfortable and nicely laid out. The back seats aren't exactly spacious or huge, but nobody in this class of car has anything much larger to offer. The rear seat can carry three small adults or children, easily accommodate child safety seats, and are comfortable enough for short road trips and running around town.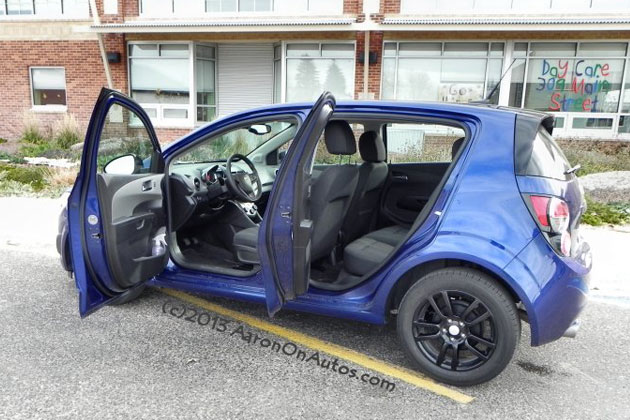 In front, everything is nicely organized and the seats are great, even with their limited adjustment options. The LT package comes standard with power windows and locks as well as a few other extras to make the car seem far more premium than its price tag would denote.
Putting it all together, Chevrolet did a very good job with the new Sonic. The car was not very competitive in its previous life as the Aveo, being more of a wannabe Geo Metro revival, but now, in the 2014 Chevy Sonic, we find a tiny little car that really, really wants to please. Chevrolet aimed for the entry-level target market hoping to hit somewhere in the "we have more for less" area normally dominated by the Korean and Japanese makers and Chevy's aim was true, hitting the bulls eye.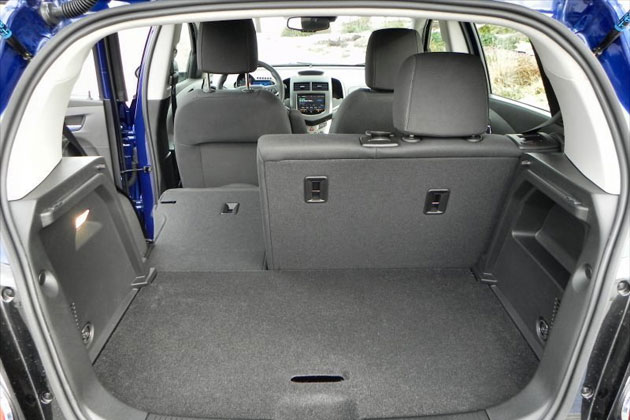 Throwing in a five-year, hundred thousand mile warranty, two years of dealer maintenance, and other bonuses only sweeten an already good deal. The 2014 Sonic 5DR LT was a surprisingly fun test drive and we were reluctant to give it back when our week with it was up. It's a tiny little goer that's full of fun times.