Ford F-100 'Snakebit' Revealed At SEMA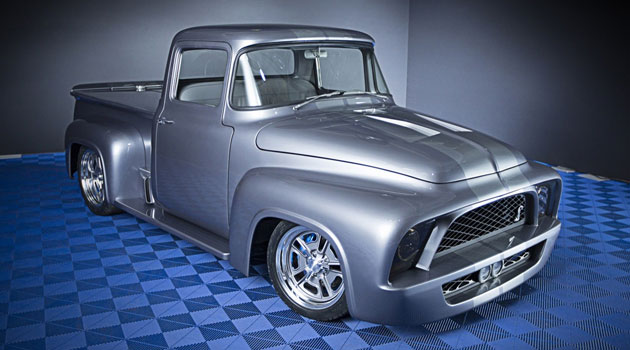 Snakebit, a custom 1956 Ford F-100 with styling cues that salute the great Shelby Mustangs, was unveiled last week at SEMA by KISS bassist Gene Simmons and his wife, actress Shannon Tweed.
I'm a huge fan of restomods, and the Snakebit is a prime example of this. Not only is it drop-dead gorgeous, but this 1956 F-100 is powered by a Ford Racing supercharged 5.4-liter V8 engine that puts out around 550 horsepower, with power being fed to massive 20-inch rear wheels through a six-speed manual gearbox.
The wheelbase has been stretched five inches, while the box has been widened and dressed with a billet machined floor to mimic wood. It is topped with a custom tonneau cover. The headlights and sequential taillights are custom-built, while 18-inch front and the 20-inch rear wheels are inspired by Shelby Mustangs.
The interior of this metallic gray beauty features handmade panels and two-tone leather. The knobs on the leather-wrapped dash are custom, as are the armrests. The leather bench seat, carefully contoured to match the look of a Shelby Mustang interior, is from Glide Engineering.
Like what you see? Snakebit will be auctioned next year by Barrett-Jackson, with the proceeds going towards the building of a children's hospital in Tweed's hometown of Saskatoon, one of only two Canadian provinces without a dedicated children's hospital.
What do you think of the Ford F-100 Snakebit?