2014 Volkswagen Tiguan Is A Poor Man's Cayenne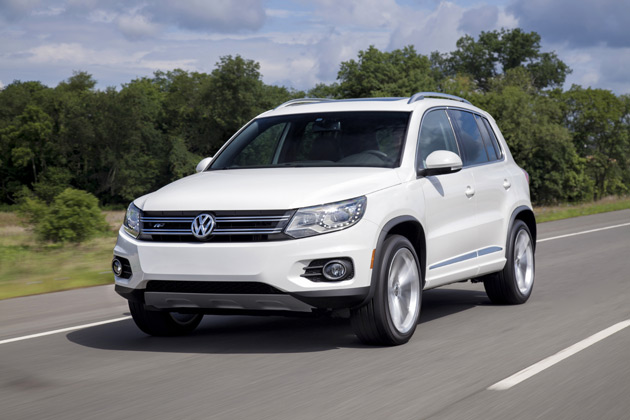 If you read a lot of automotive magazines like me, you know that everything is to be compared to a Porsche. Talking about the latest tin can econo-car? Compare it to a 911. Reviewing the new heavy-duty pickup from Detroit? Compare it to a Cayman. Porsche is the gold standard of automotive, say the glossy print mavens. What happens, though, when you get a small crossover made by Volkswagen that, it turns out, has got a lot of shared bits with the Porsche crossover those same magazines often question?
Well, our latest test drive was the 2014 Volkswagen Tiguan SE 4Motion. This is a good-looking crossover that has aged very well. Now on its sixth year since a remodel, the Tiguan has a few things that have become dated, but has, overall, kept itself in shape over the years. A lot of this comes not from its classic exterior design, which is great in a segment that only recently realized that "square box" is not a pleasing look, but from its focus on driving dynamics and handling.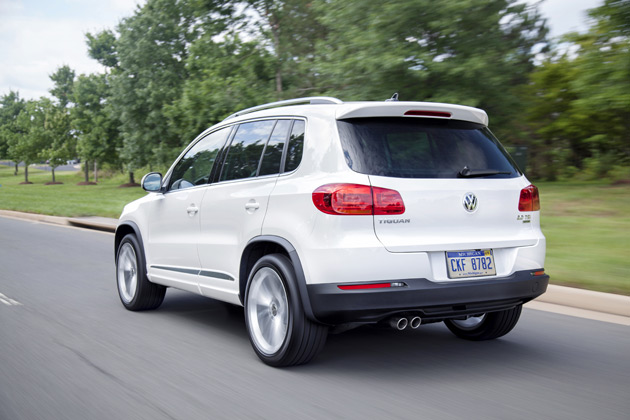 That's right. Driving dynamics and handling. In a crossover. Even many of the crossovers that say "sport" on them don't measure up to the standard packaging of the 2014 Tiguan. Note I said "standard." That's because there is an "R-Line" variant of the Tiguan that puts out more horses, more torque, and has even tighter handling to go with that. VW is owned by Porsche, after all. Hence our title, calling the Tiguan the "poor man's Cayenne." It's not facetious.
Under the hood of this small crossover is a 2.0L inline 4-cylinder engine and 6-speed automatic transmission. You can buy the base model with a six-speed manual transmission if you'd like. That little engine puts out 200 horsepower and 207 lb-ft of torque. Most of that output is at fairly low RPM rates, so you really feel it when it counts. If you upgrade to the R-Line package, those numbers get even better.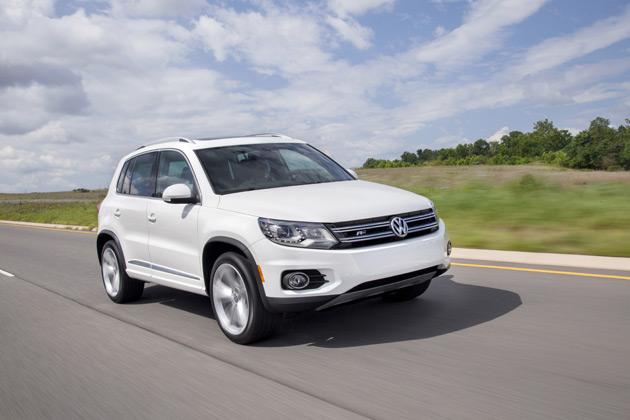 Yet with all of that output, the 2014 Tiguan has an EPA rating of 23 miles per gallon combined. During our week with it, the Tiguan managed about 20 and rarely were we being eco-conscious with the pedal pushing. A driver more interested in fuel sipping would easily attain the EPA's estimates, we believe. But it would be a lot of work. The Tiguan really likes to go fast.
On the road, the 2014 Volkswagen Tiguan has a very sporty feel – one that is more akin to a sports sedan than a crossover. It's also remarkably quiet, compared to most in this segment. Handling is smart and very agile and the Tiguan gives a very premium experience that is only marred by its dated interior.
That interior has nothing cheap or skimpy about it, but like many of VW's current lineup of vehicles, it's outdated. Mind you, this is outdated on the level that the iPhone 4 is versus the 5S. It's a matter of degree. For an automotive journalist, the 2014 Tiguan is lagging behind the times. For Joe Car Buyer, unless you've tried a lot of vehicles in their current-generations, the Tiguan is still great.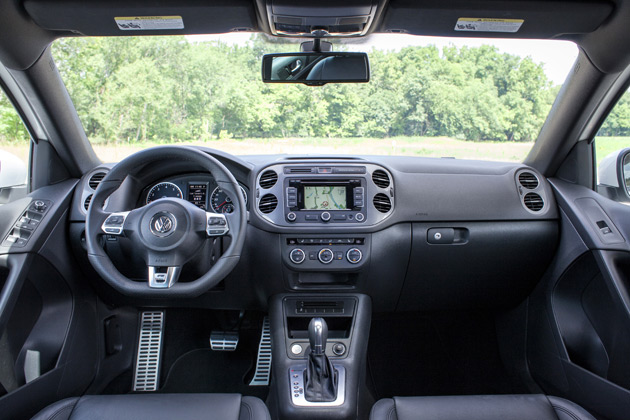 Two things hold the 2014 VW Tiguan back in terms of sales potential when a buyer looks at this crossover. First, its price tag, which is higher than almost every other crossover in this segment. For that price, though, you get a more premium vehicle than most of the others will offer at their entry-level. Second, the Tiguan has one of the lowest fuel economies in the segment. With competitors like the 2014 Subaru Forester gaining 32 mpg in AWD, the 26 mpg highway that the Tiguan in AWD (aka "4Motion") achieves seems pretty paltry. On the other hand, nothing in the Forester is as sport-tuned as is the Tiguan.
Ultimately, the 2014 Volkswagen Tiguan offers a sleek package that is extremely sporty for the segment along with a build quality and appeal that is far more premium than most of its competitors. Like its premium brother, the Porsche Cayenne, the Tiguan is not your usual crossover.