First Drive: 2015 Lexus NX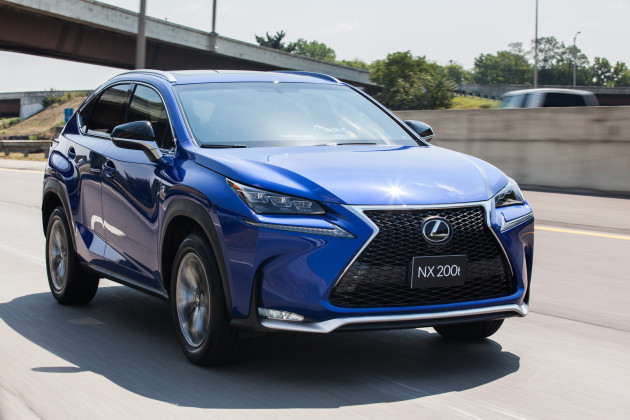 Last week, Lexus invited us down to Nashville to drive the all-new 2015 Lexus NX luxury compact SUV. The NX was unveiled at the Beijing International Automotive Exhibition back in April, and it made an appearance stateside at the New York Auto Show as well. We were blown away by the decidedly un-Lexus-like styling of the NX and were eager to learn more about it, so we headed down for a few days of True Grit, Pure Grace.
Exterior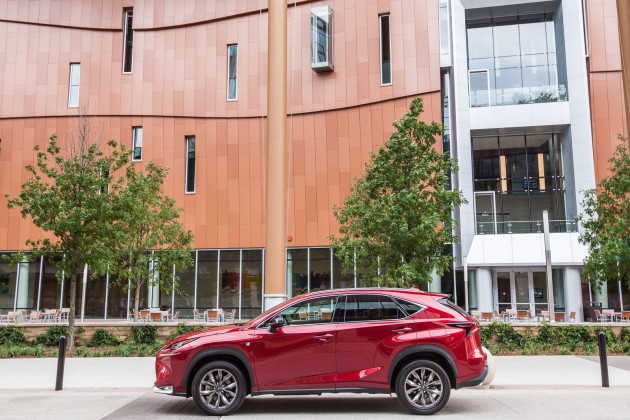 The first thing you'll notice about the all-new NX is that it doesn't look like your typical Lexus. In recent years, Lexus has taken some styling risks, first with the GS, then with the IS, and now with the NX. The aggressively futuristic, aerodynamic styling of the NX comes with the requisite massive spindle grille and LED L-themed headlight design. The body appears to be carved from a single chunk of metal. It's a look that conveys the functionality and performance of a premium, compact performance vehicle. A sharply raked tailgate and integrated spoiler are punctuated by Lexus' signature L-shape light clusters featuring seamless LED lighting, while the tailgate detailing echoes the spindle grille design.
Taking things to another level is the Lexus NX 200t F SPORT, which looks like it wants to devour the road, with a grille that's even bolder than on the standard model. The L-mesh black grille integrates with a metallic coated lower bumper molding, and black side mirrors match the grille. Exclusive wheels, cabin styling and trim and bolstered sports seats add to the F SPORT repertoire in the NX.
Interior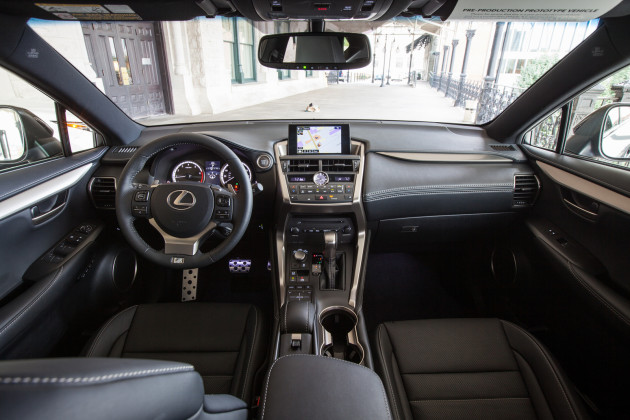 The cabin design of the Lexus NX combines structural elements with luxurious yet functional materials and textures. The center console is the undeniable focal point, framed by bold silver-colored architectural elements and featuring kneepads on both sides. Leather-wrapped metal over high contrast metallic colors provides visual depth. The NX dashboard and console continue the Lexus concept of display and operational zones. The seats, inspired by sports car design, coddle driver and passenger as you'd expect from a Lexus.
Designers carved out maximum space with the design. For example, a luggage area width of 53 inches can accommodate four golf bags stowed sideways, rather than having to lean them against the side. Storage in four compartments beneath the cargo floor provide space for keeping valuables out of sight.
The 2015 NX introduces Lexus' new Remote Touch Interface (RTI) with a custom touchpad, comprehensive Multi-Information Display that features a Lexus-first G-Force Meter and boost gauge, and a Qi Wireless Charging Tray that allows you to charge your compatible smart-devices wirelessly. There are a ton of other features that should appeal to the demographic that Lexus is targeting with the NX.
Performance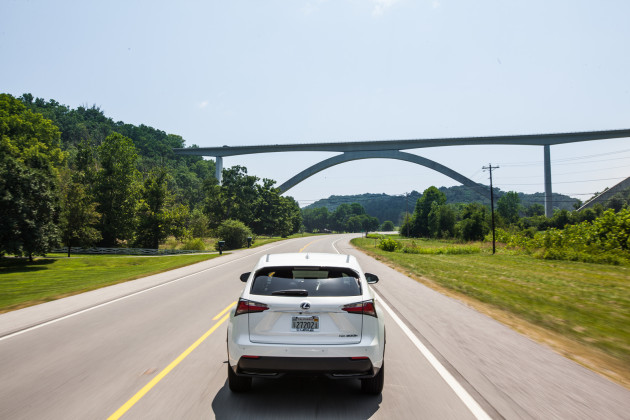 Now, the Lexus NX 200t is actually first car in the Lexus lineup to offer a turbo powertrain, backed by a 2.0L twin-scroll turbocharged 4-cylinder engine that puts out 235HP and 258 lb-ft of torque (at only 1650 rpm). In AWD form, this is good enough to launch the NX to 60mph in 7.0 seconds, while still achieving an estimated 21/28/24 City/Hwy/Combined mpg on premium fuel. The FWD model takes an extra .2 secs to get to 60mph (due to traction limitations), but it gains a mile per gallon in city driving.
Lexus' new turbo design has a focus on reduced friction, efficiency optimized turbine blades, and a reduction in noise, vibration, and harshness (NVH). This focus on reduced NVH is apparent when you stand outside the car while it runs, as the engine is near silent. There's no discernable boost lag, and coupled with the smooth shifting 6-speed automatic transmission, you'd never even know you're driving a turbocharged vehicle.
It's likely that we'll see this engine find it's way into other Lexus (and possibly Toyota and Scion) models in the near future. Might we suggest a Lexus CT200t AWD? Now that would be a hot little hatch!
The all-new NX also comes in a hybrid model, the 2015 Lexus NX 300h. This model is powered by a 2.5L in-line 4-cylinder Atkinson-cycle engine with two electric motors. Stepping up to the hybrid gets you better fuel economy (est. 35/31/33 City/Hwy/Combined mpg on regular unleaded), but you sacrifice some performance in the process. The Lexus NX 300h delivers a total of 194HP, and does the 0-60 in 9.1 seconds. While that's two seconds slower than the 200t, when you're driving around town, the difference isn't too noticeable at all.
Price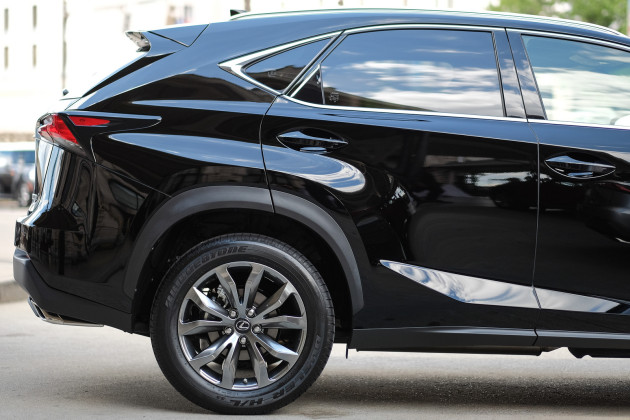 Lexus hasn't released final pricing yet for the NX, but we were told to expect it to start at "under $40,000". Given that the Lexus RX 350 starts at $40,795, I'm guessing we'll see a starting price of around $34,995. At that price, they'd be able to attract a whole new customer base (they anticipate that 50% of NX buyers to be new to the Lexus brand), and hopefully keep them from that point forward.
Conclusion
I think that Lexus has done a great job with the NX, and the release of this vehicle is sure to cause quite a stir in the luxury compact SUV market, much like other entry-level luxury cars (MB CLA, Audi S3, etc) have for their respective niches. So if you're in the market for a new luxury compact SUV, definitely check out the NX when it hits dealerships later this fall.
Photo courtesy of Ashton Staniszewski for Lexus