The 2020 Mustang Shelby GT500 Is 700HP+ Of All-American Muscle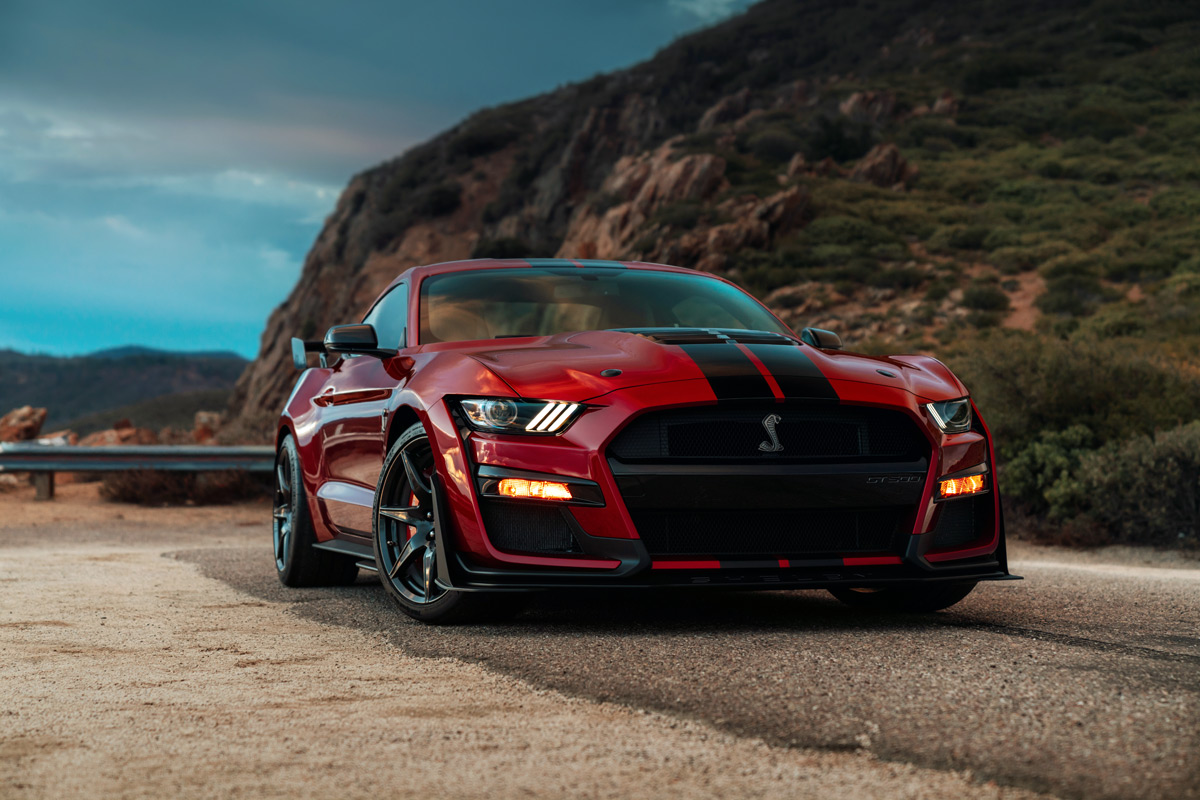 Get excited guys, because the all-new Ford Mustang Shelby GT500 is finally here, and it is an absolute beast, with more than 700 horsepower on tap, a mid-three-second 0-60 time, and a quarter mile time in the sub-11-second range. Giddy up!
Powered by a supercharged 5.2-liter V8 that puts out 700+ horsepower, the 2020 Ford Mustang Shelby GT500 is the most powerful street-legal Ford in history, and this venomous pony car is ready to attack on all fronts, whether it's on the drag stop or at the track.
Needless to say, Chevrolet Camaro ZL1 and Dodge Hellcat owners should be very afraid if they see that giant snake staring them down in their rear view.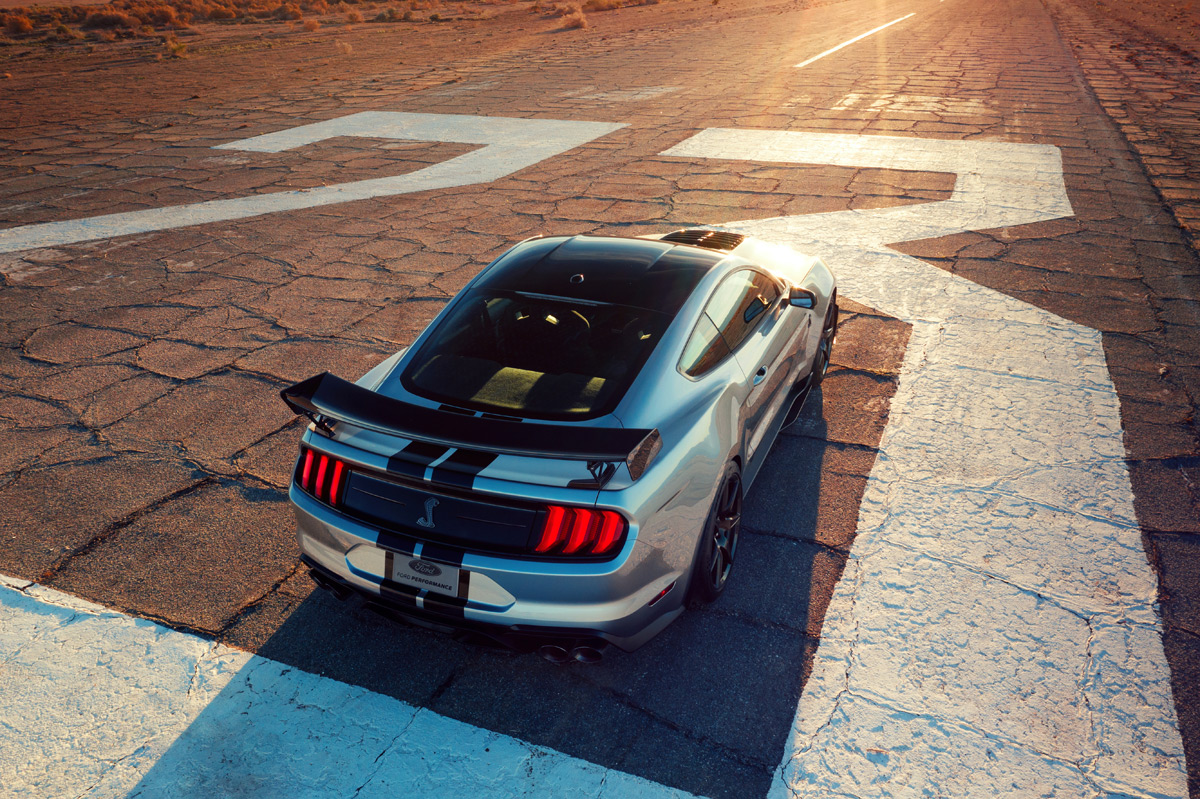 While some purists aren't happy about Ford's decision to go with a Tremec seven-speed dual-clutch transmission over a traditional manual, there's no question that a DCT is better suited given the amount of power on hand, not to mention that the transmission is capable of shifts in under 100 milliseconds – markedly faster than any manual gearbox.
This dual-clutch transmission has a number of drive modes, including normal, weather, sport, drag and track, and activates features like line-lock and launch control.
Cutting-edge active chassis technology, custom track-bred Michelin tires (Michelin Pilot Sport 4S or Pilot Sport Cup), and massive two-piece rotors with Brembo six-piston calipers help to harness the power and torque of the most powerful Mustang ever made.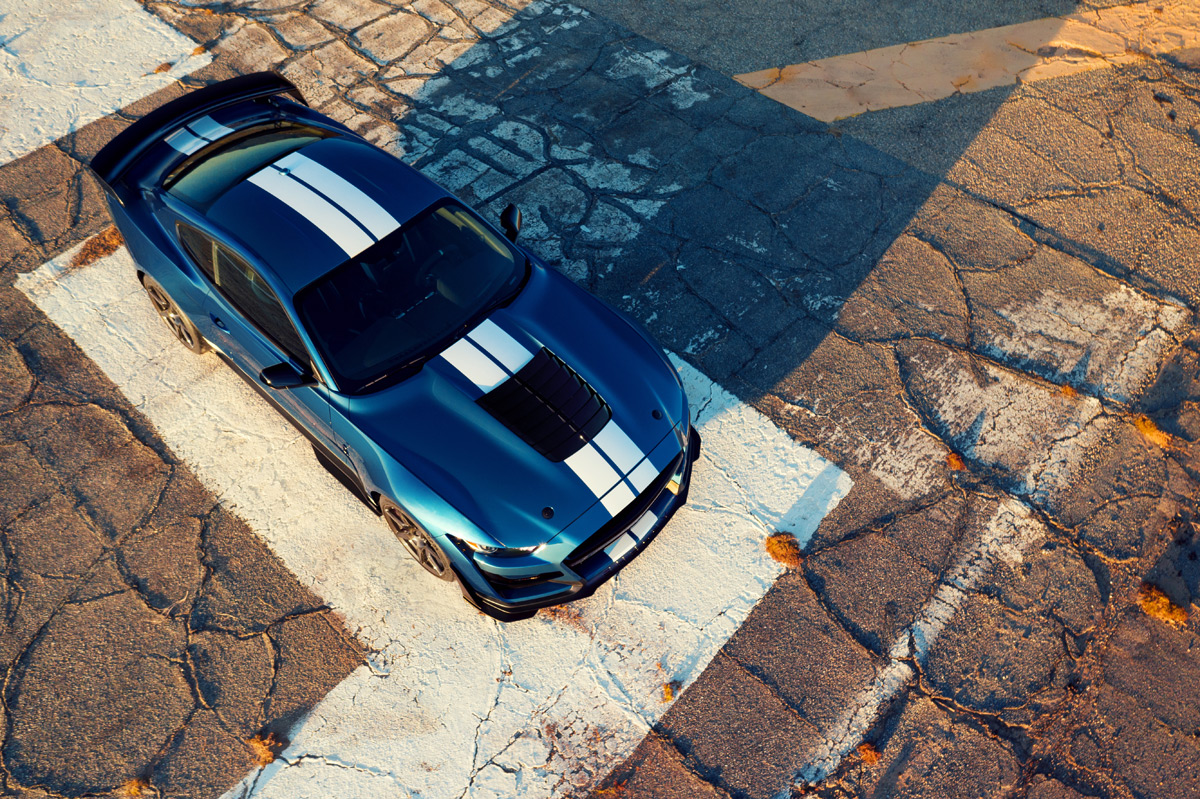 If that's not enough, there are two handling packages offered on the all-new Shelby GT500. An available Handling Package includes adjustable strut top mounts and spoiler with Gurney flap. And for the truly hardcore, an available Carbon Fiber Track Package features exposed 20-inch carbon fiber wheels with 0.5-inch-wider rear wheels, custom Michelin Pilot Sport Cup 2 tires, adjustable exposed carbon fiber GT4 track wing and splitter wickers with integrated dive plane. The rear seat is deleted to reduce weight.
"With its supercar-level powertrain, the all-new Shelby GT500 takes the sixth-gen Mustang to a performance level once reserved only for exotics. As a Mustang, it has to be attainable and punch above its weight. To that end, we've set a new standard among American performance cars with our most powerful street-legal V8 engine to date, plus the quickest-shifting transmission ever in a Mustang for all-out precision and speed," said Hermann Salenbauch, global director, Ford Performance vehicle programs.
Pricing hasn't been announced yet, but we expect the car to start in the low to mid-70's, with a fully-loaded GT500 coming in at around $90K.
All in all, the Shelby GT500 sounds like an absolute monster, and we can't wait to get one on a race track (and a drag strip) so that we can fully explore its capabilities.
The all-new Shelby GT500 arrives in dealerships this fall, where it'll share the showroom with its Shelby GT350 stablemate. But if you want to get your hands on one, you had better act fast, because these definitely won't last long!
What do you think about the 2020 Ford Mustang Shelby GT500?